This is a guest post by my friend Tina Tan, a budding web entrepreneur. I've been mentoring her for a few years and since we've been talking about affiliate marketing lately, I asked her to share her story with all of you.

My name is Tina and I started a wedding resource and information site a few years ago called SavetheDates.com. The site provides resources and advice on wedding Save the Dates primarily for soon to be brides.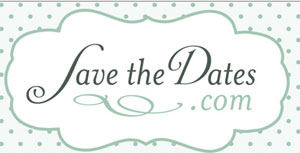 This includes information on where to buy Save the Dates, how to choose among the different types of Save the Dates (e.g. cards, postcards, magnets), and the site also features great Save the Date card designs.

I started the site shortly after I got married. I remember how difficult it was to find the perfect Save the Date card to send to friends and family and thought it would be a useful resource for others.

After the site was developed, I told Steve about it and he suggested I try to generate some income from it. He told me to consider affiliate marketing. So I did some research and with Steve's help I was able to successfully find some great affiliate partners that made sense for my site.

Editor's Note: I suggested affiliate marketing over CPM and CPC advertising because at the time, Tina did not have enough traffic to make advertising worthwhile

Here's what I learned in the process so here is my guide to finding the right affiliate partners for your site

Step 1: Search Google For Your Relevant Keywords
Think about what keywords or phrases best describe your site. For my Save the Dates site these were phrases like "save the dates magnets", "save the date cards", or "wedding save the dates". So I googled these terms to see what the results were.

Step 2: Determine what companies are bidding on your keywords
Once you have googled the terms you can look at the search results. Focus on the paid search ads. These are the search results that are at the top of the page or on the right side. They are often labeled as "Ads" and sometimes will be highlighted with a yellow background. Write down the websites that are advertising on these keywords.

These are companies that are interested in keywords relevant to your site and they are spending marketing dollars to find customers. For SavetheDates.com this meant companies like "Magnet Street", "Wedding Paper Divas", and "VistaPrint".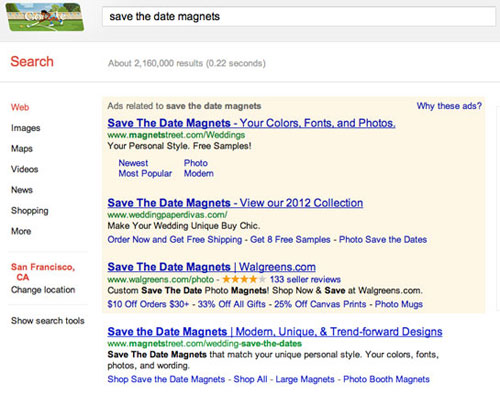 "

Step 3: Find Out If These Companies Have Affiliate Programs
Once you have your list of companies figure out if they have online affiliate programs. The easiest way to check is to use Google again. But this time search for the company name and affiliate program. So for me I searched for "Wedding Paper Divas affiliate program". Bingo! I lucked out in that Wedding Paper Divas has an affiliate program as part of its parent company Tiny Prints.

Editor's Note: If you just do a simple search, you'll be surprised by how many stores have affiliate programs. If you look hard enough, you'll find that you can become an affiliate for almost anything but the payout will vary.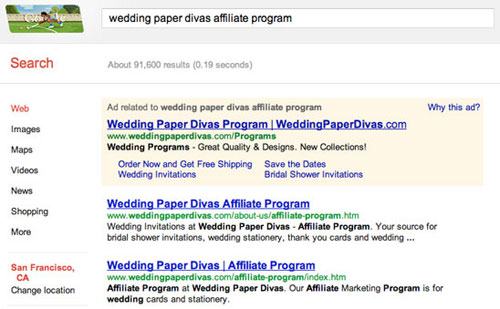 Now just click on the relevant results and apply to be an affiliate. Remember to include as much information about your site as possible and explain why your site will be a good partner. Some companies receive hundreds of affiliate applications.

They can be very selective so you need to make a compelling case. There are tons of wedding blogs and sites for soon to be brides, so I had to explain why my site was unique in providing focused advice on Save the Date invitations.

Step 4. Determine Which Partners Are Best For Your Site
Hopefully you are accepted to all of the affiliate programs you apply for. The last and most important step is to test the different partners to understand which is right for your site. This can be a pretty complex and difficult task to undertake and can vary depending on your site.

The general idea is to promote each of the different partners (using text links or affiliate banners) and look closely at the traffic to understand which one generates the most revenue. To do this you will need to look at your site analytics (e.g. Google Analytics) and the affiliate program reporting (e.g. Commision Junction, ShareASale). One key metric to look at is the effective affiliate revenue per visitor:

Affiliate Revenue per Visitor = Affiliate Revenue from Partner / Visits to the Page with Partner Links or Ads

You can then compare this number among your partners. The ones with the highest revenue per visitor are the best companies for you to work with. I found after a few months of testing that Wedding Paper Divas had an affiliate revenue per visit of $0.12 vs. only $.04 for VistaPrint.

This makes perfect sense since Wedding Paper Divas has some of the best Save the Date cards available online. So tracking this single metric helped me prioritize more of my future efforts with Wedding Paper Divas.

I hope these tips will help you find some great partners for your site as well!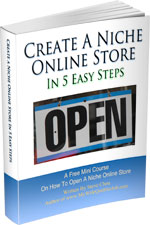 Ready To Get Serious About Starting An Online Business?
If you are really considering starting your own online business and quitting your day job, then you absolutely have to check out my mini course on
How To Create A Niche Online Store In 5 Easy Steps
.
In this 6 day mini course, I reveal the steps that my wife and I took to earn
100 thousand dollars
in the span of just a year. Best of all, it's absolutely free!

Stumble!
&nbsp &nbsp

Reddit!
&nbsp &nbsp

Digg!
&nbsp &nbsp

Del.icio.us
&nbsp &nbsp

Facebook

Get Free Updates Via RSS
&nbsp

Follow Me On Twitter

BizSugar
Similar Posts
Have you read these?
9 Responses to "4 Steps to Finding the Right Affiliate Partners for Your Site"