The main focus of your store is to sell goods so why would you ever need to include any other information other than your product listings? To run a successful store, you need to let customers know that they can trust you. They need to feel absolutely comfortable and secure that you will deliver on your promises when they hit the submit button and pay you with their hard earned cash. Below are 5 pages that will help you with that goal.
About Me
I used to think that no one would ever look at the "About Me" page on our store. However, Google Analytics has proven me wrong. It turns out that a sizable portion of our customer base actually takes the time to read this page. Since we are not a large store, customers want to learn who we are and why we sell the products that we do. A well written "About Me" page can actually make the customer want to buy from you even though a competitor might be selling the same item for less. Especially if you sell items that are highly competitive, the "About Me" page is a must since it instills a sense of personality into an otherwise commonplace store.
Testimonials
Especially with an unknown store, some buyers will be wary unless they know that others have purchased from you before and were happy with their transaction. Of course, you can't get testimonials from anyone unless you've already had customers in the past. To get around this chicken and egg problem, we started out our testimonials page with a combination of Ebay feedback and website feedback from people who we asked to critique the website. With our very first customers, we asked them to provide an honest opinion regarding our customer service and product quality. Over time, we were able to gather quite a large feedback database and have included them on our online store. On the testimonials page, its not necessary to include all of the feedback that you have received. Instead, choose a set of testimonials to display on your website that accurately portrays your store. For some customers, this can make a big difference.
Security and Privacy Policy
Some people who shop on the web are paranoid about privacy. Make sure you outline very clearly that
You will never sell or transmit their personal information to any third party
All payment transactions are using SSL technology and are absolutely secure
You do not ever store credit card information on your website database
The 3rd bullet point above is especially important since its a huge liability if you do decide to keep credit card numbers on your site. Keep in mind that if anyone ever hacks into your site and steals your credit card number database, you could get sued.
FAQ
I'm surprised that many of the online stores I've seen do not have a FAQ page. Not only will this page help customers, but it will save you a lot of time in answering emails. Some common questions to cover include
Do you ship internationally?
Do you sell wholesale?
What forms of payment do you accept?
What are your shipping costs?
Return Policy
Gift Wrapping
Shipping
I hate shopping online when I have absolutely no idea what this shipping cost will be until I checkout. Therefore, its important to outline on a special page what your shipping costs are and which shipping carriers that you will be using. Make sure you mention how long it will take for your product to actually ship along with different shipping estimates depending on the service chosen. Its important to set the expectations correctly ahead of time.
Contact Us
This is probably the most important page on your site and is usually one that I look for on every online store. If there is no easy way to contact you, there is no way in hell that I'm going to make a purchase from you. Make sure you clearly indicate your address, email address as well as your phone number. It is also extremely helpful to include a form so that customers can directly reach you from your website without requiring them to open their email client and send you an explicit email.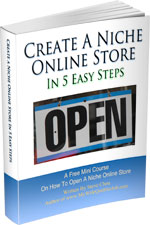 Ready To Get Serious About Starting An Online Business?
If you are really considering starting your own online business, then you have to check out my free mini course on How To Create A Niche Online Store In 5 Easy Steps.
In this 6 day mini course, I reveal the steps that my wife and I took to earn 100 thousand dollars in the span of just a year. Best of all, it's absolutely free!
Similar Posts
Have you read these?