One of the main points I emphasize at MyWifeQuitHerJob.com is that you really need to be your own boss or start your own side business in order to build wealth at the fastest possible rate. Sure, you can increase your nest egg by simply saving your money and spending less, but realize that being frugal can only take you so far on your path to wealth. Our day job salaries simply aren't enough.

There are many ways to make money outside of having a regular day job and thanks to the web and the internet, we can all find ways to have a side business without risking a lot of money. Every now and then, it's also useful to take a step back and look at some other people's perspectives on entrepreneurship. Here's what the blogosphere is saying about starting your own business and making a little extra on the side.

Enjoy your friday and have a great weekend!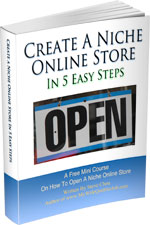 Ready To Get Serious About Starting An Online Business?
If you are really considering starting your own online business, then you have to check out my free mini course on How To Create A Niche Online Store In 5 Easy Steps.
In this 6 day mini course, I reveal the steps that my wife and I took to earn 100 thousand dollars in the span of just a year. Best of all, it's absolutely free!
Similar Posts
Have you read these?