The is the first time that I'm writing about the income generated from this blog. Why? Because quite frankly up until this point, there hasn't been much to talk about. And to tell you the truth, I've always been a little embarrassed by how slowly the revenue stream for MyWifeQuitHerJob.com has grown over the years.
The fact is that I know many other bloggers that started around the same time as I did and almost all of them are either making more money than I am or have a larger reader base than I do.
The experts will tell you never to compare yourself against others but that's total BS.
It's going to happen. It's not going to feel very good and you have to eventually get over it. And if you can, you should use other people's successes as motivation for your own.
I've been blogging for almost 6 years now. And to tell you the truth, I've probably put more hours into writing articles for MyWifeQuitHerJob.com than I have spent working on my online store.
Every week since my blog's inception in late 2008, I've written between 1-5 articles a week without fail. And even though there have been some days where I haven't felt like posting anything, I would always sit down and force myself to write.
The truth is that writing doesn't come that quickly or that easily for me. Most of my articles take many hours to write and proofread before they are posted online.
The other sad part is that I don't even publish everything I write. I can't tell you how much junk that I've written over the years and deleted because it didn't meet my standards of quality. What a colossal waste of time!
Even though it's been almost 6 years, I still remember the very beginning when I put myself on an aggressive posting schedule of 4 articles per week and nearly burned out within a month.
I remember how during the early years, my friends would cheer me on. But deep down, I always felt that they were skeptical that my blog would ever make any real money or generate any real traffic (even my mom!).
Friend: Hey Steve! How's traffic for the blog? Is your audience growing?
**Slience**
Me: Traffic? Oh yeah, traffic was a bitch this morning. Took me forever to get to work…
The Tipping Point
But after about 2 years of blogging to a really small audience, something profound happened during year 3.
My blog started to generate some serious traction. And low and behold, I started gaining traffic and regular readers on an exponential growth scale.
While last year's profits were pretty decent for MyWifeQuitHerJob.com, this year I'm happy to announce that my blog is on track to exceed 500K in income for the first time!
Update: My blog did 700K in 2015 and is on track for 7 figures this year.
After years and years of slogging away at the keyboard, I'm ecstatic that I'm finally seeing some monetary reward.
And if you factor in the income from my online store and my blog, there's actually very little monetary incentive for me to stay at my day job any longer (click on the link below to find out why I'm still not quitting).
Related: How To Prevent Yourself From Becoming Obsolete And The Reason Why I Haven't Quit My Job
Folks, if you trying to make money fast, then blogging is not the answer. You can easily make much more money with an online store than you can with blogging and it will require much less time as well.
Trust me on this. If you are blogging for the money, then you are blogging for the wrong reason.
If it were just for the money, I would have quit blogging long ago. The fact is that blogging is an incredible way to express yourself and build an audience of loyal followers.
As Seth Godin would put it, a blog allows you to start your own tribe. I like knowing that whenever I hit the "publish" button, someone out there will take the time to read what I've written and it's a great feeling.
But I digress… A lot of you are probably wondering how a blog can possibly make 6 figures so I'll break it down for you below.
Affiliate Marketing
As you are probably aware, I recommend many products on this blog and sometimes I get a cut of the sale if someone makes a purchase. I've run my store for many years now and have used and tried a whole bunch of services over the years. As a result, I feel qualified to make recommendations for a wide variety of products.
The reason that people listen to me is because I've used every single thing that I've ever recommended. I never post affiliate links unless I genuinely believe in the product that I'm promoting. And because I actively run an online store myself, I have to keep up with the latest trends in technology.
I don't claim to be the absolute expert in everything but I do try to give my honest opinion and never hesitate to say "I don't know" if I don't have a clue.
Advertising
I've gotten some flack over the years for the number of banner ads on MyWifeQuitHerJob.com but I do make a decent amount of money through both CPC and CPM ads.
My biggest money earner in this arena is Google Adsense. Many of my regular readers probably don't notice the big obtrusive Adsense ads on my blog because I only show them to search engine visitors.
If you ever decide to run Adsense, I highly recommend that you do the same. Why? It's because search engine visitors are far more likely to click on ads than regular readers. And by only showing them to search visitors, you will improve your click through rate.
The greater your click through rate the more attractive your ads become and in theory you'll get paid more for them. If you want to know more about this, Google "smart pricing" whenever you get a chance.
Related: Maximize Adsense By Only Showing Ads To Search Engine Visitors Even With WP Super Cache For Your WordPress Blog
What's ironic is that when I first started this blog, I thought that advertising was the holy grail of blog monetization. As it stands today, advertising is my lowest income source which makes up only 15% of the total income.
However, I anticipate that this percentage will increase over time as blog traffic continues to increase. Furthermore, I haven't really spent much time and effort trying to secure private advertising yet either.
My Create A Profitable Online Store Course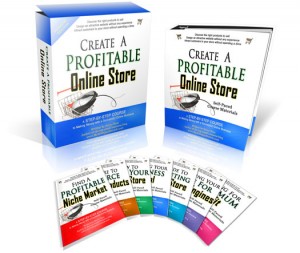 Technically, my course is not a part of this blog as it is hosted on a completely different domain.
But in reality, 95% of my customers buy my course as a direct result of reading my blog posts and signing up for my 6 day mini course. Do you think that I would be able to sell my course without MyWifeQuitHerJob.com? No way!
People trust that my course is legit because of my writing. MyWifeQuitHerJob.com is an authority site which lends credibility for whatever I have to sell. As it stands today, my Create A Profitable Online Store course yields about 50% of the profits for the blog.
However as I ramp up my affiliate marketing and advertising efforts, I anticipate that this percentage will go down. After all, the reason I don't push my course too hard is because I want to maintain an excellent level of customer support. If the number of students were to ever exceed my threshold of support, then I would close it down temporarily.
Compared to other courses that can be found on the Internet, mine is far less passive. While I offer a constantly increasing library of tutorial videos, I still take the time to offer live weekly office hours and answer questions in person. In fact, this is my differentiating factor compared to all of the other courses you can find on the Internet.
While I would love to make my course 100% passive income, I don't feel as though static content is enough. Every business is different and will face its own unique set of challenges and there's no cookie cutter way of starting an online store.
Is Blogging Worth It?
So advertising, affiliate marketing and online course sales are my primary sources of income for MyWifeQuitHerJob.com. As I mentioned before, if you are in it to make money, then blogging is a lousy way of doing it.
With the amount of time I have spent, I probably could have launched 2 or 3 new online stores. But that being said, the true beauty of blogging lies in the intangible rewards.
For example through my limited blogging career, I've met a ton of new people virtually. And many of these people I would now proudly call my friends even though we've never met. In fact, I just want to give a quick shout out to my mastermind group, the Mafia, who have provided me with support and mentorship whenever I've needed help.
What else? I've been offered a few book deals (including an offer from Wiley Publishing). I've been sent free stuff to review. Hell, I even wrote a 400 page ebook and launched a full blown video course! There's no way I would have done that if I didn't have a blog.
Most importantly, I feel like I'm making a difference in this world by teaching others how to start their own businesses. This last point is crucial. It's hard to describe the feeling but helping others take charge of their lives is probably the most satisfying part of blogging.
So what's the verdict? I would advise everyone to start a blog but perhaps not initially. Go and do something worthwhile or crazy so that you have something to blog about. After all, if you are doing it for the money, you may not see any of it for quite a long time.
But hey, it could just be me. Other people have progressed and made money much faster than I have. Just don't go in expecting it to happen very quickly.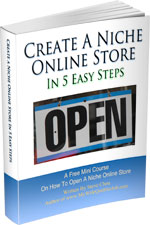 Ready To Get Serious About Starting An Online Business?
If you are really considering starting your own online business, then you have to check out my free mini course on How To Create A Niche Online Store In 5 Easy Steps.
In this 6 day mini course, I reveal the steps that my wife and I took to earn 100 thousand dollars in the span of just a year. Best of all, it's absolutely free!
Similar Posts
Have you read these?