Impossible: not able to occur, exist, or be done
Despite its absolute definition, impossible is often a relative term. One person's impossible can be another person's easy. We all appreciate that to an extent. For instance, I know that it would be impossible for me to run 100 metres in 9.58 seconds, and yet for Usain Bolt, it is possible.


But perhaps what we often don't fully appreciate is that because impossible is relative, it can change. We are all capable of turning perceived impossibilities into possibilities.

And in my opinion, believing that you can do it, and understanding how you can do it, are two of the key factors to success in life.
It's All in Your Head
Most disappointments in life are the product of a lack of willpower and/or confidence.

Our society is obsessed with tangible performance, but our less tangible assets are typically far more important than anything you see on the surface.

Related: How To Be Good At Everything You Try | A Lesson Learned From My Baby Girl

Examples of this can be found in almost all walks of life. If you're a sports fan, you can probably think of at least one athlete who is relatively limited in terms of his or her talent, and yet competes amongst the elite. Such sportspeople exist because their confidence and will far exceeds the comparable attributes of their more physically gifted peers.

Converting impossibles to possibles has perhaps more to do with willpower and confidence than it does pure ability.

Ask yourself the following question – what is the downside to believing that you are capable of almost anything? You may attract ridicule, but people who who choose to put you down for your ambition aren't worth your time anyway. The aforementioned sportspeople have that kind of self-belief, and it is a huge contributing factor to their achievements.

My point is this – the likelihood of you achieving what you want from life is increased exponentially by great willpower and confidence. This may sound obvious, but don't be afraid to believe in yourself.
The Killer of Success
If I had to pick one thing that can hinder or destroy your chances of achieving great things, it would be getting overwhelmed.

When we set ourselves tough goals, they are (by definition) difficult to achieve. Typically we'll launch ourself in our new endeavor with wild abandon, before quickly getting overwhelmed by the sheer scale of our ambition.

Related: The Secrets To Being Successful With Any Business You Launch

But there is nothing in life that cannot be broken down into smaller parts.

Anyone you admire is a product of a process. They didn't simply arrive at their present self – it took years of hard work and determination. If you want to do great things, start with one small thing. Then another. Keep building in that direction, and before long, you will be a lot closer to your goal.
The Impossible to Possible, in Practice
I am an avid golfer. Terrible, but avid nonetheless.

Around 12 months ago I played my first ever round, and shot 147 (for those of you who don't follow golf, that is spectacularly bad). At the time, shooting a sub-90 round seemed completely impossible. So I focused on shooting under 120. Then under 110. Then under 100.

My best round (just a couple of weeks ago) is 96, and I know I'm not far away from a sub-90 score. I've turned the impossible into possible, in just 12 months, simply by setting small goals, persisting, and believing in my ability.

Related: Why Embracing The Turtle Will Help Your Online Business Succeed

I believe that I will one day be a single-figure handicapper. Whether I will or not remains to be seen, but by believing in myself, I'm certainly giving myself the best possible chance.

The process was remarkably similar for quitting my job and establishing my business. I decided to quit my job in May 2011, and at the time, such an eventuality seemed like an impossibility.

But I believed in myself, applied myself, and set myself achievable goals. Before I knew it, I was in a position where I felt comfortable in quitting my job. So I did – even though mere months before, I wasn't really sure that it would happen. I converted an impossibility into a reality.
I'm Not Selling Pipe Dreams
I am not claiming that any of the above was an easy process. After all, nothing worthwhile in life is achieved easily. My ultimate point is that you are probably far more limited by your mindset than your ability. And whilst your innate ability cannot be improved upon, your mindset certainly can.

When you look at your goals from that angle, you may soon be able to achieve much more than you ever thought possible.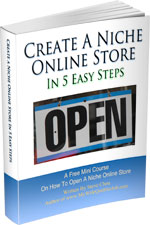 Ready To Get Serious About Starting An Online Business?
If you are really considering starting your own online business and quitting your day job, then you absolutely have to check out my mini course on
How To Create A Niche Online Store In 5 Easy Steps
.
In this 6 day mini course, I reveal the steps that my wife and I took to earn
100 thousand dollars
in the span of just a year. Best of all, it's absolutely free!

Stumble!
&nbsp &nbsp

Reddit!
&nbsp &nbsp

Digg!
&nbsp &nbsp

Del.icio.us
&nbsp &nbsp

Facebook

Get Free Updates Via RSS
&nbsp

Follow Me On Twitter

BizSugar
Similar Posts
Have you read these?
4 Responses to "How to Achieve the Impossible With Your Small Business"