This is a guest post by Kathryn Vercillo. Kathryn is a writer for Promotionalcodes.org.uk which gives away free coupon codes and also publishes a save money blog. She quit her day job long ago so she could work from home and discusses why she is now better able to cope with the recession as a result.

I started working from home nearly ten years ago. There were numerous reasons that working from home made the most sense for my life. However, earning a good income was not ever one of those reasons.

As far as the financial risks go, I wasn't sure if working from home was a good idea. And I'll admit that I made a lot of mistakes along the way which caused me financial trouble. Nevertheless the benefits outweighed the costs. And what I've discovered is that the financial lessons that I learned from deciding to work at home are lessons that have helped me to weather the recession better than a lot of people I know who continue to work in the corporate world.

Some of the recession-fighting benefits of working from home have included:
Ebbs and flows in income don't frighten me. One of the scariest things about the recession is that it's causing income changes for everyone. I accepted from the day that I decided to work at home that there would be ups and downs in my income stream. I've learned to budget, save and accommodate for those changes. I've been lucky in that the recession hasn't changed my income much but also in that I would know how to get by if it did. People who have been relying on a corporate salary for years may not feel so confident in this.
I feel some control over what I earn. A major reason that I don't worry much about my income is because I feel like I have control over what I earn to at least a small degree. Working from home usually means that you earn an income in proportion to the effort that you put into your work. If I need more money, I work harder to market my business and to create new products that I can sell. Boosting your income isn't as easy when you work for a set salary at a job.
I understand online marketing. Working from home for me has meant working on the web. This means that I've had a lot of time to learn online marketing. Many people today are struggling to catch up in this area which puts me one step ahead in trying to find jobs, customers and people who support my work.
I'm happy with the work that I do. Ultimately, the key reason that working from home benefits me during the recession is that I love what I do. I took the chance on working from home because I wanted to do work that mattered to me in a space that I love. Even if the recession tightens up the flow of money, I feel content knowing that I can wake up and do work I enjoy.

Being in a recession certainly isn't easy for any of us. However, the skills and experiences that I gained while working from home have served me well during this time.
Do you gave a question for Kathyrn? Please leave your questions in the comment section below.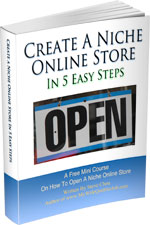 Ready To Get Serious About Starting An Online Business?
If you are really considering starting your own online business, then you have to check out my free mini course on How To Create A Niche Online Store In 5 Easy Steps.
In this 6 day mini course, I reveal the steps that my wife and I took to earn 100 thousand dollars in the span of just a year. Best of all, it's absolutely free!
Similar Posts
Have you read these?