I first met Jim Wang at the financial blogger conference this year and have gotten to know him pretty well these past several months via regular Skype chats.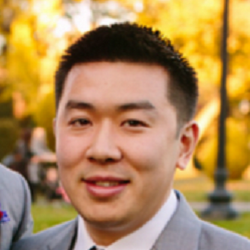 What's great about Jim is that he's extremely low key. In fact, I first met the guy in the elevator on the way up to one of the FinCon social events and he was wearing a t-shirt and sweat pants.
Some girl behind me was like "Whoa, that's Jim Wang" and I was like "Who the heck is Jim Wang?".
It was only later that I found out that he started the popular blog Bargaineering.com, a blog that he sold for 7 figures in 2010.
No matter how you look at at, selling any business for 7 figures is pretty damn amazing. And what's even more impressive is that Jim was a one man show at the time. He built his blog from the ground up all by himself.

As with all serial entrepreneurs, Jim didn't just sell his blog and simply call it a day.
Because selling Bargaineering.com was such an intense and complex process, he and 2 of his friends Nathaniel Broughton and Brandon Laughridge, created PlanForTheSale.com, a course designed to help other entrepreneurs sell their businesses.
Before we begin, I just want the thank Jim for doing this interview and for sharing his own experiences.
Tell us about the blog that you sold and what was the motivation for creating PlanForTheSale.com?
I can't go into the details about what I may or may not have sold but the motivation for creating Plan for the Sale was born out of that experience. There is very little information out there that goes through the entire process of selling a business in a comprehensive and easy to understand way.
There are pockets of knowledge available, blog posts by lawyers and brokers, interviews with entrepreneurs, but nothing that's an A-to-Z treatment of how to prepare for the sale and execute it.
So we decided to build it based on our experiences and knowledge, leaning on experts and through interviewing entrepreneurs to get their real life experiences where the textbook meets the real world.
Can you talk a little bit about the negotiations involved? What made things complicated? How would Plan For The Sale have helped?
Negotiations are always tricky for a variety of reasons but mostly because you don't know what you can or can't ask for. For example, when you negotiate with a public company, there are certain things you can ask for that the company will never ever give you because of accounting and auditing reasons.
You'd be wasting your time and energy, and negotiating position, to ask for those things and you risk appearing like a novice for not understanding that your request is unreasonable.
Plan For The Sale(PFTS) doesn't go through every possible scenario, that would be impossible, but we cover a lot of the things you should be focused on and hope that our focus modules, webinars, and interviews can cover the more specific cases. Our goal is to give you a checklist of things you need to be aware of so you aren't left wondering if you discussed everything you needed to with your buyer.
What's the number one hurdle people face when trying to sell their business? What are some other obstacles people face?
The number one hurdle is always finding a buyer. The sale process starts with the search for a buyer and it's a difficult problem to solve. Even if you hire the services of a business broker, they need to find a potential buyer who is a good fit for your business, your employees, and your vision for life after the sale.
That's an extremely challenging process and it also highlights the importance of finding the right broker, should you use one.
You'd expect that the next biggest obstacle would be negotiating with a buyer but that's often fairly straightforward. It's the due diligence that sinks deals. Ahead of a letter of intent, you might have sent some high level financial information to the buyer.
After the letter has been agreed to, the buyer will start digging deeper into the financials and business operations. Sellers who are unprepared for this will find this to be very challenging because if they aren't already on hand, the seller needs to compile them while they're still running their business.
It's difficult to juggle the two time constraints so that's why we really drive home the point that you need to prepare financial books ahead of time, even if you don't plan to sell for years.
What's the biggest mistake people make and lose money in the process.
The easiest way to lose money is by not seeking enough buyers. A market is created when two buyers are interested in your business so you should try your hardest to find at least two. This is one of the reasons why brokers might be a good choice, especially if they have done similar deals in the past.
They can get your business in front of decision makers quickly so you don't have to expend a tremendous amount of time just finding these decision makers.
The next biggest mistake is with business operations and the expenses the seller incurs as a part of doing business. Many business owners treat their business as a way to assign their personal expenses and so the costs of doing business are probably higher than they would be otherwise.
This has a significant impact on the sale even if the buyer lets you recast your financials to remove these "personal" expenses. If you plan on selling your business, tighten up your expenses. Sale price is often a function of EBITDA so get that as high as you can.
Why would I buy PFTS over a book on how to sell your business? What are the key strengths of your product?
We have two big advantages over a book. First, we are constantly adding content and evolving our content to fit the needs of our members. We frequently interview entrepreneurs who have sold their businesses and we learn directly from their experiences in the real world.
These aren't fictitious examples designed to teach a lesson, these are actual lessons learned told by the people who learned them.
Next, we are growing a community of entrepreneurs and business owners who can help each other solve problems together and share knowledge in a way that you simply can't get through a book. The problems business owners face are often very specific, far more specific than what a book can cover, which makes our community that much more valuable.
How much have people saved so far from using PFTS? Why is this course so valuable?
It's difficult to quantify how much people have saved since we are an educational resource and community but I know that I've counseled several business owners who have thanked me for my help in navigating the sale process.
We believe that our course will help a business owner be more knowledgeable about the process and avoid making critical mistakes while feeling confident about their decisions.
Eventually I may want to sell my ecommerce business. How are things different when selling a business with physical products versus a blog?
A purely online business is convenient to sell because there is no inventory. Selling inventory introduces a few more challenges because it's difficult to price the inventory, you need to record your inventory on the day of sale, and you need to properly document it for tax purposes. If you have no inventory, you can avoid this.
Should you sell your ecommerce business, you'll need to come to an agreement with the buyer as to how to price the inventory you have in stock. This alone can be a very difficult proposition. Should it be priced at your acquisition cost? Retail value? Somewhere in the middle? What if you have six months worth of product on hand? Or a year? Should it all be valued equally?
Next, you need to count everything when you close. Your business doesn't stop after you sign the definitive agreement and before the close, you'll still be selling linens. At the close, you'll need to count everything so the buyer only pays for what he or she receives. This isn't necessarily difficult, just exceptionally time consuming.
What are some of the reasons to sell a business? What were your own personal reasons for selling?
There are plenty of reasons why someone would want to sell a business. Maybe you're tired of running it and want to retire. Maybe you're ready to move onto another opportunity. Maybe you believe the business could be bigger and better but you've taken it as far as you can. It's crucial for a business owner to know what he or she wants before selling.
Can you disclose an approx dollar value that you sold your business for and how did you negotiate that number?
Unfortunately, I can't do either.

Editor's Note: I didn't realize this when I conducted the interview but most of this information can be freely found on the web. Here are the details of Jim's sale.
On January 29, 2010, the Company completed the acquisition of the website www.Bargaineering.com from Jim Wang Enterprises, LLC, a Maryland limited liability company, ("Bargaineering"), for $3.0 million in cash with an additional $500,000 in potential cash earn-out payments based on achieving certain performance metrics over the period commencing January 29, 2012 and ending January 29, 2013.
Closing Thoughts
As you can tell from the above, Jim made a nice chunk of change from his blog and has gone through the entire process himself. There are many different ways to structure a sale and it's important to understand all of the options. Today, the sale of his company has allowed him to pursue several other profitable businesses which he may sell someday as well.
Personally, if I wanted to sell either my blog or my online store, I wouldn't know where to even start. But having taken Jim's Plan For The Sale course, I now have a much better idea of the complexities and the intricacies that are involved.
What's nice is that the course is not all about Jim. His 2 partners are very successful entrepreneurs in their own right and have sold several companies themselves. Also, there are many interviews on the site as well so you can hear about the sales process from other business owners that have sold.
In any case, I don't want to turn this interview into a testimonial. If any of you are interested in selling your business, then you might want to check out his course.
BTW, I am not affiliated with PlanForTheSale.com nor do I stand to make any money from the sale of the course. Feel free to ask him questions below!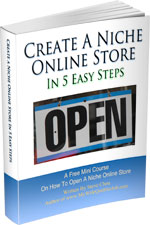 Ready To Get Serious About Starting An Online Business?
If you are really considering starting your own online business, then you have to check out my free mini course on How To Create A Niche Online Store In 5 Easy Steps.
In this 6 day mini course, I reveal the steps that my wife and I took to earn 100 thousand dollars in the span of just a year. Best of all, it's absolutely free!
Similar Posts
Have you read these?