I've been finding myself answering the same types of questions on email over and over so I thought it might be more productive and interesting to answer them in a single wrap up post for all to see. Here are a few questions that I received this week.

Help With Product Sourcing
I will like to start my online store, and we has been having almost the same situation that you share on your website. We have 3 kids and my wife isn't working.
I look to on alibaba and dhgate website because they have the best prices I ever see in my life, but most of the product they sells are replicas, fakes, copies and iligal. This is giving me a hard time to choose a good product to sell without broke any law.
Did you have any advice? My wife and I will like to sale woman cloght, shoes, bags and accessories.

Thank you for your website.

Javier
Hi Javier,
Both Alibaba and DHGate are excellent resources but they are pretty intimidating to use in my opinion. I haven't checked either of those sites for quite some time but I don't remember ever finding name brand stuff on there. In fact if you do see designer labels, I would be very suspicious.

Are you trying to sell name brand items or are you trying to sell generic clothing and shoes? If it's the latter and you still want the prices found on Alibaba or DHGate, I would highly recommend going to the China Import/Export Fairs that take place in China or Hong Kong multiple times a year. Many manufacturers of clothing, handbags and accessories will allow you to place your own brand name labels on the items that they make.

Another option is to pay for a service like Worldwide Brands to help you sort out and contact a wide variety of domestic and international vendors. Sites like Alibaba and DHGate can help you find suppliers but contacting and sorting them all out can be a major pain.
Help With Testing Out A Business Idea
How To Determine If Your Online Business Idea Even Has A Chance.

I have been going through the steps on this link, but I am stuck at the part about keywords. I don't understand how to find the clickthrough rate using the Google Keyword Tool. Could you help me?

The information on this blog is just what I have been looking for. Thank you for putting so much time into it!
There is no real way to determine the actual clickthrough rate of a particular keyword that you will be targeting for your own website because every website is different. The best thing that you can do is make an educated guess.
Find out how many people perform searches for a certain keyword you are targeting
Make an assumption about the click through rate. If you are unsure, use any number between 1-3%
Make an assumption about your conversion rate. If you are unsure, use 1%.
Make an assumption about the profit you will make per customer
Multiply all of those numbers together and you will have an approximate profit per day.
Based on this number, you can tell whether you can make some meaningful money from your business idea based on search traffic alone.
Questions?
I'm going to be testing out this format of answering questions for a little while. If you have any questions about opening or running an online business, feel free to shoot me an email and I will try to answer them.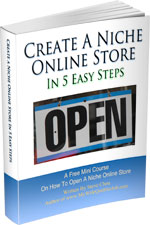 Ready To Get Serious About Starting An Online Business?
If you are really considering starting your own online business, then you have to check out my free mini course on How To Create A Niche Online Store In 5 Easy Steps.
In this 6 day mini course, I reveal the steps that my wife and I took to earn 100 thousand dollars in the span of just a year. Best of all, it's absolutely free!
Similar Posts
Have you read these?