I'm very proud to announce that MyWifeQuitHerJob.com was featured on the January 4th episode of The Rise To The Top hosted by David Siteman Garland.

I've been a big fan of The Rise To The Top since it started airing Sunday mornings on ABC(Check your local listings) several months ago and I even published my own glowing review on my blog.

I believe that entrepreneurship education is an important piece that is not covered very well in our school curriculum and David's show and his blog successfully help to fill in that gap.

Watch The Show
I thought I'd just take a minute to talk about David and why you should watch The Rise To The Top. First off, David is a young guy and already ridiculously successful. David graduated from the University of Washington in 2006. In just 2 years, he managed to find the time to start 3 companies and create his own television show. Most guys right out of college don't even have a clue what to do with their lives. David has the knowledge and the passion and he's willing to unselfishly share what he knows with the rest of the world.

In the midst of the downturn, many of you out there are probably thinking about starting your own business. Are you afraid? Are you not exactly sure how to proceed? Watch the show and you will gain helpful tips on how to do so. You'll also get inspired and fired up because David exudes passion.
Enjoy The Episode Below(Wait a few seconds for the video to begin…)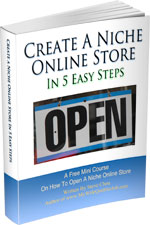 Ready To Get Serious About Starting An Online Business?
If you are really considering starting your own online business and quitting your day job, then you absolutely have to check out my mini course on
How To Create A Niche Online Store In 5 Easy Steps
.
In this 6 day mini course, I reveal the steps that my wife and I took to earn
100 thousand dollars
in the span of just a year. Best of all, it's absolutely free!

Stumble!
&nbsp &nbsp

Reddit!
&nbsp &nbsp

Digg!
&nbsp &nbsp

Del.icio.us
&nbsp &nbsp

Facebook

Get Free Updates Via RSS
&nbsp

Follow Me On Twitter

BizSugar
Similar Posts
Have you read these?
12 Responses to "MyWifeQuitHerJob.com Featured On Television – The Rise To The Top"