I'm proud to announce that our online store Bumblebee Linens is featured in this month's July/August issue of Brides magazine. Being included in this major publication not only lends credibility to our business but it also exposes our store to millions of potential customers as well!

For those of you who are curious, we were contacted out of the blue by Brides magazine several months back because they wanted to feature some of our linens in their magazine. Turns out that giving linens away as wedding favors is the latest trend! So we shipped them whatever products they wanted to see and felt very honored to have our items chosen to grace the pages of their magazine.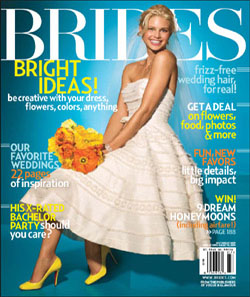 Needless to say, my wife and I feel very lucky to have gotten the attention of Brides magazine. In a previous article entitled Starting Your Own Business: How To Improve Your Luck, I described many "lucky" things that have happened that had a direct benefit to our online business. And this definitely ranks up there in terms of luck going our way. Since the above article was written quite a while ago, I'd just like to add a few more things that I left out last time.
Provide Awesome Customer Service
I use to doubt the power of word of mouth, but after observing multiple customers pop up within the same small city all around the same time, it's obvious that people talk. People will tell their friends about your business if they have a positive experience. And over time, these referrals will have a tremendous impact on your business reputation and credibility.
Make Your Business Stand Out
Is there something about your online business that is unique or original? If not, then you really need to find some aspect with which to differentiate yourself. Add your own personal touch instead of using a standard template. Stand out among the crowd and constantly make adjustments according to what your analytics tell you.
Don't Give Up
The only way to get lucky is to stay in the game. If you constantly work on adding useful content and unique products to your website or store, someone will eventually notice. It might take weeks, months, or even years in our case, but it will happen. I promise you.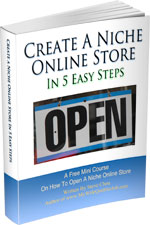 Ready To Get Serious About Starting An Online Business?
If you are really considering starting your own online business, then you have to check out my free mini course on How To Create A Niche Online Store In 5 Easy Steps.
In this 6 day mini course, I reveal the steps that my wife and I took to earn 100 thousand dollars in the span of just a year. Best of all, it's absolutely free!
Similar Posts
Have you read these?