This past week, I had the pleasure of reviewing David Siteman Garland's latest course, Create Awesome Interviews.

As most of you may or may not know, David is the creator and host of the hit entrepreneurship show called The Rise To The Top where he interviews famous entrepreneurs and small business owners all over the world. And not only has he developed an extensive rolodex of famous people but he also makes a killing running his show through sponsorships and other streams of revenue.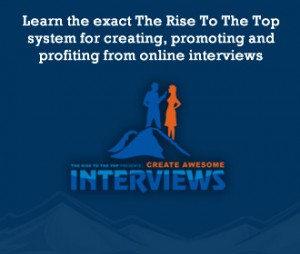 Before I get started with the review, I just wanted to say that Create Awesome Interviews is somewhat of a misnomer. Sure, his course does teach you the ins and outs of how to interview people online.

But the bigger picture here is that his course teaches you how to expand the reach of your small business presence by networking and creating engaging conversations online.

In my eyes, a more fitting name for the course would have been something along the lines of "Jumpstart Your Business By Creating Awesome Interviews" or "Expand Your Audience And Customer Base With Awesome Interviews".

When you stop and think about it, do some people want to create their own interview show? Maybe. But do all small business owners want to grow their customer base and get more awareness for their business? Absolutely!! And this is actually where David's course delivers.

Who Is The Target Audience For His Course?
Create Awesome Interviews is primarily designed for people who want to add a little extra oomph to their online content creation. So whether you run a blog or you simply want to jump start your small business, this course is perfect for teaching you the ins and outs of creating engaging interviews, getting to know experts in your field and establishing a bigger audience.

Currently, David makes a six figure income just from his online interview show alone and literally just 2 years ago, no one knew who the heck he was. On just a shoestring budget, he started The Rise To The Top where he has now expanded his audience to well over 250k visitors a month. Over the course of just the last few years, he has signed on over 500,000 dollars in sponsorships from big names like Hubspot and other well known companies.

He has also been been invited to speak at many major conferences as well. But most importantly, he now knows and has become friends with over 250 of the world's top entrepreneurs and business owners! In other words, not only is he making money by interviewing people but he also has established invaluable business connections in the process!
How This Course Can Help Jumpstart Your Business
While I can't speak for everyone else, I can think of many ways that I'm going to be applying his course to my existing businesses. "Create Awesome Interviews" has inspired me to rethink the way I run my blog and online store content. For example, I already know many successful shop owners that I could interview for my blog and I'm sure that their stories would be inspiring to my audience. For my online store, I could interview famous people in the wedding industry. The simple act of associating well known leaders with my small businesses would lend instant credibility as well.

David's course teaches you everything that you need to know about how to proceed. You'll learn
How to get busy people you want to interview to say "YES!" to your interview request (without stalking them) even if you are just getting started.
How to meet pretty much anyone you want to meet by leveraging your interviews
How to keep your interviews running smooth and natural without awkward pauses.
Everything you need to know about how to setup an interview from a technical standpoint
How to create your own irresistible interview-based web show that sticks out from the pack and matches your personality and passion.
How to make money through sponsorships and other forms of income
What I like about the course is that David is willing to reveal actual revenue numbers and the exact scripts that he uses to conduct his interviews and get in touch with clients. In other words, he is really transparent about all of his operations. Personally, I learned a lot about the world of sponsorships which is an area that I had no clue about.
Is This Course For You?
If you run a blog or own a small business that you feel needs an extra boost, then I would go and checkout his course. Right now, he's actually giving away 4 free video tutorials. If you like what you see from these 4 videos then you might want to consider signing up. Otherwise, you can simply enjoy the free content and run with it.

On a personal level, I love everything this guy puts out so I just want to acknowledge that I'm already biased in his favor. At the very least, go check out his show and watch some of his work.


Click here to check out Create Awesome Interviews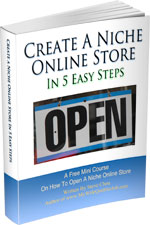 Ready To Get Serious About Starting An Online Business?
If you are really considering starting your own online business and quitting your day job, then you absolutely have to check out my mini course on
How To Create A Niche Online Store In 5 Easy Steps
.
In this 6 day mini course, I reveal the steps that my wife and I took to earn
100 thousand dollars
in the span of just a year. Best of all, it's absolutely free!

Stumble!
&nbsp &nbsp

Reddit!
&nbsp &nbsp

Digg!
&nbsp &nbsp

Del.icio.us
&nbsp &nbsp

Facebook

Get Free Updates Via RSS
&nbsp

Follow Me On Twitter

BizSugar
Similar Posts
Have you read these?
One Response to "Review: Create Awesome Interviews By David Siteman Garland"