Every business requires a little bit of luck in order to be successful. Most of the time, it's a matter of timing or being at the right place at the right time. But do you ever wonder how some people keep getting lucky over and over again? It might just be a coincidence but some entrepreneurs always seem to find a way to steer luck in their direction.
When my wife and I first started our online business, several fortuitous events helped us on our path to success. Whenever these "lucky" events occurred, I used to thank the heavens above for helping us out. But looking back, did our actions play a part in facilitating these lucky events? Did we do anything to improve our luck? I'd like to talk about some of these fortuitous events and how our actions helped improve our chances for success.
We Put Ourselves Out There
We we first started out, we searched for vendors for our wedding linens store solely online. While the web is a great place to do research, it is a lousy place to establish lasting business relationships. For example, it is extremely difficult to get to know someone via email or by phone especially when they live in a foreign country and in a different time zone.
So one day, my wife and I decided get off of our butts and go to Asia to meet our vendors directly. We didn't really plan ahead. Instead, we more or less just hopped on an airplane and dropped in to visit some of the vendors we found online.
It turned out that our timing was right on cue. Because all of our vendors happened to be getting ready for the annual textile convention in China, they all had their inventory available to show us.
We were lucky for two reasons. One, our vendors had a complete set of samples on hand and two, they had a whole slew of new unreleased products to show us because of the convention. Most of these items were not even listed anywhere on their websites!
Had we visited at a different time, we may not have been able to see the products first hand and probably would have had to wait several weeks for samples to be fabricated. While we arrived in Asia too late to actually attend the convention(which we had no clue about at the time), we put the date on our calendars.
This year we plan on attending and I'm sure we'll come home with a long list of new vendors and products to sell.
We Built Up Our Network
I remember when we first launched our website that we were stuck in the Google sandbox for an extended period of time. For all of you who don't know what the Google sandbox is, it is the place where Google places your website for a period of time before it gets indexed.
During this time, your site won't get any organic traffic at all and you pretty much just have to wait for Google to change its mind.
I was getting tired of being in the sandbox so I contacted a friend of mine who worked at Google asking how to expedite the process. Turns out that my friend happened to be in charge of writing the next post for the Google blog.
The topic of the blog entry was how online websites utilize Google Webmasters tools in order to improve traffic to their website.
Basically, my friend told me that if I signed up for Google Webmasters tools and found it useful that she would write the blog entry about our online store! Naturally, I became a Google whore in a hurry and started using all of the online tools Google had to offer.
As soon as the blog entry was published with a link to our website, we immediately escaped the sandbox!
It just goes to show that seemingly random people can be there to help you out. That is why it's important to expand your network to increase the chances of finding assistance when it is needed.
I also wanted to briefly mention other ways that my network of friends have helped us out as well. When we visited Hong Kong and China, we had several friends show us around which greatly helped us locate the vendors that we wanted to visit. We also had other friends in the textile business give us some pointers as well. We would definitely not be where we are today without their help!
We Provided Good Content On Our Website
After about 6 months, our website started getting some decent organic traffic. Because we provided good content on our store in the form of arts and crafts pages, we slowly but surely climbed the search engine rankings over time.
Pretty soon, our website rose to the front page of Google for several of our targeted search terms!
As our website became more prominent in search, other companies began to notice us as well. Late last year, Real Simple magazine contacted us in order to feature a few of our products in their magazine. This was huge!
After months and months of getting ignored by the magazines, we finally had one of them notice us and it felt great. For a company our size, we could never afford to pay for advertising in a major magazine so we basically had to just sit and pray. It just goes to show that if you work hard to establish your online presence with quality content that eventually you will be found.
Recently, we were contacted by Brides magazine as well to feature some of our wedding linens. If all goes well, we'll have a few pages in the July issue!
Is It Luck Or Hard Work?
Honestly, I have to say it has been a bit of both. My wife and I feel extremely lucky to have found our niche. But we have to attribute most of our luck to our network of friends who have provided us with a ton of help to get us started.
How did we get so lucky? In a nutshell, we put ourselves out there to be found. If you simply sit at home on the couch and do nothing, you'll never have a chance at all. Why not give your business idea a chance and see what happens?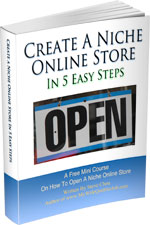 Ready To Get Serious About Starting An Online Business?
If you are really considering starting your own online business, then you have to check out my free mini course on How To Create A Niche Online Store In 5 Easy Steps.
In this 6 day mini course, I reveal the steps that my wife and I took to earn 100 thousand dollars in the span of just a year. Best of all, it's absolutely free!
Similar Posts
Have you read these?