This is a guest post from Melissa who runs Sproos Shop, an online store selling headbands for women.

Unlike some of the other students in my class, Melissa already had a website prior to signing up for my course. Her goal in signing up for Create A Profitable Online Store was to learn more about how to optimize her website for search, how to gain more targeted traffic to her website and how to improve her conversion rate.

Having worked with Melissa during many office hours sessions, I can honestly say that she is an extremely talented and driven entrepreneur and I have no doubts that her online store will be a success. Since she's signed on, she has already made many adjustments to her site and continues to optimize her shop.

My favorite thing about Melissa is that she has an open mind and is always willing to experiment with different things. But without further ado, here is her story…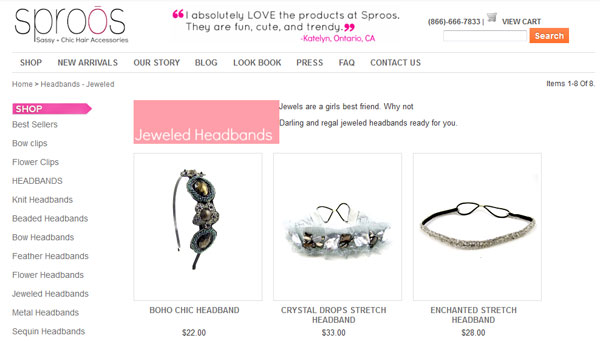 A Little About Myself:
I was always the little girl running the lemonade stand during the summer while other kids were playing outside. Having grownup with two entrepreneurial parents, following in their footsteps was inevitable. I always loved the idea of starting my own shop and living my life on my own terms.

The thing is, I never thought that I would launch an online business right out of college! But when the urge hits you, when you have an idea that could alter your life, you have to go for it. It also helped that I graduated from Art school and was going to be broke no matter what the economy looked like:)

Starting my own business has been a great challenge for the last two years. I am the owner of an online hair accessories store called Sproos shop.

The first thing I had to decide before launching my business was whether I was going to sell online or have a brick and mortar store.

I decided to create a website because I have always preferred shopping online versus shopping at physical stores. In this day and age, having an online presence is mandatory. It's been fun having an online store versus a physical shop and the potential for growth is limitless.

However, owning an online store doesn't mean you are going to be dealing with millions of customers from the start. Building online traffic has been extremely challenging and probably the hardest aspect about my business.

Fortunately, getting the actual website up and running was not too bad. I chose a to go with a fully hosted shopping cart called Shopify and it's been great so far. While Shopify does have a few minor issues, it's been an excellent starting platform for my business. In fact, I highly recommended it for people looking for great templates and an easy to maintain website.
My Inspiration For Sproos Shop
The seed for starting my business was planted on a trip to Japan two years ago. In Japan, I was able to find adorable hair accessories and fashionable headbands that were very well made. The reason I started my boutique was because I had a hard time finding fun hair accessories online and offline here in the US. The quality of hair accessories that I did find were usually very poor and the designs were tacky. That is why I decided to set up my own shop.

All of my hair accessories are crafted by small manufacturers and designers from all around the world. The pieces I carry are cute and sassy. I have headbands for women and girls. I also offer feather headbands and adorable flower headbands.
What Drives Me:
My primary motivation for starting an online business is to establish an income that enables me to live an independent lifestyle. For me, independence means being able to live in a nice apartment in New York city, travel around the world, and save for my future.

Unfortunately in this day in age, you pretty much need to establish an amazing income in order to just survive. My goal is to establish a healthy income that allows me to support both myself and my family.
The Road Ahead:
Please forgive me for using a cliched phrase but my foray into entrepreneurship has been a roller coaster ride. I'm still trying to determine the best way to get traffic to my online store and I'm still in the midst of developing my writing voice. It's a lot of work, but it's towards a worthy goal.

The last couple of months have been a challenge to figure out the best marketing strategy and I feel as though I'm being pulled in many directions at once. Social media has played a key role in most of my sales. In the past, I used youtube as a way to showcase my products and styles. I also reached out to a ton of bloggers and got a ton of press.

Now my focus has shifted to generating my own traffic using my own content. It's been hard because I'm not much of a writer. But I am currently outsourcing some of my marketing efforts. Often times, it's just a matter of finding the right talent and I can't wait to get started on some other projects that exploit my true talents.

Being a student of the Steve's Create a Profitable Online Store course has been a great experience.

I found Steve's blog last year and joined his online course a few months ago. Meeting up with like minded people and having a support system has been wonderful. Steve is a great guide and mentor to all of his students. It's nice to have an advisor that actually understands what his students are going through. Steve is very quick to answer my questions on the forums or via email.

Thanks for all of your help Steve! Really appreciate and value your course.

If anyone has any feedback or suggestions for Melissa, please leave them in the comments below.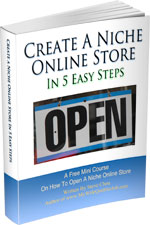 Ready To Get Serious About Starting An Online Business?
If you are really considering starting your own online business, then you have to check out my free mini course on How To Create A Niche Online Store In 5 Easy Steps.
In this 6 day mini course, I reveal the steps that my wife and I took to earn 100 thousand dollars in the span of just a year. Best of all, it's absolutely free!
Similar Posts
Have you read these?