I'm proud to present a guest post from Dragos Roua. He's doing something extremely unique here today. Dragos has put together a 7 part series on the 7 stages of a business all to be simultaneously published on 7 different entrepreneurship blogs. And I'm proud to be one of the 7 blogs presenting his material today.

This article is part of a series about the 7 ages of a business from an entrepreneur's perspective, initially published at eDragonu – the choice of a personal path. The remaining 6 articles are published as guest posts on other 6 fine personal development and business blogs. You will find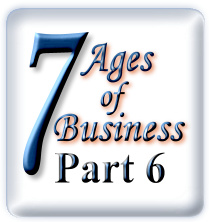 links to them at the end of this article.
Being Number One
Leadership age is by many metrics the highest point a business can go. It's the most visible and publicly rewarding position. Leadership means you are controlling your market, you are serving the biggest pool of clients and your products are often identified with your business name. From my experience, leadership is not as fulfilling as maturity or as exciting as enthusiasm, but it's certainly the age that made me popular.

The most important criteria for being in the leadership stage – apart from being number one in terms of money, market coverage or product penetration – is the competition pressure. You're number one, a position that everybody wants. Once there, prepare to fight tight in order to stay there. As a matter of fact, most of the things you'll do in the leadership age are only related to keeping the position, to stick to it. You've already DONE IT, all you have to do is stay there.

Leadership is more maintenance and less conquering. Most of your strategy would be to keep your positions under your control. Expansion is literally impossible at this stage, although a lot of entrepreneurs, pressed by the same passion that made them conquer their market, are trying to expand beyond leadership. That could actually destroy the business. From an entrepreneur's perspective, leadership is the stage when you can start to think about an exit. It would be healthier than trying to expand beyond number one.


What To Avoid
The number one position is the most fragile position of all. You'll need a lot of discipline and attention to avoid some of the following common pitfalls.

Expansion
Going beyond number one is not possible, yet many entrepreneurs who are reaching the leadership stage in their business are trying to do it. Might be better to try replicating the success of that business by starting another fresh venture. The leadership position is very fragile and your competition is merciless. Any wrong step is punished at this stage with much more power than in the beginning. And, most important, any wrong step will be public, so not only your business will be affected, but your entrepreneur image as well.

Lose Control
Keep your business simple and clean. Remember that your strategy and efforts created what you are running now, so don't try to ruin it by losing the path. From the outside, leadership is an age of fulfillment and satisfaction, but from the inside, there is a lot of pressure. Everybody wants the number one position. Your focus will be challenged, going from running the business, keeping yourself lucid in the public light and thinking of your next steps. It's extremely easy to lose control of your business during this stage. So don't.

Excessive Pride
As always, excessive pride won't do any good either. Remember that you've been in the enthusiasm and naivety stage so don't act like you "always knew you would win". Maybe you did, but don't tell it. Being prioud of what you did is one thing and it's quite a healthy one, but going around shouting your success is another one. Not so healthy. Pride has this quality of consuming a lot of energy. You can't be proud by whispering, you have to shout it out. So don't let your energy go to waste by shouting your success. There will be enough followers to do that for you.


What To Do
As always, each stage is offering you some opportunities, and so does the leadership stage. Here are some quick hints on what you could do to amplify your success.

Search For An Exit
It's time now to look around and see how you can get out of that business. Many entrepreneurs are trying to stay in the leadership phase as long as they can, without planning ahead. Success and public exposure can be sometimes addictive. So addictive that you're forgetting about tomorrow's challenges. Looking for an exit during the leadership stage of your business might not be comfortable at all, but it's the best thing you can do. Right now you have success and positive exposure, some of the things you won't be finding together again soon.

Assess Your Success Publicly
It's time to let the world you did it. Without excessive pride, but with honesty. Go out and let the world see what you've built. It's good to see yourself through the eyes of the others right now. It's a moment of fruition, of fulfillment, be happy and peaceful about it. Most of the time assessing your success publicly It's a question of accepting what others are saying about you, since you're already on top. Also, accept any requests for public speaking and share your experience. It's a great way to find your next challenge.

Integrate The Experience
You came a long way and you've also learned a lot. Now it's the time to integrate the experience. If you have the habit of journaling, it's great, just keep it and write down your personal history. You'll be surprised how much you have to say about your journey. If you don't have that habit take some time to look back. Integrating the experience of success takes time and I find myself discovering new things every week about how I became successful in my niche. Integrating also means assessing your mistakes, accepting them and understanding what was behind them.

From Leadership To Exhaustion
The leadership business age is consuming, to say the least, but the most difficult stage is about to come. The final stage is exhaustion and although it's one of the saddest parts of being an entrepreneur, is a natural consequence of any business evolution. Being prepared for the exhaustion stage is a smart thing to do, but you can't always predict it. I know I didn't see this coming.

Leadership has a strong public component and many of the successful entrepreneurs are leveraging this stage to their next ventures. Their image is most of the time associated with the leadership stage of their successful business. From a personal development perspective, the leadership stage of a business is the most challenging but also the most rewarding one.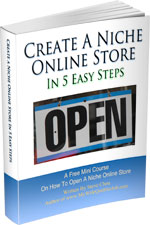 Ready To Get Serious About Starting An Online Business?
If you are really considering starting your own online business, then you have to check out my free mini course on How To Create A Niche Online Store In 5 Easy Steps.
In this 6 day mini course, I reveal the steps that my wife and I took to earn 100 thousand dollars in the span of just a year. Best of all, it's absolutely free!
Similar Posts
Have you read these?