"Fake it till you make it": to imitate confidence so that as the confidence produces success, it will generate real confidence (Wikipedia).
When I was just 14 years old, I launched my own web design company. I built my site, then fired off an email to a list of 50 or so small business owners who I felt could provide the foundation for my bootstrap business. I was ready to make my millions.


That might sound rather impressive, if it weren't for the fact that Innovation Design (a domain I no longer own) was a complete flop.

I didn't secure a single client. Those 50 small business owners I emailed were gleaned from my father's contact book. And I got nothing but negative feedback:
If your intention was to put yourself over as cheap and cheerful then well done [source].
Onwards and Upwards
But hell – at least I was trying. The fact is that I was a 14 year old kid. The likelihood of any business working with me – with no track record and average web design skills – was pretty small. And if any prospective client had found out that I was 14, they would have run a mile. I look back and cringe at my naivety.

Related: Entrepreneurship: What Is Your Definition Of Failure?

But in spite of that, I had at least one thing going for me. Even though my site looked awful and my logo was amateurish, I had at least got one principle right – fake it until you make it.
A Lesson Long Learned
Fast forward to September 2011, and I was struggling in my efforts to quit my job. I had essentially been out of the entrepreneurship game for a decade, having gone off to college, graduated, and got myself a job. I was rusty.

I had launched my blog initially as an accountability journal back in May of the same year, but had made very little progress in establishing an alternative source of income. But on one fateful day, out of sheer frustration more than anything, I submitted a handful of writing job applications on the ProBlogger Job Board.

It was a speculative punt at best, so I wasn't shy – especially in one particular application:
I am confident that I tick all of your boxes in terms of what you are looking for. I would consider myself pretty savvy with WordPress. I also have a good understanding of CSS and HTML (I used to build websites manually back in the day), and a passing familiarity with PHP.
The above email clearly worked, because I was given a trial that later led to a permanent writing position over at WPMU. I became a published WordPress "expert" on one of the most popular WordPress-related sites on the Internet.

But perhaps the most important thing in that email application is what I didn't say. I didn't say that I had only been using WordPress for four months, and that I had barely even read a blog prior to May 2011, let alone produced one of my own.

Related: Why Most Online Businesses Fail And Why You Should Start One Anyways

On the contrary, I exuded confidence, and I presented my experience with WordPress as best as I could. After all – what was the worst that could happen? I could be rejected. Boo hoo. It happened when I was a 14 year old wannabe web designer, and it will no doubt happen many more times in my life. But if you are going to go for something, you may as well do it with confidence.
The Moral of the Story
I am a firm believer that faking it until you make it is a powerful weapon for any startup business. Bootstrapping businesses often find themselves in a catch-22 situation where they need experience and clientele to attract clients that will gain them experience and clientele (or any other similar scenario that you can picture).

The key to growing your business under such circumstances is to behave like you already have the experience with which to attract them.

Editor's Note: This is especially true when it comes to finding vendors for your online store.

If you feel guilty about doing this – if you feel that you are somehow misleading them – perhaps you should question what you are trying to achieve. You are trying to get a business off the ground, and if a prospective client or customer makes a decision to take you on board in whatever appropriate shape or form that is, they have exercised a demonstration of faith that you must then deliver upon. The best way you can do that is by being confident of your own abilities.

What I am certainly not saying is that you should lie. Lying is not a form of faking it until you make it – it is a form of lying, and it will catch up with you quickly.

Take a tip from my 14 year old self – confidence breeds performance, so fake it until you make it.

This post was written by Tom Ewer, a regular contributor for MyWifeQuitHerJob.com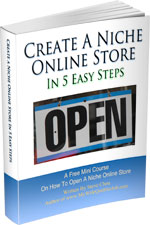 Ready To Get Serious About Starting An Online Business?
If you are really considering starting your own online business and quitting your day job, then you absolutely have to check out my mini course on
How To Create A Niche Online Store In 5 Easy Steps
.
In this 6 day mini course, I reveal the steps that my wife and I took to earn
100 thousand dollars
in the span of just a year. Best of all, it's absolutely free!

Stumble!
&nbsp &nbsp

Reddit!
&nbsp &nbsp

Digg!
&nbsp &nbsp

Del.icio.us
&nbsp &nbsp

Facebook

Get Free Updates Via RSS
&nbsp

Follow Me On Twitter

BizSugar
Similar Posts
Have you read these?
7 Responses to "The Importance of Faking it Until You Make it in Business"