Students often have to make certain sacrifices in order to earn good grades in school. I used to be a model student in both high school and college and I always thought that earning good grades would take me the distance in life. It was only when I graduated did I realize that my emphasis on getting good grades contradicted some of the fundamental principles of entrepreneurship .
First off, I just want to emphasize that the point of this article is NOT to discount the importance of getting good grades in school. My purpose in writing this article is to reflect on specific examples and experiences with my education in both high school and college where getting good grades had a negative impact on my entrepreneurial spirit.
So how can getting good grades possibly be construed as a negative? How can getting an 'A' possibly hinder you in any way?
It's not about the grade itself per se, but the process of obtaining the 'A' that can affect you the most. I've been out of school for over a decade now, but some of these experiences still stick with me today and I'd like to share them with you.
Grades Prevent You From Thinking Outside The Box
The quest for the 'A' grade often requires you to simply follow directions and complete assignments in a way that the teacher or professor expects. I took a software programming class in college where one of the final projects was to design a blackjack game.
This project was designed so that the students would learn how to take advantage of object oriented programming in C++. Writing the program in itself was a great exercise but there were many problems with the way the project was presented to the students.
Instead of just providing the project objectives and letting the students run with it, the teacher provided a detailed framework of the program along with prewritten code to implement many of the functions.
The framework the professor provided made the assignment essentially brain dead. All you had to do was just fill in the blanks where the guts of the function were missing.
I wanted to learn how to create this program from the ground up, so I didn't use any of the sample code or frameworks at all. Essentially, I chose to write the program completely from scratch. It took me a while, but my blackjack program was excellent if I do say so myself and I went way beyond the call of duty.
When I got my project back, I full on expected to get an 'A'. But instead, I was greeted with a "Please See Me" note and a poor grade.
The professor explained to me that while my program worked just fine and fulfilled all of the objectives of the project, he couldn't give me a good grade because I didn't use his frameworks and pre-written code.
He called me in to give me another chance, but I had to rewrite the program to conform with everyone else.
What could I do? I didn't want a bad grade so I grudgingly completed the program by just filling in the blanks. Later on, the teaching assistant commiserated with me and told me that all students had to follow the framework in order to ensure easy and consistent grading.
While I can understand the motive, I still find this policy ridiculous to this day. The professor effectively prevented me from exploring my potential and from thinking outside of the box. He clearly didn't understand the implications his policies had on my learning experience or my entrepreneurial spirit.
Grades Force You To Conform To Someone Else's Style
Getting good grades also requires you to conform to your professor's way of thinking. This is especially true for classes that require you to write papers as part of your final grade.
I took an art history class my freshman year in college where the final grade was based on two essay exams that were taken in the middle and end of the term.
I took a keen interest in this class and for my first midterm exam, I decided to write an essay that captured my own interpretations of the art. I wrote a pretty good essay that compared and contrasted my views to that of the professor.
While I mostly agreed with the professor's points, I also provided arguments that contradicted him as well. Needless to say, I didn't do too well on the exam.
Fearing a bad grade, I decided to not make the same mistake on the final. For the final essay, I wrote a canned paper that essentially regurgitated the lectures. I used similar language and terminology that the professor used in describing the paintings.
I wrote down phrases like "resilient suppleness" and "textured reasoning", both phrases that would normally never come out of my mouth. I got an 'A' on the final and for the class, but what did I learn?
I learned that I had to agree with my professor's viewpoints to do well.
Grades Force You Not To Think
Sometimes getting an 'A' requires no brain power at all. This is especially true for classes such as math where various formulas are used to obtain an answer. Because classes don't emphasize the applications of the math, getting an 'A' often entails plugging a bunch of numbers into a formula.
Sure the teacher derives the formula for you, but unless you have context to what the equations are used for, you often end up plugging and chugging to get the answer.
Why would anyone want to use their brain to figure out the solution when you can simply use a canned method to obtain the answer? How many of you actually remember Calculus or Differential Equations from college? How many of you actually know when and how to use it?
Grades Force You To Compete Rather Than Collaborate
I was very shocked when I found out on my first day of college that all of my classes were going to be graded on a curve. For my freshman physics class, my professor outright announced to the class that only 10% of us were going to get an 'A'.
What did this do to my mentality? Immediately, it put me into competition mode. I didn't try and help anyone out with their problem sets nor did I collaborate with anyone on the assignments. As far as I was concerned, it was every man for himself.
Grades And Entrepreneurship
When I look back at some of my high school and college classes, I can understand the need to assign grades to students. Unfortunately, I don't quite agree with the current methodology nor do I have any answers or solutions to these problems.
What I can say though is that thinking outside the box, non-conformity and collaboration are the pillars of entrepreneurship. There is no magic formula or canned methodology for success. In order to succeed, you have to stand out from the pack and demonstrate your personality. That's one of the reasons why I love to blog.
Collaboration is crucial as well. As an entrepreneur, you need to help others and provide assistance freely and without expectation. Especially today, it's almost impossible to get anywhere alone. I just hope that these principles are reinforced when my daughter starts attending school.
Further Reading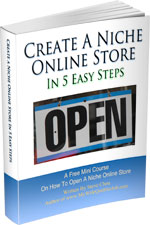 Ready To Get Serious About Starting An Online Business?
If you are really considering starting your own online business, then you have to check out my free mini course on How To Create A Niche Online Store In 5 Easy Steps.
In this 6 day mini course, I reveal the steps that my wife and I took to earn 100 thousand dollars in the span of just a year. Best of all, it's absolutely free!
Similar Posts
Have you read these?