I don't know what's been going on lately, but I've been receiving an unusually large number of depressing emails this past month. People have been asking me questions like…
How do I know when to shut down my business?
It's been over 8 months now and I'm not still not making that much with my website yet. Should I change my niche?
Why is my site not getting any traffic? Should I start over?
After taking a closer look at a few of these websites, I noticed one glaring commonality between all of these online businesses. They've all been around for less than a year!!!
While my wife and I were able to make a six figure salary in a short period of time, making significant money with your business can often take longer depending on your niche and your ability to adapt to the market.
In fact, the longer you stick around, the better off your business will be as long as you are constantly changing up your tactics and testing different strategies to see what works.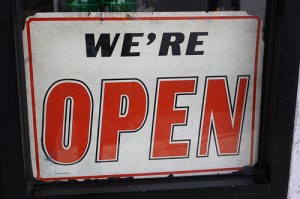 One of the hardest parts about being an entrepreneur is that you have to force yourself to stick it out even though things are not going as planned. You have to give your business a fighting chance to succeed because things take time to evolve and grow.
Would you throw your child out of the house if he or she wasn't advancing as fast as you would like? Much like having a child and raising a family, your business is a long term commitment and you have to be patient.
For my wife and I, we were close to giving up on our online store after just a few months but I'm glad we stuck it out. In fact, several fortuitous events happened to us that had a drastic effect on our business and all we really did was stay open for business.
Seriously, good things tend to happen to those who wait. But you have to be open in order to reap the rewards. Here are a few ways our business improved just for staying alive.
Our Online Store Made The Google Blog
When I first started working on our online store website (this was many months before we actually went live), I made the mistake of paying for a submission service to submit our store URL to thousands of directories.
At the time, I desperately wanted backlinks in order to improve my search engine rankings and I was willing to do whatever was necessary to obtain them.
But since my domain was very young, Google saw the sudden influx of backlinks as spam so our online store was sandboxed immediately. And during this period, you couldn't even find our store if you typed in our URL directly into Google.
I knew I had royally screwed up but I had no idea how to rectify the situation. So at this point we contemplated just calling it a day since we didn't think we could succeed without support from the search engines.
But then something lucky happened! A friend of mine got assigned to write a blog entry on the Google Webmaster Tools official blog.
Since we used Google webmasters tools for our store, she volunteered to mention our store in the article! Within a week of the blog entry going live, our store got un-sandboxed and just like that, we were back in business.
We Got Featured In Real Simple Magazine
For a long time, my wife and I struggled to gain credibility for our store and our products. One of our main problems was that no one knew who we were so customers were a bit hesitant to make purchases from our store over some of the more established brands.
Business was slow in the beginning for several other reasons as well but the bottom line was that customers weren't putting our products in their shopping carts.
One day, my wife and I were discussing some new marketing strategies to improve our store's credibility when we received a call from Real Simple magazine.
It turns out that they wanted to feature some of our napkins in the next issue of their magazine! Naturally, we took advantage of their offer and all of a sudden, we were able to add a magazine logo to our online store!
Not only that, but the Real Simple website linked to our website as well which gave us a boost in the search rankings.
We Got Featured In Brides Magazine
While the Real Simple magazine feature gave our napkins and home textiles a boost in credibility, we still didn't have any publicity for our core product, our wedding handkerchiefs.
But during this time, our site had been silently climbing the search rankings. Did you know that the simple act of keeping your website up and running can improve your standings in the search engines?
In fact, Google uses the age of your domain as one of the factors in determining where your site appears in search.
One day, Brides magazine found our site in Google and wanted to feature some of our products in their next issue. This was huge for us because it instantly gave us credibility in the wedding space.
Most companies pay a lot of money just for a small ad in Brides magazine but here they were contacting us to be featured for free!
Good Things Happen If You Stick Around
All of the events described above happened to our store even though we did absolutely nothing. Essentially, we were in the right place at the right time.
Good things happen to those who stick it out and find a way to succeed. There are other good reasons not to give up on your business as well. For example, even if you take the money out of the equation, our little online business has been rewarding in many other ways.
For one thing, our wedding linens shop has given us the opportunity to be a part of our customers' lives. This sounds cheesy, but I really enjoy being a part of the wedding planning process and we get sent pictures and thank yous from our customers all the time.
And in some cases, we've even helped a few guys plan their wedding proposals.

Because we stayed in business, I also got the inspiration to start this blog and to launch my course on how to create a profitable online store.
My wife and I have also used our business as an excuse to travel to various foreign countries tax free and I've learned how to be my own boss and manage a small scale business. Not bad for just sticking around eh? Don't give up so easily.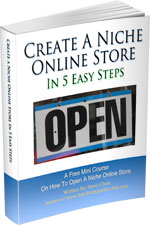 Ready To Get Serious About Starting An Online Business?
If you are really considering starting your own online business, then you have to check out my free mini course on How To Create A Niche Online Store In 5 Easy Steps.
In this 6 day mini course, I reveal the steps that my wife and I took to earn 100 thousand dollars in the span of just a year. Best of all, it's absolutely free!
Note: This post above may contain affiliate links, which means that I may receive a commission if you make a purchase when clicking a link. Please consult our privacy policy for more information.
Similar Posts
Have you read these?