Perhaps you are familiar with the world of blogging, and you're wondering what all the fuss is about. Or maybe you are already a blogger, but you're struggling to find the motivation to continue.
Either way, you may not fully appreciate how powerful a tool a blog can be.
I'm not talking about building a behemoth of the blogging world that nets you a six figure income with just a few hours work per week (I touched upon how damaging that expectation can be last week).
Instead I want to discuss five practical benefits that you can start to experience from your very first day of blogging.
Benefit #1: Education
Many people do not appreciate how much you can learn by running a blog.
Over time, DIY bloggers build up a diverse and valuable set of skills – everything from content creation, to branding, to promotion, and design. Every little tweak you make, every exchange you have, every post you write, is adding to your continuing education in some influential disciplines.
Running a blog is like getting a crash course in running a business. You are learning to effectively sell a product (your content), through branding (your logo, message, and design) and promotion (social media, guest posting, and networking).
If you run a blog for 12 months and don't earn a penny, you may have considered your efforts a failure. But the value in what you have learned could well outweigh what you ever hoped to make.
Editor's Note: My writing and marketing skills were absolutely horrible when I first started blogging. I've since learned how to write more efficiently and how to better brand and promote my products.
Benefit #2: Opportunities
Last week I revealed the kind of opportunities that had been presented to me as a result of my blog. They came without me seeking them out, and without a heavy flow of traffic or a weighty reputation in the blogosphere.
By simply having a blog and putting yourself out there, you are giving yourself a chance of being spotted. Although opportunities may be thin on the ground (or non-existent) to start with, they do come in time. I say that from experience.
Related: How to Create a Blog That Can Change Your Life
And the beauty of blogging is that opportunities present themselves in every field. If you write on a specific topic and begin to attract people who appreciate your blog, it is almost guaranteed that opportunities will arise in time.
Editor's Note: Through MyWifeQuitHerJob.com, I've been offered a few book deals and several speaking engagements. In addition, I regularly receive free products to review from various companies.
Benefit #3: Feedback
Getting the opinion of a third party should never be undervalued, and even the smallest following can give you feedback. Don't be afraid to put yourself on a level with your audience and seek their opinion.
Furthermore, you can use your blog as a base from which to gather advice. You can reach out to other bloggers and ask for their feedback. Not only does your blog provide a good "excuse" for doing this, but doing so also happens to be a great reason for engaging with the kind of people who can open up opportunities for you.
Benefit #4: Accountability
I have been publishing income reports on my blog since I launched it in May 2011. Every single one I have published has been enormously valuable to me in terms of holding me accountable to my goals, and publishing my intentions to my readers.
Doing so has also regularly made me pause and consider my plans more thoroughly. You would be amazed how the simple act of writing something down makes you think about it more carefully.
Related: (My First Business Income Report) How We Increased Our Profit 147% With Our Online Business
Your accountability doesn't have to be manifested in income reports – it could be anything. But it has been proven time and time again that telling other people (rather than just yourself) you are going to do something makes it far harder for you to give it up. In that sense, you can leverage your blog's audience to your advantage.
Benefit #5: Fun
Who says blogging can't just be fun, if nothing else? It doesn't have to be a chore, nor should it be!
Ultimately, you must enjoy what you are doing. Sure – you will have highs and lows as a blogger, but that is how life goes. If you are not passionate about your blog, you probably need to reassess what you are doing. Blogging itself may not be the issue – it could be what you are blogging about that doesn't drive you.
Blogging can be a hobby like any other (and a damned cheap one at that. You can start for $4.95) – it is often the expectations people hold that lead them to a grinding lack of enthusiasm for what they are doing. If you are new (or newish) to blogging, perhaps the best piece of advice I could give you would be to go into it with no expectations, and prioritize fun as your primary concern.
Editor's Note: In general, blogging is not the most ideal way to make money online. However, a blog can serve as an excellent marketing tool should you ever decide to launch your own products or become a freelancer.
Plus, it's extremely rewarding to have an audience that follows your work. If you have the persistence to blog for over a year, there is definitely money to be made but not as much as with an online store.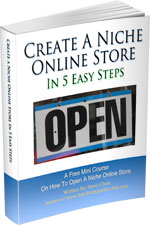 Ready To Get Serious About Starting An Online Business?
If you are really considering starting your own online business, then you have to check out my free mini course on How To Create A Niche Online Store In 5 Easy Steps.
In this 6 day mini course, I reveal the steps that my wife and I took to earn 100 thousand dollars in the span of just a year. Best of all, it's absolutely free!
Note: This post above may contain affiliate links, which means that I may receive a commission if you make a purchase when clicking a link. Please consult our privacy policy for more information.
Similar Posts
Have you read these?