Is your business growth starting to plateau or stagnate? Once your business is making a good profit, it's easy to sit back, slack off and watch the money roll in, especially if you are satisfied with how well you're doing. But keep in mind that if you slack off too much, your competitors will soon catch up and eventually put you out of business.
With that in mind, you need to be constantly innovating and making active efforts to grow your business. There are 2 main ways to do so.
Find new customers and new untapped markets to pursue.
Sell more to your existing customers
The focus of this article will be on finding new customers. While all of the books say that selling to your existing customers is much easier than finding new customers, we've found that finding new customers is the best way to grow the business significantly.
I don't want to discount the importance of selling to your existing customers, but you won't experience exponential growth unless you continue to explore the unknown. Here are some things that we have tried with our online store that have been successful to varying degrees.
Give Out Free Samples
Especially when you are an unknown company with little or no track record, customers will be reluctant to buy from you unless they've seen the merchandise first hand. Letting a customer see your product helps to convert potential customers into paying customers in a short period of time.
As a former sales VP friend of mine once said. "You need to get your customers pregnant with your products and they'll keep coming back".
For our wedding linens business, we tend to give out free samples to wedding planners and catering companies. The risk-reward ratio is huge here. By investing a small amount of money giving out samples, we sometimes end up selling thousands of linens in one big shot. Especially with wedding planners, we end up getting their repeat business as well.
Giving out samples may or may not work for your business depending on your cost of goods, but for our business, it was a no brainer.
Partner With A Complementary Business
The easiest way to find partners is to start off by making a list of all of the potential businesses that might be interested in working with you.
You should focus on
Businesses in your same industry
Businesses that sell items that naturally go along with what you are selling
Businesses that sell similar items but do not compete directly with you
You then need to decide how you want to partner with these companies. Some common ways to partner include.
Giving out promotional materials on behalf of your partner with every sale
Trading existing customer and mailing lists
Selling your products cooperatively
Before you make any partnering decisions at all, it's important to do your due diligence and research your potential partners thoroughly. Use Yelp, Google or any means of finding out how the general public feels about your partner company.

For our business, we've only scratched the surface of finding complementary partners. I would say that wedding planners and catering companies have been our most solid partner contributors at the present time, but we plan on expanding to other wedding related companies in the future.
Give Out Coupons
I was actually very surprised how effective giving out coupons was in drumming up new business. Even though we only give out coupons to existing customers at the present time, we've found that the majority of coupon purchases have been from new customers.
Perhaps this is due to the fact that we are in the wedding industry and most people only get married once in a given time period. Regardless, giving out coupons has been a great way for existing customers to refer others to the business.
Ask For Referrals Directly
We didn't do very much of this in the beginning, but we've recently started contacting our existing customer base for referrals. The beauty of referrals is that once they come on your website, it's almost like a guaranteed sales conversion.
They have no qualms with buying from you because their friends have already strongly recommended you.
Asking for referrals is not always straightforward however. First off, you need to make sure that the customer you are contacting is in fact a satisfied customer. After that, there are various ways of encouraging a customer to refer you.
Offer referral bonuses to customers that bring new business in. Offer them free merchandise or discounts for every new sales lead
Schedule special sales events for your existing customer base and ask them to refer a friend or provide a sales lead. These special events don't have to be anything big. It can be as simple as giving out a special coupon code that can be used when an existing customer and their friend make a purchase together.
If you treat every customer extra special, sometimes you just have to ask and you will receive.
Sponsor an Event
Depending on your business, you may have to get creative here to find an event that will contain a large number of potential customers or leads. Going this route also tends to be more expensive as well if you are not yet a profitable venture.
Even still, many large events welcome sponsor advertisements in return for volunteering, donations, paid sponsorships or free marketing of the event. When you agree to help sponsor an event, usually you can try to ask for the following.
At minimum, you should at least be able to splash you company logo on some flyers or programs. This isn't as effective if you are a relatively unknown company but publicity is publicity
Get access to the event's mailing list or database. Use a service like Aweber to collect email addresses and manage your email marketing
Have the event coordinator send out an email on behalf of your business
The key here is to ask for all of these things because rarely will these items be offered to you directly. If you are lucky, you can get away with sponsoring an event with very little upfront costs. Plus, it'll be fun to attend the event as well!
Our company has been asked to sponsor various events by simply donating some of our products. This has been a relatively low cost way of promoting our business for pertinent events.
What Works The Best?
The efficacy of the strategies above will depend on the nature of your business. For our business, giving out free samples and coupons and partnering with related businesses have been the most profitable for us in that order.
Because it is difficult to quantify the effects of referrals and sponsorships, we've been largely unable to calculate their effectiveness. However, judging by the number of referrals we are getting from email clients such as gmail and yahoo mail etc…, we seem to be getting a healthy number of referral business as well.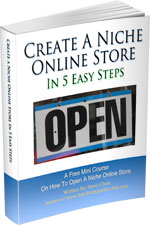 Ready To Get Serious About Starting An Online Business?
If you are really considering starting your own online business, then you have to check out my free mini course on How To Create A Niche Online Store In 5 Easy Steps.
In this 6 day mini course, I reveal the steps that my wife and I took to earn 100 thousand dollars in the span of just a year. Best of all, it's absolutely free!
Note: This post above may contain affiliate links, which means that I may receive a commission if you make a purchase when clicking a link. Please consult our privacy policy for more information.
Similar Posts
Have you read these?