Google is demonized by many as making it extremely difficult for small-time webmasters to rank on the first page. But in reality Google doesn't have it in for the little guy — their priority is to serve up the best possible search results. The onus is on you to do the right things in order to rank.
However, one would be forgiven for feeling overwhelmed by the huge amount of advice pertaining to Search Engine Optimization (SEO) that is available on the web. This post is for such people — I am going to keep things simple and demonstrate how you can rank for low competition keywords with relative ease.
Examples of What I Have Ranked in Google
I have ranked lots of web pages in Google's Search Engine Results Pages (SERPs) — on my own sites and for clients' sites. Here's a screenshot of a few pages I have ranked on LeavingWorkBehind.com:

All of these pages are not particularly competitive and only offer low search volumes — I've picked them out specifically because I'd like you to see real-life examples of the kind of keywords you will want to target. I've been able to rank for these keywords without any deliberate link building attempts, so I've actually done less than I am about to recommend.
The Basics
You no doubt understand that you rank in Google by targeting specific keywords. For example, you might write a blog post about "great cheeses", and Google might rank you for the associated search term (i.e. "great cheeses").
When you're just getting your feet wet with SEO the key is to start with really low-competition keywords — i.e. those that you can rank for with relative ease. Whilst you won't get tonnes of traffic from these keywords, ranking for them will teach you more about SEO than most "experts" can, and will serve as a good foundation for targeting more competitive (and higher traffic) keywords in the future.
I use the Market Samurai app for my SEO and will be using that for the purposes of this post. It isn't free but there is a free trial available. Before pushing on with your SEO strategy I'd recommend that you familiarize yourself with the app by taking the free trial and watching the tutorial videos.
Step 1: Find a Viable Keyword
A lot of people research keywords to find topic ideas, but for simplicity's sake, let's do it the other way around.
Pick out a post from your list of ideas and try to drill down to the root keyword. For instance, consider this post: [Why All Bloggers Should Consider Creating an Information Product[(http://www.leavingworkbehind.com/information-product-creation/]. The logical root keyword would be "information product creation".
Once you've picked a keyword, fire up Market Samurai and enter the Keyword Research module. Enter your keyword and generate a list of additional keywords from what we will call your "seed" keyword.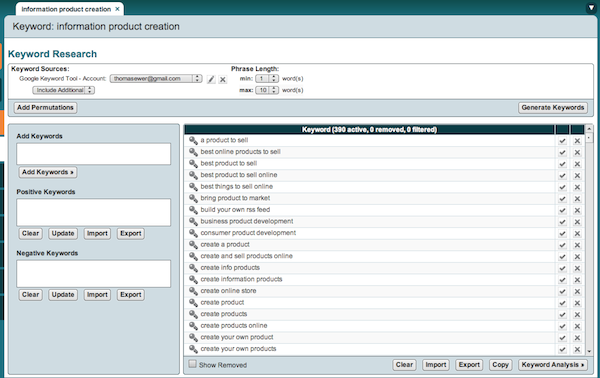 Once you've done this, click through to the Keyword Analysis screen and sort all of the keywords by SEO Traffic (SEOT). Make sure that you clear any active filters — we want to see everything: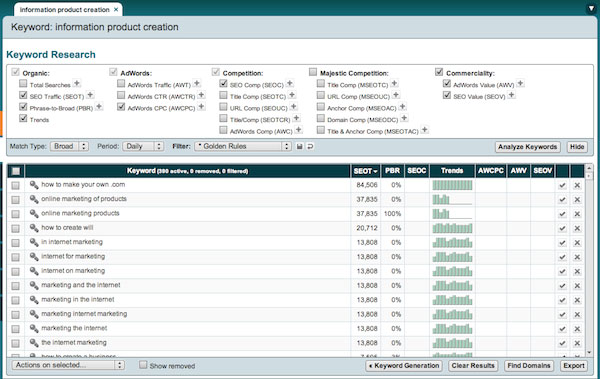 Don't worry about any of those other numbers — we're going to ignore them. Next, go through the list of related keywords and click on the little key icon next to any keyword that could serve as a good headline (at least in part) for your post.
Rack up 5–10 of these prospective keywords then check each one out by clicking on its particular tab and then onto the SEO Competition Module. Here's what you want to see:

Forget most of the fields above and focus on these key factors:
Very low numbers (ideally zeros) for RDP and BLP (showing that there are few or no links to the page)
Mainly Ns in Title, URL, Desc and Head (showing that the page is poorly optimized for the keyword).
The above screenshot is for the keyword "entry level freelance writing jobs". As you can see, my blog ranks in second for this keyword with just three backlinks.
A final manual check should be made on the actual SERPs page in Google to check that the top results are not hosted on sites that are directly related to the keyword. If they are you will struggle to rank. If you see Q&A sites, forum pages and other such sites ranking on the first page, that's a good sign.
I will probably take a few attempts for you to find a viable keyword — just keep working down the list until you do. Don't worry too much about search volume — remember, you're doing this as much for experience as you are for traffic.
Step 2: Create SEO Optimized Content
Onsite SEO is a huge topic, but as with keyword research above, we're going to stick to the absolute basics.
Here's your simple three point checklist:
Include the keyword within the title (whilst ensuring that it is engaging and readable).
Include the keyword with the body of your post (whenever it is relevant and natural to do so).
Include the keyword within a subheader (if it is relevant and natural to do so).
Generally speaking, focus on your post being relevant to the keyword you are targeting. If you can include related synonyms then even better. Given that we're trying to rank amongst webpages that barely target the keyword, this light optimization should be all we need.
Step 3: Get Promoting!
Even with Google's latest algorithm changes, links still play a huge part in determining your rankings.
That may sound rather intimidating, especially if you have little or no experience in link building. The good news however is that because you are targeting low-competition keywords, a few relevant links (if any) will be all you need in order to rank on the first page.
Here are a three simple recommendations for getting you started:
Social media: promote your post via all of your Facebook/Twitter/Google+/Pinterest/etc profiles
Networking: send your post to anyone you know who might be interested by it. Establish reciprocal relationships with people in your field and some will link to your site naturally.
Guest posting: write a guest post on a related topic and link it back to your post.
Patience is a Virtue
Like I said, you shouldn't have to do anything major to rank for these kinds of keywords. It may take time, but patience is a virtue when it comes to ranking in Google.
Rather than expecting (or hoping for) immediate results, consider all that you do as an investment in future rankings.
If you have any questions please do not hesitate to leave a comment below!
The post was written by Tom Ewer, a regular contributor for MyWifeQuitHerJob.com!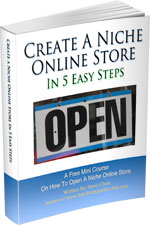 Ready To Get Serious About Starting An Online Business?
If you are really considering starting your own online business, then you have to check out my free mini course on How To Create A Niche Online Store In 5 Easy Steps.
In this 6 day mini course, I reveal the steps that my wife and I took to earn 100 thousand dollars in the span of just a year. Best of all, it's absolutely free!
Similar Posts
Have you read these?