As most of you know, exactly one week ago I launched my course on how to create a profitable online store.
Since it was my first product launch on MyWifeQuitHerJob.com, I thought that it would be interesting to talk about the chaos leading up to the launch and about what went right and what went wrong.
While many people emailed to congratulate me on having such a nice, smooth launch telecast, let's just say that from my perspective it was about as smooth as sandpaper.
Anyways, I first wanted to thank everyone who made it to the live telecast. Believe me, I was terrified that I was going to be broadcasting to no one.
Actually, I can't really say that. My mom was there and she wasn't going to miss it so I was guaranteed at least one viewer.
But still, putting yourself out there for a scheduled event is pretty nerve racking especially when you have viewers all across the globe in different time zones.
I received at least a dozen emails that morning from people apologizing that they couldn't make it for some reason or another which made me feel really discouraged.
But the telecast went well. I had about 90+ viewers and broadcasting live was the best feeling ever! I write a lot about entrepreneurship on this blog, but honestly I haven't put myself out there in quite some time.
And boy do I miss it! I love the fear, the anticipation, and the knots in my stomach prior to a launch. I love the uncertainty and the exhilaration of taking a gamble and jumping off a cliff. Makes me want to do it over and over again.
The Master Plan That Didn't Pan Out
Since it was my first launch, I wanted to do it right. So I planned a 5 prong strategy to sell the product.
I wanted to publish a series of incredible posts leading up to the launch
I wanted to put together an affiliate team to help push the product to a wider audience
I wanted to give a live launch telecast to answer any questions in real time
I wanted to create anticipation by creating a separate email list of interested readers offering exclusive content from the course
I wanted to publish a series of guest posts and have a series of interviews available leading up to the launch
There was nothing fancy about my strategy…except for the fact that I grossly underestimated the amount of work involved. My first mistake was setting a launch date that was a bit aggressive.
Truth be told, the course materials were complete a while back and I should have released my course a long time ago but I'd been really lazy about it.
So to get my butt in gear, I decided to set an aggressive launch date to force myself into action. And it worked…..except my awesome 5 prong launch became a 2.5 prong launch.
Problem 1: I Got Bogged Down With Technical Details
I grossly underestimated the amount of technical work involved in setting up a membership site and working out the exact checkout process for my customers.
You would think that since I set up online stores all the time that I would be able to throw up something quickly, but selling my course was different than setting up your average online store.
For one thing, it was my first time offering an affiliate program so I wanted to make sure that the platform I was using was tested and robust.
As a result, I chose E-junkie simply because many of my fellow bloggers recommended it as a great way to sell digital goods with an easy to use affiliate program.
In addition, E-junkie offers a PDF stamping feature which allows you to watermark your digital download with a unique signature to discourage piracy.
But while E-junkie is great for selling digital goods, it isn't that straightforward to sell memberships and digital goods at the same time in a single transaction.
What was supposed to be a quick 20 minute setup ended up taking me about 3 days to implement. The actual typing only took like 20 minutes but figuring out what to type took forever.
In addition, it was my first time dealing with video as well which meant that I had to learn how to record, edit and process video with the right tools and programs.
That, and I also needed a way to protect my content so it couldn't be stolen by others. None of this stuff was exactly straightforward.
Why did I decide to do this all myself instead of hiring someone? It's because I'm a control freak and I always want to understand exactly how everything works. It's my personality and I can't help it.
Whenever something goes wrong, I want to know exactly how to fix it. In this particular case though, it probably would've been beneficial if I had hired an advisor to point me in the right direction since I had so many marketing tasks on my plate.
Problem 2: Time Was Running Out
Since it took so long to work out the logistics of running a membership site, I had much less time to market my product. I immediately had to cut out several prongs of my 5 prong strategy.
Having the launch telecast was probably the most important item on the list so I made sure that it was still a go. But I ended up cutting out a few key pieces of my launch strategy.
For example, I didn't have time to write the awesome content leading up to the launch. I also neglected to create a separate email list for interested parties and probably pissed off a few of the members of my blog newsletter with sales spam.
Probably the worst decision I made was skipping out on a few interviews I had scheduled. In retrospect, I should have just sucked it up and done them but at the time, I felt like I needed further preparation for my live telecast and more time improving the post-purchase experience for the customer.
The Launch Day Disaster
The actual launch day was pretty relaxed. Since I work a full time job, I decided to take off a little early on Wednesday to prepare myself for the live telecast via UStream.
All systems were go and I think the live telecast went really well. But after the telecast was over, I accidentally closed the UStream browser window before electing to hit "save". DOH!!! I had lost the recording of my launch telecast!!!
At that point, I was freaking out and panicking like crazy. Those of you who stayed on until the end of the telecast might have accidentally heard me cursing loudly live via UStream.
I was a complete wreck. I ended up spending the rest of the night trying to recover the recording. Thankfully, I discovered that I had inadvertently setup my webcam to record everything onto my hard drive and fortunately I was able to convert the video into a format for display on the web.
It All Turned Out Well
Despite everything that went wrong, the launch was a success! I received several orders even before I gave the telecast which made me feel really good.
Immediately following the telecast, I received a bunch of orders as well which meant that it was well received. After putting up the recording of the telecast on the sales page, I received yet another burst of orders as well.
Today, the class stands at about 80% full and it's only been a week. If you still want to sign up, there are some spots available but I anticipate that they will fill up this week.
Click Here To Watch The Live Telecast And Sign Up For The Create A Profitable Online Store Course
All said, I was extremely happy with the launch. I hit the four figure mark very early on launch day and hope to fill up the first class very soon.
Honestly, I was pleasantly surprised by how well the course has been received. At $299, it's definitely not an impulse buy. But as I mentioned in the telecast, I only want people who are absolutely serious about starting an online business.
This first group of students will be special and I will do my best to make sure that everyone is successful.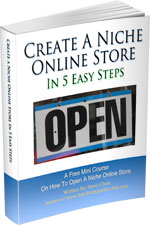 Ready To Get Serious About Starting An Online Business?
If you are really considering starting your own online business, then you have to check out my free mini course on How To Create A Niche Online Store In 5 Easy Steps.
In this 6 day mini course, I reveal the steps that my wife and I took to earn 100 thousand dollars in the span of just a year. Best of all, it's absolutely free!
Note: This post above may contain affiliate links, which means that I may receive a commission if you make a purchase when clicking a link. Please consult our privacy policy for more information.
Similar Posts
Have you read these?