My wife and I are currently on the verge of coming to an agreement on a house purchase and we're excited and terrified at the same time. In just a few short months, we'll be running an online store, maintaining a small business blog, and taking care of a second child as well.
Besides the need for an extra bedroom for our new little one and a nice backyard to play in, our business has required the use of more and more room as we continue to expand. In a nutshell, we are in desperate need of some extra space and this house fits the bill.
The problem for me when it comes to home buying though is that I hate carrying a large mortgage. I was always brought up to pay my debts in their entirety and to not have any financial obligations hanging over my head. For example, I always pay my credit cards on time.
I rarely if ever borrow money from friends. Hell, I won't even borrow money to buy a car unless the finance rate is at or below the interest rate I can get at a bank.
All of these ideals are further reinforced by all of the frugality and personal finance blogs that I read on a regular basis. But principles aside, it looks like I'm going to have to bite the bullet with the house since I simply don't have enough money to buy a home entirely in cash.
Our Situation
Speaking of cash, my wife and I are in fairly good shape. Because of our frugal ways and our online business, we have managed to save at least what I consider to be a decent amount of cash.
And having this nest egg of money has allowed us to sleep very soundly at night. If I were to ever lose my job, we could survive pretty much indefinitely on our online business income at our current burn rate.
If I were to lose my job and our business went under, we could still survive for a decent amount of time as well off of our savings.
But when you factor in the cost of the new house into the equation, our financial situation definitely worsens. That's not to say that we are going beyond our comfort zone with this new house, but the size of the down payment will put a huge dent into our nest egg and introduce a fairly hefty mortgage payment as well.
The Question
If everything continues to go smoothly with both my job and our business, we can easily afford this house. If I lose my job for an extended period, our business can still pick up the slack for a very long period of time.
But if I were to lose my job and our business went under, we might be in a bit of a bind. We could still survive for a reasonable amount of time but it would definitely be stressful.
By the way if you haven't noticed, I'm more concerned about losing my day job rather than our business going under. That's not to say that I'm insecure about my job, but I'm not 100% in control over my day job like I am with our online business.
The likelihood of our online business suddenly making zero revenue is pretty close to nil. If anything bad were to happen to the business, it would happen gradually over time and we would be able to see it coming and adjust accordingly.
With my job however, the executives and the board of directors might suddenly decide that the project I'm working on is no longer worthwhile and lay me off at a moments notice.
This is a very important distinction and one of the main reasons having our own business is more stable than my day job.
In any case, I'm left with a very difficult decision. Do I borrow more money and maintain a larger nest egg or do I borrow less and have a much smaller monthly mortgage payment?
The Case For Borrowing More
We are currently in a unique situation living in this depressed economy. Interest rates for mortgage loans are at rock bottom. And while it's still a bit difficult to get approved for a loan, once you do it's a major bargain to borrow money right now.
In fact the interest rates are so low that it is highly unlikely that rates will be this low again for a very long time. In addition at the rate the US government is printing money, it seems that higher inflation is inevitable making it extremely favorable to take out a larger loan.
The other thought I had in regards to taking out a larger loan and putting less money down is that my salary and our online business earnings will continue to rise to offset the increased mortgage payment.
Borrowing more money also means having more cash readily available in case of disaster or more realistically in case we need to make any additional modifications on the house.
The Case For Borrowing Less
Borrowing less money is more inline with the principles that I was brought up with. By having a more manageable mortgage, either the business or my day job alone would suffice to cover all of our costs at our current burn rate.
We would have to live frugally but I would have peace of mind that we could continue to pay the mortgage even in pretty bad times. The only problem is that our nest egg would be depleted leaving us with less money in case of emergencies.
Clearly there is a fine line here where we need to find a happy medium. Given the following hypothetical scenarios, which would you choose?
Take out a larger mortgage while maintaining a large enough nest egg for a years worth of burn rate in case something bad happens.
Take out a smaller mortgage with a significantly smaller nest egg but with a mortgage payment that is easily manageable by either the day job or business alone
Take out the largest mortgage possible to offset future inflationary pressure
I'm eager to hear your thoughts.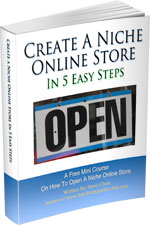 Ready To Get Serious About Starting An Online Business?
If you are really considering starting your own online business, then you have to check out my free mini course on How To Create A Niche Online Store In 5 Easy Steps.
In this 6 day mini course, I reveal the steps that my wife and I took to earn 100 thousand dollars in the span of just a year. Best of all, it's free and you'll receive weekly ecommerce tips and strategies!
Note: This post above may contain affiliate links, which means that I may receive a commission if you make a purchase when clicking a link. Please consult our privacy policy for more information.
Similar Posts
Have you read these?