I think of limited liability companies or LLCs as a hybrid between an S corporation and a sole proprietorship. LLCs, like S Corps and sole proprietorships, are pass through tax entities in that taxes on income are filed under an individual's income tax return.
The LLC also provides limited liability protection. The main advantage of LLCs is that it can provide you with limited liability protection without the hefty paperwork requirements of corporations. So what questions should you ask yourself?
Corporate Structure
Do You Really Need Limited Liability?
The LLC is very attractive from a limited liability standpoint mainly because of the informal low cost aspect of running one. Compared to a corporation, there is much less paperwork involved and its extremely easy to form and dissolve.
However the liability protection, like a corporation, comes at a cost. All states treat LLCs differently in terms of taxes and fees. You need to check with your state, but California has pretty unfavorable tax laws for LLCs.
In California, every year you have to pay an 800 dollar franchise fee no matter what. In addition to this 800 dollars, you also have to pay a flat fee determined by your total income. Total income in this case means gross sales or revenue as opposed to net income.
For example, let's say that I made 500k in revenues but only 10k in total profit. I would have to pay $800 + $2500 in yearly franchise fees regardless of the fact that I only made 10k net.
Here's a table of fees charged by California taken directly from ca.gov. If total annual income is equal to or over – but not over –

$250,000 to $499,999 the fee is $900
$500,000 to $999,999 the fee is $2,500
$1,000,000 to $4,999,999 the fee is $6,000
$5,000,000 and over the fee is $11,790

Is Your Business Profitable?
Assuming you require limited liability protection, the decision then falls between LLCs, S Corps or C Corps. There are a few rules of thumb here that I will describe below when choosing between the 3. Please take these rules with a grain of salt because you should always calculate what works the best for your business.
If your business is losing money, then generally an S Corporation or an LLC is the better option from a tax standpoint because you can incur the losses on your individual tax return.
If you require limited liability with as little paperwork as possible, an LLC is the way to go
If your business makes over 100k a year, a C corp offers the best tax savings at the expense of increased paperwork and regulatory filings.
If you are deciding between an S Corp or an LLC, an LLC is generally more favorable when your profit margins are higher. You should calculate the break even point in terms of fees and make a decision based on your projected revenues and profits.
How Do I Form An LLC?
Forming an LLC is fairly simple. Depending on your state, most of the time forming an LLC involves filling out only a single form. In general though, finding and filling out the proper forms can be confusing.
Fortunately, there are many services available that will handle all of the paperwork for you. For example CorpNet.com is a company that specializes in small business formation for a very reasonable fee.
Rather than have to trudge through all of the different forms and legalese, it's far easier to have CorpNet.com handle everything for you.
Plus, they'll give you a 1 on 1 consultation for free. Use coupon code: MWQHJ for 10% off!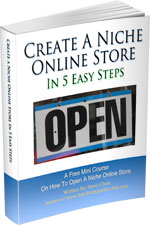 Ready To Get Serious About Starting An Online Business?
If you are really considering starting your own online business, then you have to check out my free mini course on How To Create A Niche Online Store In 5 Easy Steps.
In this 6 day mini course, I reveal the steps that my wife and I took to earn 100 thousand dollars in the span of just a year. Best of all, it's absolutely free!
Note: This post above may contain affiliate links, which means that I may receive a commission if you make a purchase when clicking a link. Please consult our privacy policy for more information.
Similar Posts
Have you read these?