If you fear excessive paperwork and you want to keep it simple, then a sole proprietorship is the way to go. Establishing a sole proprietorship is so easy, that you don't have to do anything at all. By default, the IRS considers all business owners sole proprietors.
Because going with a sole proprietorship is stress free and easy, many people stay as solos early on. Since everyone has their own situation however, below are a few questions you should ask yourself.
Corporate Structure
Is Liability a Concern?
Are you selling items or services that are prone to getting sued? For example, do you sell any food articles or anything that could be potentially dangerous? If you require liability protection, then sole proprietorships are definitely not for you.
Since the US is such a litigious country, anyone can sue you for almost any reason. If you don't have liability protection, you could go bankrupt as a result of your business. Just because you are a sole prop though, doesn't mean you can't still protect yourself from liability.
For example, if the goods you are purveying are relatively safe, you can choose to get product liability insurance instead. Often times, you can select an insurance package that can cover you for anything that may arise.
Is Your Business Losing Money?
The beauty of a sole proprietorship is that the business losses can be deducted directly from your taxable income. In the beginning, when your business is not profitable, you can save money on your taxes by declaring a loss. Keep in mind that all of the same rules regarding business deductions apply to sole proprietors as well.
Do You Want to Keep it Simple?
Sole proprietorships have the simplest tax rules and there are absolutely no setup costs required. Its easy to go in and out of business whenever you feel like it with little or no paperwork.
The book keeping required is much simpler as well and you get to pocket all of the profits and losses. Best of all, you don't have to file a separate tax return because there is no separate business entity.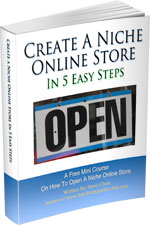 Ready To Get Serious About Starting An Online Business?
If you are really considering starting your own online business, then you have to check out my free mini course on How To Create A Niche Online Store In 5 Easy Steps.
In this 6 day mini course, I reveal the steps that my wife and I took to earn 100 thousand dollars in the span of just a year. Best of all, it's absolutely free!
Note: This post above may contain affiliate links, which means that I may receive a commission if you make a purchase when clicking a link. Please consult our privacy policy for more information.
Similar Posts
Have you read these?