This is part 1 of a 7 part series on how to start a small business.
Most people who aspire to start their own business already have some idea about the different corporate structure options available to them.
And it's a well known fact that most business owners choose their legal structure based on one criteria: limited liability for business debts.
For the purposes of this guide, rather than rehash all of the nitty gritty that you can simply read about in any book, this guide will try to summarize and simplify the decision making process for you.
In addition, I will also discuss the reasons why we chose to form an LLC for our company.
Small Business Startup Guide
Once again, please note that I'm not a legal or a tax expert. All information reflected in this guide should not be treated as absolute fact.
The rules for all of the various legal structures change all of the time and you should check with a professional when making the final decision.
Weighing The Tradeoffs
When my wife and I first started out with our online wedding linens business, cashflow was of the utmost importance. We needed money to purchase inventory, to setup the necessary infrastructure for the business and we desperately wanted to turn a profit as soon as we could.
Because forming any legal structure outside of a sole proprietorship would have cost us a good chunk of change (especially in California), paying money to form an LLC or corporation was probably the last thing on our minds.
So we stuck with a sole proprietorship for quite a while until we started chatting with some of my lawyer friends. You might think that selling wedding linens to the end consumer might be about as safe as it gets in terms of liability.
But when my lawyer friends started citing ridiculous court cases in which small business owners were sued and forced into bankruptcy, I realized that no business is safe from litigation especially in America.
The reality is that you never know when you're going to get sued so you better be prepared.
In any case, I thought that I would start by going over some of the obvious red flags for businesses that definitely REQUIRE liability protection. Basically, don't be a sole proprietorship if you are thinking about…
Any business that creates or sells edible goods
Any business that involves driving or operating any machinery
Any business that cares for children or animals
Any business that may result in either mental or physical injury. Ie, if you run a paintball business, or a coaching business etc…
Any business that involves expensive merchandise or a high upfront cost to begin
Any business that deals with alcohol or drugs
Making the decision to incorporate or to form an LLC depends on the risk factors for your business. So the first thing you need to do is sit down, assess your risk tolerance and decide whether limited liability is a requirement.
Keep in mind that even if you choose to remain a sole proprietorship, you can still purchase business liability insurance in case an emergency arises.
When our business was still a sole proprietorship, getting product liability insurance was the route that we took because we weren't as concerned about not being able to pay our business debts as we were about getting sued.
Getting product liability insurance is still a good idea even if you do plan to incorporate or get an LLC.
The Options
I've written up a few short articles on each of the different corporate structures below. Before proceeding with the rest of this article, you might want to refresh your knowledge regarding some of these legal entities before I discuss them in more depth.
I Need Liability Protection So Now What?
If you've assessed your risks and decided that you need liability protection, there are basically 3 choices, a C Corporation, an S Corporation and an LLC. The choice amongst the 3 depends on some very important factors.
Do you plan on issuing stock options to attract or raise capital?
If the answer is yes, you pretty much have no choice. You have to form a corporation. S Corporations are limited to only 75 members so if you require more shareholders, you must form a C Corporation.
Do you ever plan to take your company public?
Once again if the answer is yes, you pretty much have to form a C corporation.
Did you answer no to the above questions?
If so, then choosing to form an LLC usually makes the most sense. The simplicity and flexibility of having an LLC gives it a clear advantage over a corporation.
In general, if you choose to go the corporation route, you'll need to consult an accountant or a tax lawyer to help you with the fine details of running a corporation.
Just to give you an idea, running any corporation involves quite a bit of time and expense. For example, you need to hold regular board of directors and shareholders meetings and keep corporate minutes.
You need to adopt the various corporation bylaws, issue stock to shareholders and keep records and transactions of the business completely separate from those of the owners.
If you are a one man show, then this might not be a big deal but it can become cumbersome with many members.
An LLC offers you the ability to be taxed as a corporation (S or C) as well which grants you the flexibility to leave some money in your business at lower tax rates much like a C corporation.
All of this comes with far less paperwork. In a nutshell, you can do almost anything with an LLC that you can do with a corporation with far less burden.
What's Different Between An LLC And An S Corporation?
LLCs are relatively new. Before LLCs existed however, forming an S Corporation was the structure of choice for those who wanted pass profits directly through to the owners like a sole proprietorship.
The main difference between the two is that…
S corporations may not have more than 75 shareholders who all must be US citizens or residents. In an LLC, any type of person, foreign or domestic, can become a member.
Shareholders of an S corporation must allocate profits exactly according to the percentage ownership of the company. For example, if I own 60% of the shares, I must get paid 60% of the profits. In an LLC, you can distribute the profits however you want.
S corporations are still corporations and must abide by the corporate rules. This means issuing stock, holding meetings, keeping minutes etc… LLC owners don't have to perform any of this overhead.
The LLC fee (at least in California) is 800 dollars. There are additional fees imposed on an LLC that are based solely on revenue and not profits. The S corporation fee (in California) on the other hand is based entirely on profits alone. What is means is that it might be cheaper to run an S corporation if you have high revenues but low profits. In general, LLCs are cheaper if you have higher profit margins (at least in California)
Why We Chose An LLC
Since our online store is very profitable, you might be wondering why we didn't go the C corporation route. The reality is that our online wedding linens store is probably never going to go public and we certainly aren't going to be raising large sums of money from investors.
Our business was meant to be small so my wife could quit her job and stay at home with our kids.
In a nutshell, we didn't want to deal with the additional headache and paperwork that a corporation requires. Since an LLC allows you the flexibility to be taxed as a corporation as well, this more or less gives you almost all of the benefits of a corporation without all of the hassle.
In the end, this made forming an LLC a no brainer for us.
Is An LLC Right For You?
One thing to keep in mind is that the rules for an LLC differ in every single state so you really need to do your own research depending on your locality.
You also need to check whether your business is even eligible to form an LLC. For example in California, professional services businesses may not form an LLC.
In general though, if you know that you are going to be small and stay small, LLCs are the way to go if you want limited liability without too much hassle.
If you have higher aspirations for your business and would like to go public someday, it is generally desirable to start out as an S Corporation until you are profitable. You can then switch over to a C Corporation in order to take advantage of income splitting.
Forming An LLC Or S Corp
Even though forming an LLC or an S Corp can be completed entirely by yourself, it can be a confusing process. So especially if you are a first time business owner, I strongly suggest using an outside service to handle the paperwork for you.
Recently, I've started using LawTrades.com for all of this type of work because they are super accessible.
For example, you can get a free 20 minute consult right off the bat where you can ask questions to a real lawyer WITHOUT GETTING CHARGED. As a result, I use them to file trademarks and answer both my legal and tax questions.
Click here to get your free 20 minute consult and then receive $99 off if you decide to use them..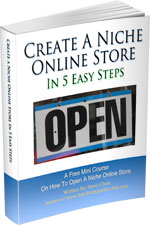 Ready To Get Serious About Starting An Online Business?
If you are really considering starting your own online business, then you have to check out my free mini course on How To Create A Niche Online Store In 5 Easy Steps.
In this 6 day mini course, I reveal the steps that my wife and I took to earn 100 thousand dollars in the span of just a year. Best of all, it's absolutely free!
Note: This post above may contain affiliate links, which means that I may receive a commission if you make a purchase when clicking a link. Please consult our privacy policy for more information.
Similar Posts
Have you read these?