I'm not sure why, but lately I've been listening to a lot of people bitch about their jobs. And honestly, I'm getting a little tired of it. "I hate going to work, but I gotta to pay the bills somehow."
"I want to change jobs, but I'm afraid of getting laid off." The complaint I hate hearing the most is "I feel lucky just to have a job in this down economy so I'd better stay put".
Personally, I think "feeling lucky" is the wrong attitude to have. Your company should feel lucky to have you as an employee. Currently, one of my friends who is feeling "lucky" is getting taken advantage of by his employer.
He's worked weekends for quite a while now and even had to work over Memorial Day weekend. In addition, his company announced that there would be no pay raises or bonuses for the year.
The big kicker? His company told him that he should appreciate just having a job in this down economy.
The only reason that you should feel lucky is if you are a poor performer or if you don't have confidence in your abilities.
If you truly do feel lucky being stuck at a place you don't want to be, the real question is how you got in this position in the first place?
Chances are it's because you put all of your eggs in one basket, your day job. Chances are it's because your learning has stagnated. Here's how you can avoid feeling stuck.
Learn A New Skill Set On The Side
So I asked one of my whiny acquaintances why he doesn't just quit his job and pursue something else. His answer? It's because his only area of expertise is in his current field and companies requiring his skill set just aren't hiring.
Well geez, why not pick up a book and learn something new? Why not pick up a new skill on the side? Better yet, why not take some classes at your local community college?
"I don't have any time!"
"You don't have any time yet you knew who won American Idol last week. You don't have any time yet you watched the entire season of 24 in one sitting. You don't have any time yet you've been on facebook all day long"
The fact is that we all waste time during the day and we can always spare a few moments to learn something new. It just takes a little bit of discipline.
Instead of watching tv or leisure reading, start reading business or technical books instead. Structure your time so that you always have an hour or so to learn something new every single night.
If you aren't learning anything new at work, don't let your brain just stagnate. Every new skill you pick up will make you that much more marketable in the future.
Over time as you gain more knowledge, you will develop a swagger, a cockiness that will give you the confidence to leave that dead end job and pursue something else.
Start Something On The Side
If you feel stuck at your current job because of the money, the solution is obvious. You need another source of income. So why not take advantage of your current steady income while it lasts and start another revenue stream on the side to go along with it?
Think about it this way. If you are relying on your job, you are staking your livelihood on a single point of failure that is beyond your control. If you factor in the fact that you have to support a family, then you are risking other peoples' lives as well.
Your alternate revenue source doesn't have to be the next big thing.
It doesn't even have to be unique or cutting edge. But if you don't want to feel stuck ever again, you need to start a side business. These days, starting something online costs almost nothing so there really is no excuse not to try.
Our online store currently costs around 80 dollars a month to maintain. When we were just starting out, it cost only 30 dollars a month.

The only issue with starting a side business is that it takes time to establish a revenue stream so you have to plan ahead, put your head down and persevere.
You have to commit yourself to sticking with whatever you chose to do for at least a few years.
Channel That Whiny Energy
The next time you're feeling trapped or stuck, channel that energy into finding solutions to your problem instead of dwelling on your present situation.
Work on improving your current skill set. Divert all of that whininess to a side hustle that can make you a couple of extra bucks.
The worst thing that you can do is feel sorry for yourself or feel like your company is doing you a favor by keeping you employed. Turn the tables, and I guarantee you'll feel better about it. Liberate yourself!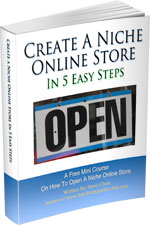 Ready To Get Serious About Starting An Online Business?
If you are really considering starting your own online business, then you have to check out my free mini course on How To Create A Niche Online Store In 5 Easy Steps.
In this 6 day mini course, I reveal the steps that my wife and I took to earn 100 thousand dollars in the span of just a year. Best of all, it's absolutely free!
Note: This post above may contain affiliate links, which means that I may receive a commission if you make a purchase when clicking a link. Please consult our privacy policy for more information.
Similar Posts
Have you read these?