After looking at hundreds of online shops and providing critiques for many shopowners, I see the same mistakes being made over and over again. And what's frustrating is that most of these mistakes have to do with either being too cheap, greedy or lazy.
For example, most newbie webmasters simply use the out of the box shopping cart installation without any modification which results in a sub optimal shopping experience for their customers.
To be successful, you have to take the time to make your store unique and attractive. You have to stand out and the default look just isn't going to cut it.
Other shop owners think that they can cut corners and skimp out on paying for critical products and services in order to save money. Below is a list of the most common newbie mistakes that will absolutely cripple your store's chances for success.
No Contact Page
If you aren't a big name company like Amazon or Walmart, the first thing that a customer will look for when they visit your shop is your contact information. And if they don't find an address and a phone number, they'll leave right away 90% of the time.
Why don't most newbie shop owners include their contact information? It's because they don't want to pay for a dedicated phone number to answer calls. They don't want to give out their home address if they run their business from their house.
I don't care whether you have anyone available to answer the phone, get a phone number. It doesn't have to be an 1800 number, just get any number that offers voicemail service.
For example, Google Voice offers free phone numbers that you can then forward to any phone that you want for free! There is no excuse for not signing up as it won't cost you anything.
If you don't want to use your home address, get a PO Box or a UPS store address for a small fee. I think it costs like 60 dollars a year to sign up for a post office box and double that amount for a UPS store address.
The advantage of having a UPS store address is that you get a physical street address which will make it seem as though you have a real store.
Bottom line, if you can't spare a few dollars to put up a proper contact page and get a free phone number, don't even bother opening up a store.
Not Collecting Emails
Most customers visit your store once and never come back. In fact, it can take up to 7 visits before someone becomes a paying customer.
Do you want to take a chance that a random person will remember to come back to your online 7 times? No way!
By taking down your customer's email, you can send them reminders of new products, sales and promotions. You can send them engaging content to humanize your business. You can even recover abandoned shopping carts.
Do not skimp on this aspect of your business. We use Aweber as our email marketing provider for both our online store and our blog. Click here to check them out for free.
No SSL Certificate
Recently, I was asked to critique a store that neglected to purchase an SSL certificate. When you don't have an SSL certificate, your customer's information including their credit card info is transmitted over the internet as plain text for anyone to see.
Not only is this dangerous, but it also violates the payment industry's PCI compliance guidelines for credit card transactions.
If you are ever caught sending credit card info without using SSL, you could be fined or penalized and even have your payment processing revoked.
Seriously, it doesn't cost that much to get an SSL certificate. Go Daddy sells them for like 50 bucks a year.
Forcing Customers To Register
Most shopping carts are setup by default to force a customer into registering for an account before completing their purchase. I have no idea why the default is set up this way, but it's a sure fire way to drive away customers who want to make a purchase.
Why not provide an option for the customer to check out with or without an account? For our online store, about 80% of our customers opt to shop without creating an account.
On our checkout page, we clearly outline the advantages of registering for an account and give our customers a choice. Make sure that you override the account option setting in your shopping cart before you launch your store!
Not Taking Credit Cards
Accepting credit cards online will cost you anywhere from 25-50 dollars a month depending on who you go with. Make sure you pay the money and sign up for a real credit card merchant account and gateway. With our store, 97% of our customers pay by credit card and less than 3% pay by Paypal.
I know that Paypal Standard Payments is free but you can't only accept Paypal and expect to make any real money. The fact is that most online shoppers rely on their credit cards and there's currently no way around it.
If you want a credit card merchant that is easy to setup and manage, sign up for Paypal Website Payments Pro which will cost you only 30 dollars month.
Whatever you do, don't skimp on your payment processing. After all, the ability for customers to pay you is crucial to your success. It's pointless if you can't collect money.
Using A Free Hosted Shopping Cart
I only included this bullet point because I've been getting a lot of questions about Miiduu.com lately which is a free hosted shopping cart service.
The main problem with Miiduu.com and other free hosted solutions is that they don't allow you to use your own domain name for your store. What this means is that you will never ever be able to migrate away from these free services because they own your store name.
In other words, you will be wasting your time and doing all of this work to get your store to rank in the search engines for their benefit, not yours.
If you are serious about starting an online store, never ever go with a free service….period! If you can't afford to pay $6.95 a month for shared hosting on a service like Blue Host or $24.95 a month for a fully hosted ecommerce solution like Big Commerce, don't even bother.
Oversized Photos Or Photos With Incorrect Aspect Ratios
Most people who are new to uploading photos to a website don't realize that you don't need high resolution photos for display on a computer screen.
I once visited a store that used a bunch of 2MB photos for their products. As a result, it took me almost 2 minutes to load up their site on my 5Mbit broadband connection.
All photos that are displayed on the web should be cropped to the exact dimensions that you are trying to display. In other words, if you want to show a 400 x 300px image online, make sure you resize your photo to that exact size before uploading it to your website.
In addition, you should turn the quality settings of your JPEG photos way down as well. Personally, I use a quality setting of 60 in Photoshop when processing my photos for upload but you can probably get away with even lower quality images.
Resizing your photos just right will also prevent your images from coming across as stretched or distorted which is a personal pet peeve of mine.
Don't be lazy and just upload one gigantic picture to address all of your store needs. Most online stores require at least 3 different sizes of the same photo, a thumbnail, a medium sized image and a full size photo for detail.
Most modern shopping carts have the facility to resize and cache photos for you on the fly but the aspect ratio still has to be correct for the photo to look right on the screen. Don't be lazy and process your photos correctly before uploading them to your site.
Horrible Product Descriptions
You can't physically be there to sell the items in your store. Therefore, you have to rely on product descriptions and product photos to convince customers to make a purchase.
So why not spend a little bit of time and write some good product copy? Not only is this good for SEO but the right verbiage might make your product sound more attract to a potential customer.
Here's an example of a horrible product description I just encountered from a shopowner trying to sell a dress.
*Length 78cm *Shoulder 38cm *Bust 86cm *Lap 65cm *Please check the measurement chart carefully. Because of different producing batches, there may be deviation of 2~3 cm. *CONDITION 100% Brand New / Without any accessories
From the product photo, the dress looks pretty nice but would you want to buy it after reading the product description? It's no wonder that this shopowner has been complaining to me about poor sales.
No Security Badges
The final mistake that most new shopowners make is not displaying security badges and other reassurances to address customer anxiety during checkout.
Most people who shop at a new store are concerned about privacy, security and theft. Therefore, it is your job to make them feel at ease when they are entering in their private information.
Therefore, on every single page in which a customer needs to enter private data, make sure you plaster that page with security badges, SSL certificates, trust logos and testimonials alongside your form fields so that a customer feels comfortable checking out at your store.
When we performed A/B testing with our online store with and without trust logos, we found that conversions went up drastically when we inserted a few security badges alongside of the form fields. Don't assume that all customers are comfortable making online purchases!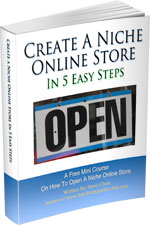 Ready To Get Serious About Starting An Online Business?
If you are really considering starting your own online business, then you have to check out my free mini course on How To Create A Niche Online Store In 5 Easy Steps.
In this 6 day mini course, I reveal the steps that my wife and I took to earn 100 thousand dollars in the span of just a year. Best of all, it's free and you'll receive weekly ecommerce tips and strategies!
Note: This post above may contain affiliate links, which means that I may receive a commission if you make a purchase when clicking a link. Please consult our privacy policy for more information.
Similar Posts
Have you read these?