As part of running my blog and my ecommerce store, I've been lucky enough to meet many other like minded entrepreneurs over the years.
And I can honestly say that I've learned more about running a business from just a handful of conversations with these people than I have from any business book or seminar ever.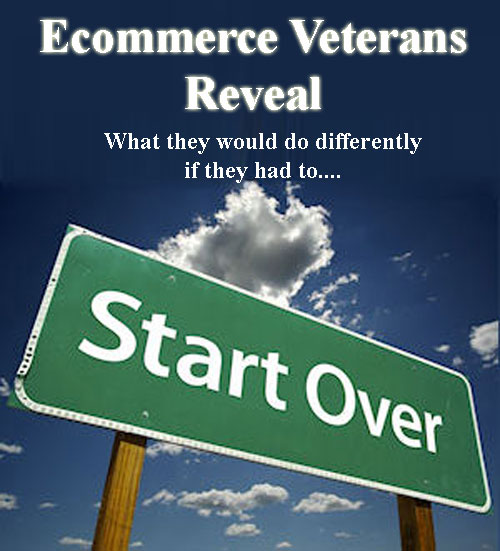 There is a saying that you should always associate with people who are smarter and better than you are and I can proudly say that almost all of my online business buddies are way more successful than I am.
Anyways, I decided to ask some of my colleagues about the lessons they've learned from their various online business endeavors and I managed to compile quite a list.
So without further ado, here's a group of well established ecommerce shop owners that share what they would have done differently if they started all over again. Enjoy!
On Product Acquisition And Deciding What To Sell
This may be quite obvious but my last ecommerce store was a monster. It had over 250,000 parts and I thought it HAD to. Boy was I wrong.

Truth be told sold a tiny percentage of the actual sku's that I had listed on my site. If I would have focused more on the products that people wanted it would have been much successful.

Tom Masiero |BuySellAds.com
When you are dealing with Chinese manufacturers, you have to be very careful about haggling too much on price. We thought we were getting a great deal on some merchandise but when we received it, it was of very poor quality. In other words, they cut corners on product quality in order to meet our price threshold.

When dealing with overseas manufacturers, you have to be very explicit about product quality and specification. Otherwise, you won't get what you are expecting.

Steve Chou | BumblebeeLinens.com
I learned the hard way that I have to keep moving the inventory (to keep cash flowing) and constantly adding new options.

I got to the point of very low cash flow because I wasn't able to move that sitting inventory.

Originally I started my business as a side business and never put much thought into the name, brand, or real reason for doing so.

I wish I would have taken the time before I started to consider all that. I changed my business name later in the game and it was hard starting over.

Salina Gannon | NipAndBones.com
This is much harder than it sounds but I would look for a business with faster lead times when ordering or making products.

At the moment I need to order 3 months in advance and so just when I have paid off one order I have to reorder and start payment on that!!

As @stevechou has mentioned in his blog, whilst I make great profits every month there are times when I feel i am just treading water because of having so much money tied up in stock.

I would try and focus on one market (ideally USA) and would steer clear of International shipping and international customers if there was sufficient business in just one country.

This way you can focus your marketing efforts much better and dont have shipping and tracking hassles.

Tim Shaw | SweatShieldUnderShirt.com
If I was starting from the beginning, I'd give more thought to my long-term expansions goals and consider the feasibility to bring goods in-house (stocking products).

I'd love to be able to invest more capital into my existing businesses to stock products and increase revenues, but unfortunately it's not clear that the increase in margin would be enough to offset the costs and hassles of warehousing my own goods.

Right now, if I'd like to operate a higher margin business the best route is likely to start another store, but I'd love to be able to leverage the infrastructure I've built up already. Planning for success in this regard early on would have been helpful.

Andrew Youderian | RightChannelRadios.com
On Hiring Help And Finding Partners
My biggest mistake was hiring admin people before revenue generating people. I ended up paying out a lot (virtual employees, etc) but having all the responsibility for generating revenue falling upon my shoulders.

If I had it to do all over again, I would have had maybe 1 part time customer service person, but would have hired someone on the sales site (or whatever, SEO/PPC/PR whatever), instead of having a VA, and I would have continued to perform the administrative duties myself. Growth would have been MUCH faster.

Miracle Wanzo | HipUndies.com
Its not from my experience since being in the eCommerce industry that caused this hard lesson but rather when I started a night club event company my freshmen year in college.

Being from out of state, full of ambition, drive, and realizing an opportunity I strategically grabbed a few new found friends that could add value to my venture.

What I didn't do was dig deeper into the person they were or wait to have a lasting relationship with them to learn about their character and tendencies.

Anyways, I learned the hard lesson that you must choose whom you go into business with, whether partners or even vendors, sign operating agreements, give descriptive roles, and make sure you wont be the only one putting in the long days and late nights.

Since being in the eCommerce industry I have done it alone but I think the principle and lesson still applies. That doing your due diligence, being strategic, and laying out the expected responsibilities before starting a venture with any type of partner is critical. It'll make or break any business.

Blake Anderson | HunterTreeStands.com
I would have hired someone sooner. I spent WAY too much time working IN the business rather than ON the business, that if I would have brought my warehouse manager in sooner I think we'd be a bit further along.

Lance Block | Swells.com
Hiring people to optimize your site (CRO, adwords pros. etc), set up alternative sales funnels (autoresponders, landing pages, etc) right from the off is huge. Before you start hiring people to answer emails and other menial tasks, you should be hiring people to make sure you're getting every last $$ out of every visitor.

Dan Maney | FrozenReptile.co.uk
If I were to do it all over again, I might have considered not starting a business with my spouse.

While my wife and I actually work well together, trust each other and serve complimentary roles with our business, we still get into fights from time to time.

But here's the thing. We never used to fight at all until we started working together. And sometimes it would be nice if we didn't mix business and pleasure. Unless you have a strong marriage, working with someone you are very close to isn't always the best idea.

Also, for some reason I always end up losing our fights and getting punished for it:)

Steve Chou
On Marketing And Testing Products
I would have focused on a handful of products and created amazing pages for each product: Great Pictures, explanations, an easy way for them to call/chat to ask questions, etc.

Making customers feel comfortable by having all the common questions answered had really helped increase conversions.

Jeff Raymon HomelandFishing.com
If I could have done it all over again (and planning to do so with my first site), I would absolutely focus on having GREAT content, providing REAL value to my target audience before trying to thrust a bunch of products at them.

As Andrew has indicated many times, it's all about providing better VALUE to customers than the Amazons, Wal-Marts, etc. A good thing about having an commerce-based business is that starting over is usually not that hard to do!

Tim Huff | OliveBranchGames.com
I spent too much money on branding and trying to fix a website that was a lemon. On reflection I should have spent more money on buying larger volumes of stock at cheaper prices.

These days I will not start serious branding or investing in a GOOD developer until I have created and tested a draft website for say 3-6 months.

Felicity Waters | gardenbeet.com
I would not add anything to my sites without knowing it is going to sell. Currently, I do this in various ways. Mostly, by testing before I buy inventory.

Here's the basics.

Get the item set up on your site BEFORE you have inventory. Drive PPC traffic to it and actually sell some BEFORE you have inventory. If you can't deliver it, cancel the orders and refund the money or buy it from a competitor and ship it to your customer. (don't know if this is 100% cool but it's how…um…some people I know do it)

At the end of the day it costs you some time and effort and a few bucks for PPC traffic and refunds etc. But I'll invest $500 or even $1,000 to test it out before I invest $10,000 to bring in inventory any day.

I do not under any circumstances buy inventory without having sold the product for at least a short time first. I want to know up front how much a click is going to cost, conversion rate, and margin BEFORE I bring in stock.

Joe Cochran | NorthlineExpress.com
Do You Have Any Advice To Add?
I actually had more advice from other ecommerce experts that I was not able to include because I didn't want to make this post too long. But perhaps I will create a part 2 in the future.
In the meantime, if you have anything to add, please leave your advice in the comments below!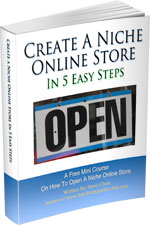 Ready To Get Serious About Starting An Online Business?
If you are really considering starting your own online business, then you have to check out my free mini course on How To Create A Niche Online Store In 5 Easy Steps.
In this 6 day mini course, I reveal the steps that my wife and I took to earn 100 thousand dollars in the span of just a year. Best of all, it's absolutely free!
Similar Posts
Have you read these?