The other day, a friend of mine called to let me know that after a year of dragging her feet, she finally decided to take action on launching an online store. And I was ecstatic!
One of the reasons I was so excited was that her story was so similar to ours when my wife and I first started out with our online business.
Her goal was to start a family, quit her job and stay at home with her child without sacrificing her income. An online business would be perfect!
As we spoke on the phone, I became completely engulfed by her enthusiasm and her energy. And after about 5 minutes, she made me genuinely excited about her products which she wants to sell to the baby boomer market.
Oh Steve!! The best part is that I've made sooo much progress already these past few months.
And when I asked her about all of the things she'd accomplished so far, this is what she told me.
Friend: Well first and foremost, I registered my LLC. The baby market can be very litigious so I want to protect myself from any liability. Oh and I got business cards. They were only 5 bucks for a thousand.
I marked off a portion of my house dedicated to the business so that I can take the home business deduction. I got a new computer and printer. Still debating whether I should get an IPad too. Got a business bank account and a UPS Store address.
Finally, I looked up all the rules and regulations involving selling baby products. It's official, I'm ready to go!
Me: Cool. Have you thought about how you are going to setup your website yet? Which domain and platform you are going to use?
Friend: Um..no. You know me. I'm not tech saavy at all so I'm saving that for later.
Me: Did you figure out how you are going to get your products made?
Friend: Not yet. Not sure where to start with that one so I figured I'd get everything else setup first.
Me: Do you have any idea how you are going to market your products and your online store?
Friend: Well, I don't have a website up yet so I figure I'd do all that after I launch.
After talking with her on the phone some more, I started shaking my head. Sure, she was taking action on things that would eventually need to get done. But had she done anything yet to help her core business?
Human Tendencies
I can't really make fun of my friend here because my wife and I fell into the same trap. We started doing all of the mundane and easy business tasks first while leaving the hard stuff for later.
The problem that most new and experienced entrepreneurs make is that they tend to stick with the known and what they are comfortable doing.
The business needs liability protection right? May as well pay the $800 dollar LLC fee and get that out of the way. I need a comfortable office and a computer. May as well go shopping. I need to get the word out about my business. May as well get those business cards made ASAP.
However at the end of the day, what have you really accomplished? In the case of my friend, why the heck did she need liability protection right away when she's not even selling anything yet?
In California, forming an LLC costs 800 dollars. Was that really necessary? The only thing that forming an LLC did was to make herself "feel" better that her company was "official" and that she had accomplished something.
She acted based on "how she felt" instead of acting based on what was necessary to get her business off the ground. Technically, she made some progress but in reality she was just procrastinating by putting off the hard stuff.
Work On The Hard Stuff First
So it's easy to say "Do The Hard Stuff First", but it really is as simple as that. What are the riskiest parts about your execution plan?
There's no point in going any further with your business until you've identified your weak points and can formulate a strategy to overcome them.
Using my friend as an example, she should have first focused on how to obtain the products she wants to sell. After all without a product, there is no business. Where is she going to source her merchandise?
If she wants to dropship her stuff, she can find many drop ship vendors on Worldwide Brands.
If she wants to have her stuff manufactured, she could have joined my wife and I on our trip to the Canton Import Export Fair
After nailing down her product sourcing strategy, she should look for a nice place to host her ecommerce website. Since she doesn't know a lick about computers and programming, I would recommend her to go with a fully hosted ecommerce solution like Big Commerce.
Finally after getting those big pieces out of the way, she should focus all of her remaining efforts on her marketing strategy. After all, marketing should be her value add.
What is special about her company? Why does she sell the products that she does? Why would anyone want to buy them?
The Proper Mindset
The reality is that anyone can do the easy stuff. Anyone can set up an office. Anyone can get business cards. Anyone who can read is capable of setting up a corporate structure. After all, all of these rules and regulations are well documented on the government websites.
But what happens when things aren't documented? What most people can't do very easily is to tackle the unknown. When you open an online store or any other business, there are no rules. You have to be willing to make and define them yourself.
The key is to discover the hardest aspects of your business first and attack them right away. Ironically, human nature tries its best to hide the hard parts from you so I want to offer you a little trick I always use to identify what I "should" be working on.
If I feel a sick sensation in my stomach when I think of an issue, it's hard. If I feel nervous, scared and doubtful, it's hard. If I try and block a particular aspect of my business out of my mind and rationalize to myself that "I'll figure it out later", then it's hard.
Defining the hard parts of your business is half the battle. The other half is pushing through even though you are terrified.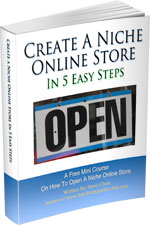 Ready To Get Serious About Starting An Online Business?
If you are really considering starting your own online business, then you have to check out my free mini course on How To Create A Niche Online Store In 5 Easy Steps.
In this 6 day mini course, I reveal the steps that my wife and I took to earn 100 thousand dollars in the span of just a year. Best of all, it's absolutely free!
Similar Posts
Have you read these?