This is a post written by Brandon Levey. Brandon founded StitchLabs.com, which provides an online application for simple inventory management, order fulfillment, invoicing, expense reporting and business analytics.
After experiencing first-hand the challenges of running a small product-based business, he quit his day job to create Stitch and help small businesses do more.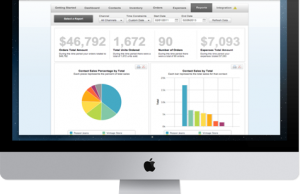 I founded Stitch Labs while I was working on my own retail business selling organic t-shirts. At a trade show, I saw another seller take a $10,000 order and tuck it away in a manila folder.
At that moment, I realized many retailers are missing out on the wealth of information that rises from good inventory tracking. With Stitch Labs, I built tools for that purpose and have learned a lot from our users and how they can make better decisions by using their sales data.
Hindsight is 20/20 with sales data. It's easier to see the patterns around your wins and losses as you look to the past. However, it can be less obvious how you should use your sales data for future inventory purchases.
In particular, there are four key areas where your sales data can inform better purchasing decisions.
1) Seasonality
While the impact of holidays is often obvious, timing of sales often appears random.
You may notice items with combinations of red, white and blue selling a bit better just before the Fourth of July, but be unable to discern other season rhythms surrounding your products. Your sales data will cut down on this ambiguity and help you identify seasonal patterns.
Patterns may only emerge under a finer lens. For example, let's say you sell scarves and notice a spike in sales in late winter, which is odd since they've always been a fall item for you.
After looking at the region of the buyer's, you realize that they're all within driving distance of Tahoe where sunny days and deep packed snow make for excellent skiing in March and April. Correspondence with a few customers confirms your hunch that the scarves are popular with skiers.
Equipped with this insight, you can plan to keep more in stock next season or possibly hold off on discounts you would usually offer in late winter to turn over inventory.
The bottom line: Know precisely when to start stocking items and when to initiate discounts from seasonal patterns that arise within your sales data.
Editor's Note: Because the lead times for sourcing our products can be as high as 4 months, we always keep track of the seasonality of all of our products. One small mistake and you could miss out on a lot of sales (which has happened to us in the past).
2) Taxes
Paying attention to trends in your sales data can save you money when tax season comes. Your accountant will be the ultimate resource here, but some general principles offer guidance.

You can offset earnings during a profitable year with smart business purchases. If you know you're going to need a new sewing machine after the new year, a trend in higher than normal sales might suggest buying it this year instead.
If you're new to small business, talk to your accountant about these scenarios and what to keep an eye out for as you track your own data. It will take time to grow in your sophistication, but you'll learn faster if you track sales data early on and learn what to look for.
The bottom line: Trends in your sales data will help you make smarter decisions about big purchases to save you money when tax season comes.
3) Optimal Pricing
Sales data is a great way to reflect on your pricing.
Your high-selling items could be underpriced, while your low-selling items may be priced too high.
Once you identify your high- and low-volume sellers, you can experiment with small changes and track the results.
Experiments in pricing should be incremental. Start with small changes and adjust by degrees until you find your optimal ratio of price to number of sales, sometimes called the "sweet spot."
The bottom line: Incrementally adjust your prices based on close attention to your sales data until you find the optimal price point for your product.
Editor's Note: Depending on the niche, you'd be surprised by how much people are willing to pay for certain products. In the wedding industry for example, sometimes higher prices equate to more sales
3) Repeat Customers
While it may come as a cliche, "It's easier to sell to a previous customer than to get a new one," holds true. When it comes to data, repeat customers offer more insight as they can reveal individual patterns over time. The sum of these patterns will give you a wealth of information on what to stock and when to stock it.
To get even more from your sales data, filter your repeat customers based on who has opted into your mailing list and indicated interest in further correspondence. These customers behave differently and will more often read the promotions you send them. If your data reveals more details about their particular product tastes, you may find a greater return on investment with tailored offers or suggestions.
Also, be sure to apply the seasonality lens to repeat customers. Examine their purchases for seasonal patterns. If you find one that always buys a new yellow item every spring, you can plan to have an extra in stock. When you're still small, you can win loyal fans with this level of attention.
As you grow, these individual patterns should cluster around larger customer groups that can inform inventory directions for your business.
The bottom line: No matter the size of your business, repeat customers provide unparalleled insight into sales trends to help you keep these customers, and target potential new customers.
Next Steps with Sales Data
Because of the wealth of information that sales data can provide, there's no reason not to track it and wring it of all it's worth.
Invest in tools and applications that make it easy to see the numbers surrounding what you're selling. However, don't rely purely on the reports that come in the box. Educate yourself on interpreting sales data and tinker with your reports until you have a clear picture of the patterns running through your own business.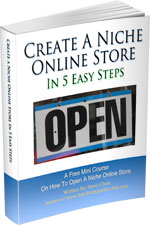 Ready To Get Serious About Starting An Online Business?
If you are really considering starting your own online business, then you have to check out my free mini course on How To Create A Niche Online Store In 5 Easy Steps.
In this 6 day mini course, I reveal the steps that my wife and I took to earn 100 thousand dollars in the span of just a year. Best of all, it's absolutely free!
Note: This post above may contain affiliate links, which means that I may receive a commission if you make a purchase when clicking a link. Please consult our privacy policy for more information.
Similar Posts
Have you read these?