There are few things more frustrating in business than a bolshie customer or client.
When it comes to common causes of stress in any successful business, I am willing to bet that customer complaints is near the top of the list.
I believe two things when it comes to customer complaints:
The customer is always right.
Dealing with customer complaints shouldn't be a stressful task. On the contrary – you should see it as an opportunity.
In my opinion, regardless of how you feel about a customer's behavior, you should always go above and beyond in satisfying their demands.
I believe that doing so will ultimately result in increased profits (not to mention customer satisfaction).
Related: How We Handle Angry Customers And Potential Customer Service Disasters
In this article, I discuss the impact that a dissatisfied customer can have on your business (it may be far greater than you presently understand). Then I will explain how you can turn a customer complaint into an opportunity to improve your business (both in terms of product/service quality, and your bottom line).
The Impact of a Dissatisfied Customer
The most important thing to understand about customer complaints is that the basis for their complaint is irrelevant to the potential impact their dissatisfaction may have on your business.
Let me explain this in numbers, courtesy of the Research Institute of America for the White House Office of Consumer Affairs (via this article).
The average business will hear nothing from 96% of unhappy clients.
Each and every dissatisfied customer will, on average, tell at least 9 other people.
It only takes a little math to figure out what this means for your business. Essentially, every customer complaint received represents 24 dissatisfied customers.
Those 24 customers will tell a combined 216+ people of their negative experience with your business.
Related: The Most Important Customer Service Tip I Have To Give

I actually have a great example of this from just last week, when I was blocked access to my own blog by my hosting provider. Having suffered at the hands of their woeful customer service team, I started sharing my experiences with my 4,000+ Twitter followers. I then rescinded my endorsement of their service on my blog's resources page, and have started looking for a new provider.
But here's the kicker – the technical issue is not what prompted this. It is the way in which they handled the issue.
Every new call to a customer service representative required me to start from scratch, and none of the people I spoke to (a) sounded like they cared at all about my predicament, and (b) actually made an apology for the downtime.
This is what poor customer service in this one situation has resulted in (to date):
Exposure of my complaint to a potential audience of thousands
A withdrawal of my endorsement of the service (potential customers lost)
The coverage of the experience in this post
The loss of me as a customer

Related: What Your Customer Really Wants – Lessons Learned From Taking Customer Support Calls
Would you feel inclined to use them in the future? Would you be a little worried that you may receive similar treatment in the future? That is the power of a single customer complaint at work.
So when I say that the basis for a customer's complaint is irrelevant, I mean this – no matter how absurd their complaint is, you should seek to accommodate them as best as possible, because not doing so can have a very real impact on your business.
Turning a Complaint into an Opportunity
So that is why the customer is always right. But with the rather damning statistics referenced above, how can a customer complaint possibly represent an opportunity?
Well first of all, we should talk about damage control. Referring back to my webhosting experience again, we know that good customer service would have resulted in none of the negative outcomes above.
If they had demonstrated a level of care and communicated with me, I never would have publicized my displeasure.
Furthermore, between 70% – 95% of customers will return to your business if you resolve their complaint (depending upon the speed of resolution).
Not only can good customer service reduce the possibility of publicized complaints, it results in customer retention in the majority of situations.
Whilst damage control alone should be a good enough reason to focus on excelling in customer support, it is not the only reason. The opportunity you can create from a customer complaint relies upon your willingness to go above and beyond.
Let's say that my webhost had resolved my issue quickly and diligently, and had given me (for the sake of argument) a $10 Amazon voucher by means of an apology. You would have seen a very different story unfurl under such circumstances.
I would have been evangelizing about their service to my Twitter followers.
I would have boosted my endorsement of their service with my story of excellent customer service. I would have used the story in this article as an example of what to do. And they would have kept my custom.
The Cost of Quality Customer Service
There is of course an issue with my above reasoning – it is difficult to quantify the impact of good customer service.
And when it comes to handling customer complaints, an element of commercial practicality must come into consideration. For instance, it wouldn't make much sense to send a customer a $100 voucher because the delivery of a $5 product was delayed.
However, more often than not, the scale of the positive response you make to a customer complaint should be fairly obvious. For starters, an apologetic nature (when it doesn't represent a potentially dangerous admission of liability) is free.
And because we now know that the potential cost of complaints is high, you should always err on the side of generosity when it comes to appeasing your customers.
One final thing you should consider is this – good customer service can be a major selling point. According to a 2010 study by Harris Interactive, 60% of consumers say that they are often or always willing to pay more for a better experience.
If I am dealing with a product or service in which I can expect to deal with customer support (such as web hosting), I will happily pay a premium for quality support.
How Do YOU Handle Customer Complaints?
The above recommendations can be applied to any business – client or customer facing. For instance, I will always look to deliver above expectations to my freelance clients, and will always happily do a favor here or there (as long as it doesn't constitute an ongoing expansion of the scope of works, because that is a slippery slope).
But how do you handle customer complaints? Do you believe that the customer is always right (even if they aren't)? Or do you have a different approach? Let us know in the comments section!
This article was written by Tom Ewer, a regular contributor for MyWifeQuitHerJob.com!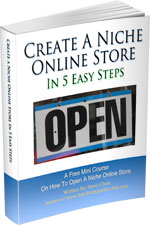 Ready To Get Serious About Starting An Online Business?
If you are really considering starting your own online business, then you have to check out my free mini course on How To Create A Niche Online Store In 5 Easy Steps.
In this 6 day mini course, I reveal the steps that my wife and I took to earn 100 thousand dollars in the span of just a year. Best of all, it's absolutely free!
Note: This post above may contain affiliate links, which means that I may receive a commission if you make a purchase when clicking a link. Please consult our privacy policy for more information.
Similar Posts
Have you read these?