Early on in the life of our online store, I used to wonder when the right time would be to transition our website from shared to dedicated hosting. And this past weekend, I received the answer shoved down my throat.
I discovered the hard way that I needed to switch because this past weekend our online store lost a significant amount of revenue due to a hosting related issue with our website.
So what happened exactly? Basically, our website went down for almost 2 entire days and it was not immediately obvious that anything was broken. It's one thing to go down with a nice maintenance message, but our online store basically crashed with cryptic error messages that only surfaced while the customer was checking out.
When considering whether or not you need to make the transition to dedicated hosting, you really need to consider a variety of factors depending on the nature of your business. In the end though, it all comes down to money and control.
Why Did I Stick With Shared Hosting For So Long?
Before I go into exactly what this crash had to do with my webhost, I just want to take a moment to go through the reasons why I stayed with shared hosting for so long. If you're reading this post just shaking your head at my stupidity, consider the following factors that were going on in my head at the time.
Our shared webhost has run our online store without any problems for 2 straight years
Our store has a decent amount of daily customers but not enough to bring down a shared server
The cost of shared hosting is about 10x cheaper than any vps or dedicated solution
If everything is working, why fix it?
The bottom line is that shared hosting is good enough for a low traffic website and it's a great way to host your business in the beginning when you are unsure whether your business will take off. But as I discovered the hard way, any serious business will use a dedicated server to host their website.
My Mistake
So what critical aspect of hosting a website did I neglect to consider? I forgot to account for the cost of downtime as well as the need for full control over my server.
Our business has grown exponentially these past 2 years and I knew that we needed to graduate to a dedicated hosting platform at some point, but I kept dragging my feet because I was satisfied with the status quo and assumed that things would continue to run along smoothly.
But this past weekend, our online store crashed because our web host suddenly decided to upgrade all of their servers to the latest software release which completely busted our entire store.
Things wouldn't have been so bad had I realized it early enough. But as I mentioned earlier, the upgrade only affected our store during customer checkout which made it a difficult bug to notice. In fact, the only reason I knew something was wrong was because we went an entire day without completing a sale, something that hasn't happened in over 1.5 years with our store.
How Much Did We Lose?
Ultimately, our store was down about 2 days. Judging by the number of failed transactions in our database, we probably lost a little over a thousand dollars in revenue. Now, if we do a little bit of math, it's quite depressing.
Shared hosting has cost me about $250 for 2 years. A cheap and reasonable VPS hosting plan would have cost about $1060 over 2 years. Doing the subtraction, I've saved about $800 in hosting costs. But if you take into account the $1000 I just lost, shared hosting has cost me $200 overall.
Why Dedicated Hosting Is Necessary
In a previous article, I advised using shared hosting when starting out with your online store. While I still recommend this strategy, I would now immediately move the online store to dedicated hosting as soon as you've ascertained the viability of your store. Here's why
You will have the freedom to do whatever you want. In a shared hosting environment, your website is extremely limited as to what you can do. For example, my shared hosting account only allowed me to send 500 emails an hour. Even though 500 emails an hour sounds like a lot, it makes sending out a wide reaching newsletter pretty much impossible.
Your shared hosting environment only allows you to use a set amount of CPU time. If you exceed this CPU usage limit, your site is shutdown. This is something that very few shared webhosts tell you about.
Your shared webhost may decide to upgrade the software on your server at any time without warning. In our case, our webhost upgraded to php5 and sql 5.0 which completely busted our shopping cart. With a dedicated server, you have full control over your upgrades.
You can withstand a much higher traffic load without slowing down your website. It takes quite a bit of traffic to overload a server. But in a shared hosting environment, you are sharing one machine with hundreds of other users. I asked my webhost once and they told me that they host around 700 users on any given machine. If one or several of these 700 users sees a spike in traffic, your online store could slow down to a crawl.
Lessons Learned
I waited too long to transition to dedicated hosting and I paid the price. Besides the reasons mentioned above, I also dragged my feet because I was somewhat fearful of having to manage my own dedicated server. At the time, I had very little server management experience and I wasn't sure that I could get things up on my own.
If there's anything to be learned from my experience, it's that it's dangerous to leave the fate of your website to a third party webhost. Even though your site might be running great right now, it can go down at any time if anything changes with your setup. Unless you have full control over your own server, even the simplest upgrade can bring you down.
The second thing I learned was that it's amazing what you can learn when placed under the gun. I picked up a ton of server knowledge while frantically trying to migrate our site and set up our dedicated server. The transition actually went rather smoothly and I should have had more confidence in my abilities.
Finally, I learned the hard way that procrastination and complacency are terrible for business. If you eventually have to upgrade, do it now and plan ahead. It will only get more painful later on. In addition, full control over your mission critical website is necessary to ensure that unexpected downtime does not occur.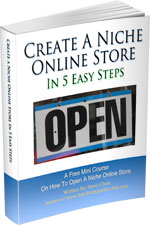 Ready To Get Serious About Starting An Online Business?
If you are really considering starting your own online business, then you have to check out my free mini course on How To Create A Niche Online Store In 5 Easy Steps.
In this 6 day mini course, I reveal the steps that my wife and I took to earn 100 thousand dollars in the span of just a year. Best of all, it's absolutely free!
Note: This post above may contain affiliate links, which means that I may receive a commission if you make a purchase when clicking a link. Please consult our privacy policy for more information.
Similar Posts
Have you read these?