This post was written by Tom Ewer
I have a confession to make.
For the first several months after I decided that I wanted to quit my job in May 2011, I didn't believe in myself. I didn't really believe that I would be able to successfully launch my own business.
I think many people share that same self-doubt when heading down what can be such an unpredictable road.
Furthermore, I believe that many other people mistakenly assume that the guys and girls who do reach their goals, did so with unwavering confidence.
What I have personally found so remarkable is how unexpected my path to "freedom" ultimately was. If the last year or so has taught me anything, it is that by simply taking action, you give yourself a far greater chance of success – regardless of what your plans actually are.
Niche Sites
I look back and laugh.
My first online endeavor was to build an informational website relating to child modeling. It was a topic that I had absolutely no experience in, but I had read through Pat Flynn's niche site duel series and dreamt of passive income.
My plan was to release a product on the site that would generate enough income to allow me to quit my job. So I started researching and producing content for the site. A lot of it – three posts a week, every week.
There was just one problem – my business model relied entirely upon Google, and more specifically, black hat link building. And as you may have already guessed, the site was soon heavily penalized by Google, never to recover.
Moving On
Not to be phased by such a relatively large setback, I pressed on.
I started up another site about anxiety and panic attacks (a topic which, unlike child modeling, I had direct experience in). It was to be an experiment in white hat SEO – I targeted extremely low competition keywords and waited for the traffic to pour in.
It didn't. But that wasn't the only problem. I quickly discovered that there was no viable means of easily monetizing the site. It was essentially another dead end.
Turning Point
So at the start of October 2011, six months into my endeavors, I had learnt a lot, but achieved very little.
My total net income at that point was -$910. Leaving Work Behind was still a baby, having attracted just 713 unique visitors in September. The possibility of me quitting my job looked a distant one.
But I was getting more and more frustrated with my job, and that proved to be a powerful motivator.
On a whim, I checked out a few postings on the ProBlogger Job Board and applied for a few different blogging jobs. I landed a trial at WPMU, and soon thereafter became a regular writer for them.
Gathering Pace
The ease with which I had managed to find a writing job came as a total surprise.
Although I had never previously considered freelance blogging as a means of making a viable income, I could now see a potential path to freedom. A few weeks after landing my role at WPMU, I sent off a few more applications via ProBlogger and landed a job with ManageWP.
That was all the encouragement I needed. By the end of November, I made the decision to quit my job. People thought I was crazy (some still do) – I'd only had two clients for barely a few weeks, and my freelance earnings only amounted to a fraction of my outgoings. What if the work dropped off? What if I was fired?
I recognized that things could go sour, but I felt that a precedent had been set in the rate that I was being paid. I figured that if I was dumped by either (or both) of my clients, I could find others.
Fortunately, I wasn't dumped, and once I had quit my job, both clients expanded upon the scope of works. Furthermore, I started to pick up the occasional client from a "Hire Me" page I had rather absentmindedly slapped up on my blog.
In June 2012 I earned just under $4,000 from my freelance blogging business. That's certainly no fortune, but it's a living, and not so bad considering that I only do around four hours of writing work a day.
The Moral of the Story
If I have learnt anything over the past year or so, it is that success can come from the unlikeliest of sources.
You an find loads of stories just like mine (and certainly stories of people experiencing far greater success). One of my favorites can be found in Chris Guillebeau's book, The $100 Startup, in which a couple of creative types (Jen Adrion and Omar Noory) designed their own map for an extended vacation. However, the printer they went to had a minimum order number of 50. They only needed one map, so were left with 49 spares. I'll leave the rest of the story to Chris:
Finally, Omar asked the crazy question: Would anyone want to buy the remaining prints?

The morning after making their work available for purchase, they woke up to their first sale. Then they made another sale, and then another…they sold out of their first print run in ten minutes and had tons of messages begging for a reprint.
Some people would call this fortuitous – others might be even less complimentary. I on the other hand, see two people who had a go at something that at the time probably looked like it would fall flat on its face.
As the old saying goes, "Fortune favors the bold". I would personally adjust that to, "Fortune favors the willing". Don't be afraid to embrace the unexpected – you never know where it may lead you.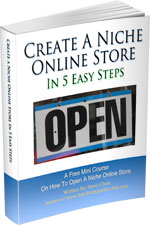 Ready To Get Serious About Starting An Online Business?
If you are really considering starting your own online business, then you have to check out my free mini course on How To Create A Niche Online Store In 5 Easy Steps.
In this 6 day mini course, I reveal the steps that my wife and I took to earn 100 thousand dollars in the span of just a year. Best of all, it's absolutely free!
Note: This post above may contain affiliate links, which means that I may receive a commission if you make a purchase when clicking a link. Please consult our privacy policy for more information.
Similar Posts
Have you read these?