Every now and then, I like to follow up with the students in my class who have successfully launched their online stores. And it always makes me extremely happy to see them making progress using the strategies outlined in the class.
I am spending a lot of time reaching out to mommy and daddy bloggers to review our product or try to convince them to write about us and so far that has been pretty successful. From an SEO perspective, we are already on page 1 of Google on about 75% of our keywords.
Quite frankly, I love getting emails like this and I was feeling pretty good about myself too until I heard from this student again later in the month during office hours.
As I was getting ready to give my weekly online webinar, he frantically told me that all of his search engine traffic had dried up practically over night. What the heck happenned?!?!
The Dreaded Black And White Animal
Right away, I had a feeling that this student had been slapped by Google so I did a quick analysis of his backlink profile. And low and behold, this is what I saw.
Note: The domain age for this student's shop is relatively new and under a year old.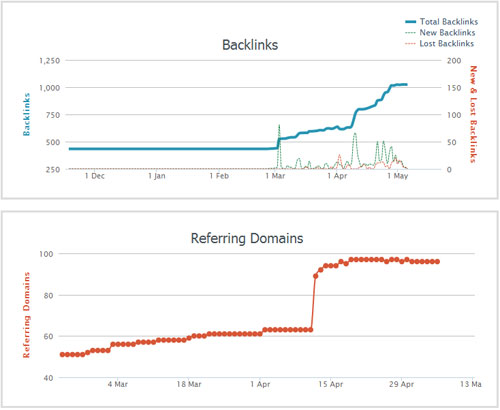 The first thing that struck me in the above diagram was that the number of backlinks grew tremendously from mid-April to the beginning of May. The second thing that struck me was the sharp hockey stick like jump in referring domains. Something fishy was definitely going on.
How the heck did my student build all of these backlinks from so many unique domains in such a short amount of time?
First off, I just want to make it clear that I don't teach any "black hat" SEO techniques in my class. So my first reaction was that my student had dabbled with the dark side of SEO.
But after questioning him for a good period of time, he assured me that he did not take part in any illegal linking schemes or use any mass backlink generating software. So how could this have happened?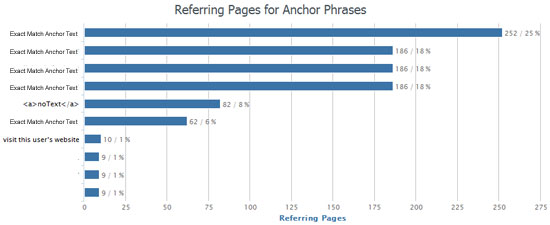 The answer became much more clear once I saw his anchor text distribution. As you can see in the diagram above, most of the backlinks that point back to his shop are using exact match anchor text keyword phrases. His site was hit by the dreaded Penguin algorithm.
How Did He Get So Many Backlinks So Quickly?
After questioning my student some more, I finally got down to the root of the matter and what he actually did to trigger the penalty was fairly innocent. He was just not aware of the possible ramifications of his actions.
So what did he do exactly? He held a product giveaway on a 3rd party raffle site.
Quick lesson: When your online store is brand spanking new, you have to be careful of a few things.
First of all, you have to be cognizant of your link velocity. If your site doesn't generally accumulate backlinks at a fast rate and then you all of a sudden get a large influx of links, it looks unnatural.
Second of all, you have to be extremely careful that you don't overuse your keywords in your anchor text. It also didn't help that the domain age of my student's shop was under a year old either. You put all of this together and things probably looked quite suspicious in the eyes of Google.
In any case, the main mistake that my student made was that he used 3 exact match anchor text links in the description of his product giveaway. Then, well over 100 blogs decided to participate in his giveaway and simply cut and pasted his description into their blog posts.
Practically overnight, his shop gained over 100 exact match anchor text backlinks from many different domains. And this is what triggered the penalty.
How To Recover From Penguin
The first thing that I told my student to do was to check his Google Webmaster Tools account. While most people are afraid of getting the "unnatural links penalty" message, I was actually hoping to see one on his account.
Why? It's because if he got the dreaded "unnatural links" warning, it would indicate that he was hit with a manual penalty. And with a manual penalty, all he would have to do would be to clean up the backlinks and then file for a reconsideration request and the penalty would be lifted.
But unfortunately, he did not get any such warning which meant that his site was hit by an algorithmic penalty.
Here's what I told him to do.
Contact the 3rd party raffle site and get a list of blogs that participated in the giveaway
Send a message to each and every blogger to take down the offending post. In an ideal world, you would want them to remove all of the exact match anchor text and leave a single branded link back to your site. Under the circumstances though, I thought that it might be too much to ask.
Follow up with as many blogs as you can. For those that do not respond, you may want to consider using the Google Disavow tool to disavow any backlinks from spammy blogs that took part in the contest
Try to build additional backlinks to your pages with non matching anchor text to help balance out the exact match links
Unfortunately, the upshot of all of this is that he will still have to wait until Google decides to refresh the algorithm again which could take some time.
The good news about this student's site is that his domain is extremely new and that he hasn't built up a terribly strong domain just yet. Worse case scenario, he could simply buy a brand new domain and start from scratch.
But hopefully, it won't come to this. I've seen and read about many sites that have successfully recovered from Penguin and I hope that my student's prompt attention to fixing the problem will allow his rankings to recover sooner rather than later.
Moral Of The Story
When you are first starting out with a brand new website, you want to take things slowly. Don't try to build up links too quickly and always approach each new backlinking opportunity one at a time. I know that it can be extremely tempting to take shortcuts and try to do things faster, but it can ultimately harm your site.
The other thing to be aware of is that if you are a newbie to SEO, don't worry about anchor text at all. With Google cracking down on keyword rich anchor text, you could end up hurting your site if you don't know what you are doing.
Ultimately when it comes down to it, it's the backlink itself and the page relevancy that matter the most when ranking in the search engines. So don't get too hung up on the technicalities and try to proceed at a nice steady pace.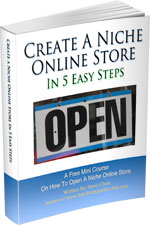 Ready To Get Serious About Starting An Online Business?
If you are really considering starting your own online business, then you have to check out my free mini course on How To Create A Niche Online Store In 5 Easy Steps.
In this 6 day mini course, I reveal the steps that my wife and I took to earn 100 thousand dollars in the span of just a year. Best of all, it's absolutely free!
Note: This post above may contain affiliate links, which means that I may receive a commission if you make a purchase when clicking a link. Please consult our privacy policy for more information.
Similar Posts
Have you read these?