When my wife and I decided to start our own online business together, many people advised us against the idea.
"You'll fight all the time!"
"Business and marriage don't mix!"
"Your business will drive you two apart"
"You and your wife need time to yourselves"
The above quotes were just a sampling of some of the many warnings we were given. But despite all of the contrary opinions, we saw our joint online business venture as a rare opportunity to create something special that we could share.
We knew that we had an excellent chance of succeeding because our interests were intimately intertwined. Of all of the people to work with, why not work with someone whom you love and trust implicitly?
Don't get me wrong, we had more than our fair share of issues, but I think that ultimately, our online business improved our relationship. While I don't advise that every couple start a business together, I sincerely believe that our online wedding linens business strengthened the bonds of our marriage in the following ways.
We Learned To Appreciate Each Other
If we never formed our business, I would still be unaware of some of my wife's incredible abilities. I was pleasantly surprised by her many hidden talents just by observing her in different business situations.
For example, during the course of running our online store, I discovered that my wife was damn good at dealing with customers. Even though a customer might be yelling, screaming, hootin' and hollering, she would never lose her cool.
I can't really describe exactly how she does it, but she just has this way of getting to the root of the customer's issue and resolving it effortlessly and painlessly. I must say that I learned a lot about customer service simply by watching her in action.
I'll also admit that seeing her in customer service situations made me even more attracted to her. If you ever speak to her on the phone or in person as a customer, she'll come across as the sweetest person you've ever met in your life. In real life, she is really sweet too, but sometimes I wish she treated me more like a customer on a day to day basis:)
I also discovered that my wife was far more crafty and creative than I had ever imagined. Off the top of her head, she would come up with craft ideas and innovative ways to draw customers into the store.
I remember one lazy saturday afternoon when she just decided to create this craft.
Isn't it cool? And it was made with the products that we sell in our store. When I saw her make this, I immediately had to give her a hug because I was so proud of having such a talented and creative wife.
We Discovered Our Strengths and Weaknesses
One of the reasons our online store works so well is that my wife and I complement each other. My strengths are with computers, programming and technical matters. My wife's strengths lie in knowing what our customers want to buy and getting them in the door.
My greatest weakness is that I'm impatient and neurotic when it comes to the business. When things don't go as planned, I have this tendency to lose focus and my brain goes into doom and gloom mode.
"Crap! We haven't had any orders at all today. Is the website down? Is there a new competitor that we don't know about?"
"Did someone say something bad about our store? Where are all the customers?"
"It's been slow now for 3 straight days. Is this the end? Is this store ever going to succeed?"
"Crap, it's been 5 days now of slow business. It's game over man. Game over!"
You can imagine what my wife had to deal with on a day to day basis. But she never ever slapped me, not even once! It was her job to make sure that I didn't lose my mental health on slow business days.
My responsibility was to keep my wife on track. One of her weaknesses was that she would often get bogged down with little details and not know how to make progress. It was my job to keep her focused on the big picture and have her concentrate on things that would carry the greatest impact on the top line.
We Learned How To Comfort Each Other
In the process of discovering each other's strengths and weaknesses, we also learned how to comfort each other. Whenever I went on one of my neurotic rampages, my wife would pull up the excel spreadsheet and reassure me that the business was doing just fine.
Sometimes she would even go to great lengths to create graphs and charts that put our numbers in a positive light. She had this way of making me feel as though everything was going to be okay.
By the same token, I was there for her whenever she wanted to vent her frustrations. My job was easy. All I had to do was sit there and listen without saying a word and she would naturally feel better.
Sometimes I would give her a big suffocating hug. Just knowing that we were there for each other made everything more manageable.
We Learned How To Make Decisions Together
I full on admit that I'm extremely stubborn…but so is my wife. When you put 2 individuals together as stubborn as my wife and I, it can be extremely difficult to make any sort of decisions at all. Working together really forced us to find innovative ways to get things done.
Decisions were made by assigning decision making power to the individual with the most knowledge on the subject. While this strategy seemed fundamentally sound, in practice my wife and I always thought that we knew more than each other on practically every topic. We were basically at a standstill on most decisions. But for the sake of the business, we forced ourselves to compromise.
For example, we argued constantly on how to set some of our store policies. Do we accept returns? Should we increase shipping prices or offer free shipping to entice customers to buy? For these two particular issues, we ended up compromising by offering a very limited return policy and free shipping after a certain amount was purchased.
I learned when to back down and when to fight. For the issues that I was passionate about, I fought hard and my wife would eventually defer to me. When my wife was adamant about a particular issue, I would defer the decision to her.
For issues that we couldn't agree upon, we would compromise. Basically, we learned how to read each other's signals and to prioritize what was worth arguing about. We learned how and when to pick our battles.
We Both Shared A Sense Of Accomplishment
Perhaps the best aspect of starting our business together was the shared sense of accomplishment. Starting a business with your wife is like having a child together. You have to go through great lengths and work extremely hard to nurture it, but in the end the rewards far outweigh the pain.
Even today, we often look back and marvel at what we've created in the past couple of years. It's comforting to know that no matter what, we'll always have this experience together and no one can take that away from us.
Should You Work With Your Spouse?
My general philosophy is that working together with your spouse will effectively magnify your relationship. If you and your spouse get along really well, working together will make your relationship stronger.
However, if you tend to fight all of the time, then having a business together will only make things worse. Only you can truly know whether things will work out. But if you can make it work, it's well worth the time.
Further Reading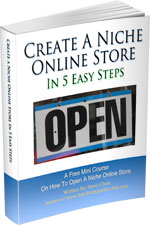 Ready To Get Serious About Starting An Online Business?
If you are really considering starting your own online business, then you have to check out my free mini course on How To Create A Niche Online Store In 5 Easy Steps.
In this 6 day mini course, I reveal the steps that my wife and I took to earn 100 thousand dollars in the span of just a year. Best of all, it's absolutely free!
Note: This post above may contain affiliate links, which means that I may receive a commission if you make a purchase when clicking a link. Please consult our privacy policy for more information.
Similar Posts
Have you read these?