My wife just closed the books on the first half of 2014 and I'm happy to say that we are on track for another record year. Following a similar theme to last year, my wife and I have been focusing our efforts on further outsourcing our business.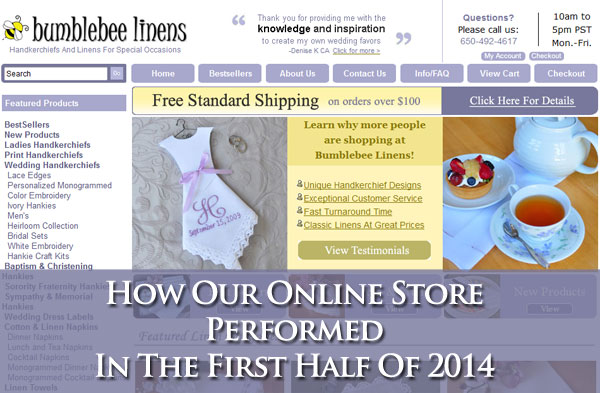 Our kids are getting older now and they have tons of activities which now require more and more of my wife's time. As a result, we have invested some additional capital into a larger office space and we've taken on another employee. This now makes for a grand total of 2 full time employees and 1 part time/temporary employee on an as needed basis.
As a result of our efforts, we were able to take a 2 week long trip to Florida without closing down our shop and we left everything in the hands of our employees. While we were extremely nervous about this, everything went completely smooth.
Actually I take that back…it wasn't all that smooth but we survived. Even though we thought we documented every process required to run the business for our employees, there were a few unforeseen disasters which I wrote about in this post. But for the most part it was all good.
Going forward, we learned that we need to have contingency plans set in place in case of disasters like not paying the bills before going on vacation and having all of our office phone lines disconnected:)
Email Marketing And The Blog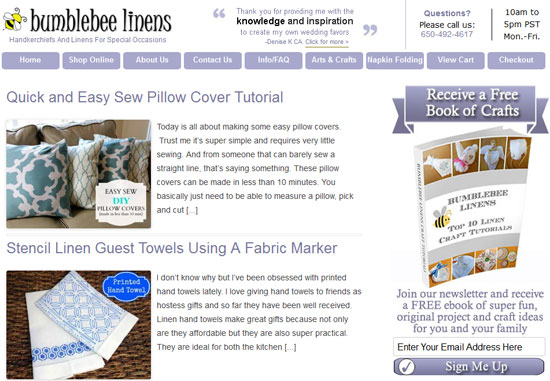 Aside from the additional infrastructure and process enhancements to our online store, our main focus has been on improving our email marketing efforts and blogging.
My wife has been pumping out some great content over at the Bumblebee Linens Blog and she is now working on an autoresponder sequence which should allow her to be more hands off with our outreach.
As a result, whereas revenue from email was pretty much negligible in the first half of 2013, email marketing was directly responsible for about 5% of our business in the first half of 2014. Going forward, I only expect this number to rise.
Furthermore, our email list continues to grow through newsletter signups from the blog and content on our website. By offering a free craft book as a giveaway (Grab It Here), we've managed to grow our email list at a fairly reasonable clip.
We Were Featured In 2 Major Magazines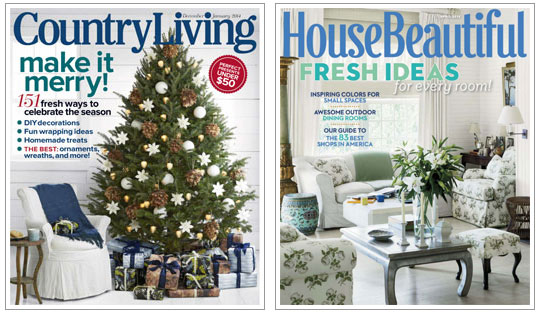 Even though we've been featured in large publications in the past like Brides, Martha Stewart Wedding and Real Simple, we've never ever really gotten many sales from being featured in a major magazine.
But things were different this time around. As soon as the latest issues of House Beautiful and Romantic Homes went on the shelves, we saw a drastic increase in sales for the products that were featured in the magazine.
At first I skeptical that a paper magazine could bring in this much business. After all, you can't really track sales from a paper publication and sales have never moved in the past from a magazine feature.
But when my wife checked our records, our daily sales volume for the specific items featured were 5-6X higher than normal. We were ecstatic! It actually made me think twice that perhaps we should focus more effort on getting additional press for our products.
Google And I Renewed Our Love Affair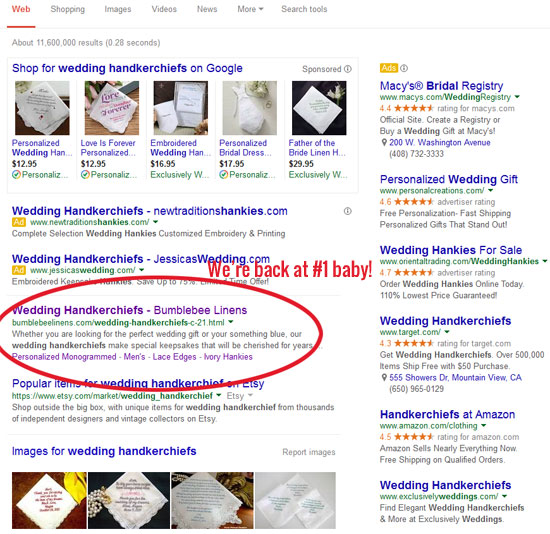 If you read last year's income report, our search engine rankings have been slowly inching lower as a result of Google's favoritism towards the big box stores. As a result, my wife and I have been making a conscious effort to de-focus our revenue dependence on Google.
Today, less than one-third of our business comes from Google search and we're making additional efforts to become less dependent on the big G. In fact, I was ready to divorce Google altogether until something big happened.
One day in May I woke up, checked my search engine rankings and noticed that all of our rankings were way up! It turns out that Google released another major update to the Panda algorithm to lessen the strength of big box stores and authority sites.
Oooh Google. I never doubted you for a moment. I knew that you'd be back:)
Anyway, the additional traffic from the algorithm change did not significantly affect this income report because it didn't occur until late May. But expect the increased traffic to have more of an impact on our end of the year revenue numbers.
We Added More Products
Finally in the midst of all the chaos, my wife has been continuing to add more products to our store with an emphasis on finding items that can not be easily found in brick and mortar stores.
Also going forward, we plan on focusing more of our efforts on promoting our personalized products because that is where we see our highest margins. This year, we plan on going back to the Canton Fair to strengthen our existing vendor relationships as well as forge new ones.
Highlights For The First Half
Below are some are some of the highlights of the year for the first half of 2014 vs the first half of 2013.
Year over year revenue grew 18%
Desktop traffic remained roughly flat vs 2013
Year over year profit grew 3%
Average order size increased a few percent
Mobile traffic increased by 26%
Mobile revenues were up 41%
It's worth mentioning here that mobile traffic continues to explode. If you don't have a mobile optimized site for your shop, you are likely missing out on a meaningful chunk of revenue. If you want to learn more about our mobile website, click here to read about how I designed my site
Lowlights For The First Half
One big number sticks out in the data and it's that profit only increased 3% vs an 18% revenue increase. Here's the reason. In the first half of 2013, we only had 1 full time employee. But in the first half of 2014, we now have 2 full time employees and 1 part time employee.
Couple that with a new larger office and the additional infrastructure took out a major dent in our overall profit numbers. It's not a big deal and I'm not that worried. I know it's the right thing to do and freeing up more of my wife's time makes complete sense.
The other lowlight that I wanted to mention is that we've pretty much switched completely away from USPS Express Mail. USPS has become increasingly less reliable and when customers need a package the next day, it needs to get there the next day….period!
Even though USPS will refund you your money when a package is late, they can not make up for the poor customer experience and mindshare for your online store.
As a result of the switch, our shipping costs have gone up but at least we know that our packages will arrive safely and on time.
Conclusion
Overall, I'm pretty happy with our first half of 2014 numbers. An increase of 18% in revenue and 3% in profit is not explosive growth by any means but sacrificing some amount of profit to further free my wife from the day to day is definitely a worthwhile expense.
To be honest, my wife and I have been a bit lax in improving our online store in the first half of 2014 so expect some more action in the second half. I still have a bunch of strategies that I have yet to employ and it's just a matter of finding the time to implement them without taking away from family time.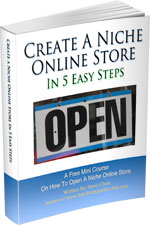 Ready To Get Serious About Starting An Online Business?
If you are really considering starting your own online business, then you have to check out my free mini course on How To Create A Niche Online Store In 5 Easy Steps.
In this 6 day mini course, I reveal the steps that my wife and I took to earn 100 thousand dollars in the span of just a year. Best of all, it's free and you'll receive weekly ecommerce tips and strategies!
Note: This post above may contain affiliate links, which means that I may receive a commission if you make a purchase when clicking a link. Please consult our privacy policy for more information.
Similar Posts
Have you read these?