This is a guest post from Sunil. Sunil owns over a dozen profitable niche websites and is the author of "How to Go from $0 to $1,000 a month in Passive and Residual Income in Under 180 Days All in Your Spare Time", a FREE report you can download instantly from his Extra Money Blog, where he discusses how to create multiple streams of passive and residual income, entrepreneurship, internet marketing, blogging and personal finance.
In 2007, he sold his ecommerce website for $250,000 to a top Ebay Power Seller and since then has sold several niche sites for five figures each. You can read more about him and his work on his blog.
I first heard of Steve and his wife's project through a webinar link that was relayed to me by a fellow blogger. I was immediately interested because this is a road that I have been on before.
In this guest post I will share how I came up with my business idea and niche, what I sold online, what obstacles I encountered and why I decided to sell my business.
In 2005, I started an ecommerce business that sold discount designer fragrances. There were already tons of online retailers in this space, but I sold not only to the individual customer, but also to mom and pop resellers of designer fragrances. I was essentially running a warehouse club for designer fragrances similar to a Sam's Club or a Costco.
How did I come up with this idea? I was on an international business trip where I purchased a bottle of cologne that I frequently wear. The price discrepancy was too large to ignore, and after further research I realized that manufacturers price their products differently in different markets. I am not talking 5-7%, I am talking 20-30% in the designer fragrance industry.
Upon return to state side, I contacted resellers / wholesalers to determine whether an opportunity exists in this space. Though I couldn't find the arbitrage working as well locally for many reasons, I did learn through my interactions that the small mom and pop retailer is often ignored by the mass supply chain.
I am talking about the small shop in your downtown area, or the mall kiosk. These guys need a reliable and affordable supply source as well. Thus an opportunity to serve them was born.
The Product and Service
Without wasting much time, I established relationships with the necessary folks (supplier /web developer, etc) and started an online business from where anyone can order designer fragrances at discounted prices.
The individual can order bottle X for $30, which was always 20% or more cheaper than the mall, and the reseller could order everything at my cost.
How did I make money? Similar to Sam's club, I charged a yearly membership fee of $39 to join the "club". Therefore the product became the designer fragrances, and the service became my promise to provide a supply source for the reseller at my cost.
Obstacles Encountered
Though the overall business experience was rewarding for me, the road wasn't free and clear of obstacles, as with most things worthwhile pursuing in life. Some hurdles included technical challenges.
I am not very technical, thus when I needed website work done, I had to shell out big dollars for every single small change. Later down the road, the developer disappeared on me, leaving me hanging and helpless.
There were some other challenges as well involving logistics and administration, but none bigger than the obstacle of managing too fast of a growth.
You read that right, I was growing too fast for my own good, which may be a good problem to have for many but not for others. It was specifically difficult for me because I was not prepared for this growth, which I think would happen much later down the road.
Here is an example of what I mean. Resellers started ordering in amounts in the $4,000 to $8,000 range, and the number or resellers grew exponentially month over month.
There came a point where the website was processing an $8,000 order, and then me having to refund back $2,000 because I wasn't able to fulfill it due to logistic and supply chain challenges.
This hurts because not only am I paying a credit card processing fee upfront, but also on the return processing, thus hurting the overall bottom line. Thus the larger transactions were ending up costing me more money than I was bringing in. Not a winning equation is it?
The $250,000 Sale
Two years later the business was generating $60,000 in annual earnings. That said it could have been generating much more. The business grew organically through proper search engine optimization and internet marketing (this was huge for me) and virally through word of mouth. A good deal is a good deal, and word does spread.
Not knowing the internal challenges I was encountering, a large Power Seller from the Ebay marketplace had approached me to purchase the business. This was a completely unsolicited offer (God sent), and the approach made me contemplate the sale really hard.
When I finally decided to sell it, we agreed on a price just under a quarter million dollars, which puts the deal roughly at an EBITDA (earnings before interest, taxes, depreciation and amortization) of four.
I was relieved to say the least, but did not regret the overall experience and ride at all. The business was eventually dismantled as the buyer was mainly interested in the underlying customer base, a common practice for big sharks acquiring little ones. The shark that acquired me was the second largest Power Seller on Ebay at the time.
Best Word of Advice from Me
We are always learning from our experiences, but we miss the chance to learn if we don't try out new experiences. So my first advice would be to get out there and start it up. Whatever you are thinking about, just do it and let the market dictate how good your offer is.
My second piece of advice is to plan for growth appropriately. Do not underestimate your business idea. In my case, I grew faster than I could handle.
I am not a big advocate of extensive business plans so I am not suggesting that. However, plan as best you can at least on a high level.
I hope you found my story helpful
All the best to you and your business initiatives
Sunil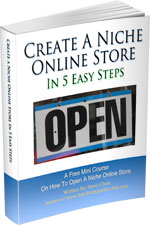 Ready To Get Serious About Starting An Online Business?
If you are really considering starting your own online business, then you have to check out my free mini course on How To Create A Niche Online Store In 5 Easy Steps.
In this 6 day mini course, I reveal the steps that my wife and I took to earn 100 thousand dollars in the span of just a year. Best of all, it's absolutely free!
Similar Posts
Have you read these?