Are you a loyal customer of a particular store or business? Are there any services or restaurants that you would go out of your way to recommend to friends? What do these businesses do to attract repeat business and referrals?
In a previous article, I discussed ways that stores and businesses alienate their customers with their poor business practices. This time around, it's only fitting to discuss businesses and services that have made me a loyal customer for life. Here's who they are, what they did and why they have my repeat business.
New Fashion Hair Design: A Simple Demonstration of Generosity
When I first moved out from Maryland to California for college, one of the first things I did was to look for a new barber to cut my hair. Most people have different priorities when they move to a new location, but for me it was my hair. You can call me a diva, but when it comes to a hairstylist, I'm usually pretty picky about finding the right establishment.
Back then, I remember trying many places, most of which blended together and were nothing special. Even when I stumbled upon New Fashion Hair Design through a referral from a friend, I remember thinking to myself, "This place is nothing special. It's inexpensive but what's so great about it?".
It wasn't until after my first haircut that I discovered that New Fashion Hair Design was a hidden gem.
Stylist: That will be 15 dollars please.
Me: (I handed over my credit card)
Stylist: I apologize but we do not accept credit cards here. We only accept cash.
Me: Oh ok. (Fumbling through my wallet). Oh no! I don't have any cash on me. I can run to an ATM and come right back. I'm so sorry about this. How about I leave my wallet here as collateral until I come back?
Stylist: That's ok. This is your first time here right? Don't worry about it this time.
Me: Wow. Thank you, but I'm going to pay you back the next time I'm here.
I heard myself say the words "next time" and soon became a regular. While my barber did an excellent job, I wouldn't say that it was the best haircut I had ever received. But this one simple act of generosity made me a customer for life. I've been loyal to this place for 11 years now and counting.
Ray's Sewing Center: No Nonsense Shopping
If you have ever shopped for a sewing machine before, it is just like buying a used car. A sales guy will greet you and then try to sell you add-ons, accessories and other little do-hickies that greatly increase the price of what you were trying to initially buy.
Then there's the back and forth price negotiations which can wear you down if you are not careful. I remember walking into my first sewing machine store thinking that it was going to be a walk in the park. I had already established a price over the phone and I visited this first store intending to just make a quick purchase.
Sales Guy: Sir. You do realize that this machine does not come with thread, hoops or any other accessories right?
Me: …
Sales Guy: Not to mention the fact that it doesn't come with any software either. You can't really design your own designs unless you have this particular software package.
Me:…
Sales Guy: You'll also need stabilizer. Oh and do you know how to use the machine properly? You might want to sign up for some classes since these machines are difficult to operate.
Me: How much for the items you have described?
Sales Guy: Well the software is 1000 dollars and our starter kit is another 500, the classes are 300. Then there's the …(Reads off a bunch of numbers)
Since I was a sewing newbie, I had no idea that all of these items were necessary to get started. The sales guy made me feel so overwhelmed with all of the crap I needed to buy that I just walked out of the store.
Then I discovered Ray's Sewing Center. I remember walking in armed with a bullshit shield. There was no way that the sales guy was going to nickel and dime me with accessories. There was no way that I was going to be bullied into buying more than I wanted to buy.
Me: This is the sewing machine that I want and this is the price that I'm willing to pay.
Sales guy: Actually, we can offer you a slightly lower price that what you have asked.
Me: I want the full package. Make sure that there's nothing missing that I need to purchase separately.
Sales guy: Sir, you get everything that is included in the standard package which is enumerated here. There are no tricks, I promise.
Me: I also want the starter kit. I'll need all of the basics to get started.
Sales guy: Are you a first time buyer? We'll give you all of that stuff for free.
Me: Huh? Free? (I was taken aback since I was expecting to have to negotiate)
Sales guy: Of course. We want you to have everything that you need to have a positive experience as a new user. Did you want the software as well? Why don't we throw that in too? Do you need classes?
Me: How much will the classes cost?
Sales guy: Don't be silly. We aren't going to charge you for classes. We are serious in that we want you to have a positive experience. We want you to come back here in the future for all of your sewing needs.
So I walked out of Ray's that day with a great deal and everything that I needed to get started. Since then, I have made every single sewing related purchase possible from their store. In some cases, I have gone way out of my way to drive there (it takes 20 minutes) just to pick up some spools of thread.
I have also referred them to all of my friends. As far as I'm concerned, there are no other sewing dealers that I'm willing to deal with other than Ray's.
My Real Estate Agent Janice Sehr: Genuine Concern And Tireless Dedication
I never used to think very highly of real estate agents. If you asked me to describe the purpose of having a real estate agent 10 years ago, I would have told you that they were nothing but paper pushers that took a cut out of the sale price of your home for doing practically nothing.
Back then, my negative view of real estate agents was further bolstered by my friends who described their agents as glorified tour guides that didn't deserve their commissions. After all, why would anyone want to pay someone 1-3% commission to buy or sell a home when they could do it themselves?
All of these misconceptions were dispelled when I met Janice Sehr of Coldwell Banker. When we had to sell our townhouse in a down market, she went way above and beyond the call of duty to help us out. Now my experience with real estate agents is not very vast, but would your real estate agent do the following to help you sell your home? You be the judge.
To save us money on property staging costs , Janice staged our property herself using many of her own items. When we needed other pieces that were missing, Janice used her own money and time to shop and buy these items herself.
On several occasions, she met us at the furniture or linens store to help us pick things out as well. Her taste was impeccable and our place looked infinitely better than it ever looked before.
When we needed some work done on the house such as painting, cleaning and other touch ups, not only did she supervise all of these tasks but she also stuck around to make sure that the job was done right.
She also managed to negotiate some excellent deals that I was unable to obtain myself.
Her work ethic was especially evident during the holidays when she was supposedly on vacation. Even though she and her family were traveling, we received almost daily updates regarding the state of our property.
When we finally found a potential buyer, she was extremely thorough in going over all of the line items on the contract to ensure an airtight transaction. She never lost patience with us even though we constantly bombarded her with questions.
Putting all of these positive qualities aside, the main reason that I'm a lifetime customer is that Janice truly cares. There are just some things you can't hide and her concern for her clientele is completely genuine.
Even though my wife and I are probably not going to be making any real estate transactions in the near future, we continue to keep in touch and I can honestly say that Janice is our friend. She was there to visit us with gifts when our first child was born and we have gone out to dinner together on several occasions as well.
The skeptics out there might say that Janice was just working for her commission, but her tireless dedication and friendship made her commission an afterthought. Sometimes, you receive much more than you pay for and working with Janice was one of these rare cases.
Can You Replicate These Attributes With Your Small Business?
I can speak so highly about these businesses because I'm extremely passionate about what they have to offer. Can you extract this kind of loyalty with your small business? You bet you can. Just think about the places and businesses that you are loyal to and replicate what they do.
What sets your business apart from the competition? What can you do to provide lasting value? Keep a tally of these attributes, focus on the long run and you'll be on the right path.
Further Reading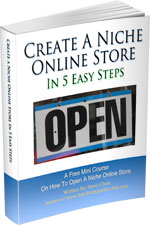 Ready To Get Serious About Starting An Online Business?
If you are really considering starting your own online business, then you have to check out my free mini course on How To Create A Niche Online Store In 5 Easy Steps.
In this 6 day mini course, I reveal the steps that my wife and I took to earn 100 thousand dollars in the span of just a year. Best of all, it's absolutely free!
Note: This post above may contain affiliate links, which means that I may receive a commission if you make a purchase when clicking a link. Please consult our privacy policy for more information.
Similar Posts
Have you read these?