It's rare for my wife to hold a grudge against anyone or anything. So the conversation below took me completely by surprise the other day when she and I decided to do some Christmas shopping online together.
Me: Let's go pick up everyone's gifts at "The Big Convenient SuperStore" (Not the real name).
Wife: I will never shop at that store again.
Me: Huh? Why not? It's so convenient and cheap. We can get all of our shopping done at one place.
Wife: I ordered there a few years ago and had a bad experience. Can't remember the full story but I didn't get my order on time.
Me: Is that all? Was it their fault?
Wife: No, they shipped it out the same day, but it got lost in the mail.
Me: So what's the big deal? That's not the store's fault. It's the shipping carrier's fault. Did you get a refund?
Wife: Yes, but I don't care. Still never shopping there again.
Me:**Rolling my eyes** Okay whatever.
Wife: What do you mean whatever!?! If you must know, the customer rep I spoke to was rude and condescending.
Me: Ahhh ok…I get it. But it's a large company and you probably just got someone in a bad mood.
Wife: Doesn't matter. They should train their employees better. Oh and don't say "Whatever" to me ever again!
Me: Yes ma'am.
I learned quite a few things from this brief conversation with my wife. Lesson 1, never say "whatever" to your wife. Lesson 2, shopping is often more about the experience than the product or the price. My wife was so furious with this company that she vowed never to shop there again.
But if you look at the situation from an outside perspective, the store didn't really do anything wrong. One, we received the package late but it wasn't the store's fault and two, we got a full refund.
No harm was done and no money was lost. Yet this store managed to lose a customer for life just because of a bad phone conversation. Perhaps the customer rep used the word "whatever". Who knows?
The Anatomy Of A Bad Review
Later that day, I happened to be reading through some Yelp reviews of restaurants in my area when I noticed some interesting patterns of behavior.
While most of the reviews were thoughtful, written in a neutral tone and provided an unbiased review of the food, every now and then I'd come across an absolutely scathing review that had nothing to do with the food whatsoever. Here's an example.
The food came quickly. But the servers (they switched between 2) were rather curt. I mean this one guy slammed the plates on our table and didn't care ask who ordered what.

And what shocked us the most was when my brother hadn't even finished his appetizer, the waiter took away the plate right from under his nose… and never apologized even when we called him out. This was by far the most awful experience we've ever had.

We're never going back again and wouldn't recommend you do either. This place deserves a zero but 1's the lowest you could give out here
Almost every 1 or 2 star Yelp review had similar characteristics. The customer was not upset at the food so much as the service which resulted in the restaurant getting slammed.
The Real Reason Customer Service Matters So Much
I've been doing customer service for quite some time now and the situations are almost always the same. When someone calls with a complaint about your business, the actual situation is often quite trivial.
Blah Blah Blah…my order didn't arrive on time. Blah Blah Blah…you accidentally sent me the wrong thing. Blah Blah Blah, the quality of your product is not good enough.
The strange thing is that as a customer, you rarely remember the financial hit that you took when placing the order. It's all about the disrespect or the indignity that you faced when speaking with the customer service rep.
When a company representative angers you or treats you with a lack of respect, that tends to override everything else. For example, whoever spoke to my wife must have really said something bad for her to boycott an entire store because no harm was actually done.
A simple "whatever" and a rolling of my eyes inadvertently disrespected her as well, a mistake that will probably come up again in a future altercation. **Sigh**
Key Takeaways
So what have we learned? When a customer takes the time to send you an email or call you on the phone, make sure that the customer never leaves angry. Do what you must do and make things right, especially if it is your fault.
If there's one piece of wisdom that I've gained from dealing with customers, it's that their emotions are worth way more than any dollar value. If you can deal with a negative situation in a positive fashion, you can almost always turn the customer around.
After all, whenever you are representing your small business, you have to take off your operations hat and don your marketing cap.
Conversations with the customer absolutely matter and even though you might lose a few dollars in the process, it's worth every penny in terms of mind share because the effects are exponential.
"The Big Convenient SuperStore" lost more than just my wife as a customer that day. I'm no longer allowed to shop there and most likely my kids and her friends will not either. Word travels fast.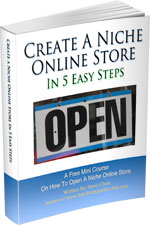 Ready To Get Serious About Starting An Online Business?
If you are really considering starting your own online business, then you have to check out my free mini course on How To Create A Niche Online Store In 5 Easy Steps.
In this 6 day mini course, I reveal the steps that my wife and I took to earn 100 thousand dollars in the span of just a year. Best of all, it's absolutely free!
Similar Posts
Have you read these?