Ever heard your spouse complain that you never go on enough vacations? Using your business as a tax shelter is a great way to fund your next vacation without breaking the bank. With proper planning, you can get your business to pay for and write off most of your trip!
For starters, the trip's primary purpose must be for business. As long as your destination is not completely random, chances are you can find a way to do business there. Below are some general guidelines on what and how you can deduct during your travels. Keep in mind that you can only deduct expenses on those days in which you are actually conducting business.
Lodging is can be deducted in its entirety
Food can be deducted 50%
Transportation can be deducted 100%
Laundry and Mobile Office related fees can be deducted 100%
There are 2 ways of deducting your business travel, the per diem method or the actual expense method.
Per Diem Method
The IRS allows for a set deduction per day when you travel. Every year, the IRS publishes a table which specifies a per diem value depending on your destination. You should check what the per diem rate is before you do your calculations.
In any case, even if you spend less than your per diem rate, you can still take the entire per diem deduction. One thing my wife and I do(when we're not trying to make a vacation out of it), is to travel on the ultra cheap.
That way, we end up deducting more than we actually spend on our trip. Keep in mind though that sole proprietorships are not allowed to use the per diem method for their lodging deductions. All other expense are fair game as far as per diems go.
Actual Expense Method
This is pretty straightforward. Simply keep all of your receipts and add up the total amount of deductions based on what you have spent. The important thing is to make sure you keep the receipts for everything you spend your money on. We always carry along a small box where we throw all of our receipts in at the end of the day.
As with all tax deductions, don't go overboard. Make sure you document exactly which business partners or customers that you are visiting on a given day. After your meetings, you are free to spend the rest of your day as leisure. My wife and I typically plan on hitting one vendor per day early in the mornings leaving the rest of the day for pleasure.
We also usually try and plan ahead to decide whether we're going to use the per diem or actual expense method. On business vacations, we usually go all out and use the expense method. If the trip is purely for business, usually we'll skimp and take the per diem.

Learn other ways on how to save on your tax return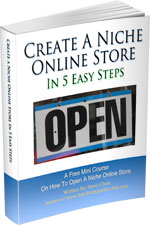 Ready To Get Serious About Starting An Online Business?
If you are really considering starting your own online business, then you have to check out my free mini course on How To Create A Niche Online Store In 5 Easy Steps.
In this 6 day mini course, I reveal the steps that my wife and I took to earn 100 thousand dollars in the span of just a year. Best of all, it's absolutely free!
Note: This post above may contain affiliate links, which means that I may receive a commission if you make a purchase when clicking a link. Please consult our privacy policy for more information.
Similar Posts
Have you read these?