In order to deduct your home office, your business must follow the following rules.
Your home must be your principal place of business. This means is that you conduct all of your business related activities in your home and you have no other set locations where you do business
You must have a special area sectioned off for your business. This might be a separate room or the garage. Anywhere that you store inventory or products counts as well.
You must actually conduct business at home and use the dedicated space solely for business. This one sounds like a no brainer, but this is to prevent people from setting up a fake office and taking it as a deduction. What this also means is that you should remove the bed and dressers from the room as well.
If you meet the above rules, the way you handle the deduction depends on whether you own or rent your home.
Deducting a Rental
Deducting a home office for renters is the simplest case to deal with. Simply calculate the percentage of space that your business occupies and multiply this by the amount of rent that you pay each year.
Also, don't forget to include your utilities and insurance policies as well.
Deducting a Home That You Own
When you actually own your own home, things start to get a bit more complicated and the tax rules aren't nearly as advantageous as when you rent. Below are steps you must follow to claim your home office deduction.
Calculate the percentage of space that your business occupies.
Calculate the cost of your house itself. You'll need to separate out the cost of the house versus the cost of the land. Unfortunately, in many cases, the value of your land greatly trumps the value of your house
Calculate all of the expenses relating to utilities, repairs, taxes and insurance.
Add up items 2 and 3 above and multiply this by the percentage calculated in item 1.
Add the depreciation amount applicable to your house. Check the IRS and figure out what the depreciation rules are for your house. This isn't that complicated, but you should check with your accountant just to make sure how to do it properly since it changes from year to year.
Add in any expenses that we done directly to your home office and not to the rest of the house. This includes decorations and furnishings.
The main disadvantage of running your business out of a home that you own is that you'll have to pay taxes on the amount you've depreciated on your house when it comes time to sell your home. For example, if your house is worth 100k and you depreciated it 10k. When you sell your house, you'll need to pay taxes on the gain from what you sold it for minus 90k.
Audit Risk
In general, your chances of getting audited when taking the home business deduction are much much higher if your business doesn't show a profit. If your business isn't profitable, I wouldn't advise taking the home office deduction but I always err on the more conservative side.
If you do take the deduction anyways, make sure that you can prove that your business is actually legit and not just a hobby of yours that you are taking advantage of. Also keep in mind that your chances of an audit go up for every year that you don't show a profit.
Learn other ways on how to save on your tax return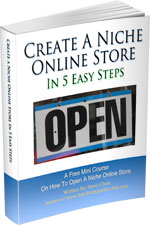 Ready To Get Serious About Starting An Online Business?
If you are really considering starting your own online business, then you have to check out my free mini course on How To Create A Niche Online Store In 5 Easy Steps.
In this 6 day mini course, I reveal the steps that my wife and I took to earn 100 thousand dollars in the span of just a year. Best of all, it's absolutely free!
Similar Posts
Have you read these?