This post was written by Lars Hundley, who runs several ecommerce stores and recently started launching Kickstarter campaigns for his products. What I like about Lars is that he's constantly trying new things and he's here to share his Kickstarter experiences with us today.
Incidentally, Lars and I share very similar philosophies. You don't have to swing for the fences. You can simply go for base hits which eventually lead to something bigger. Enjoy the post.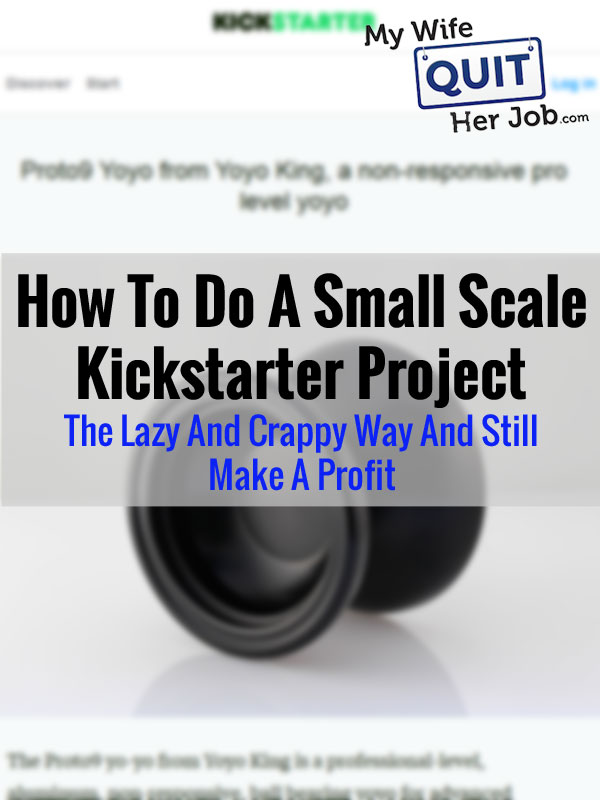 Do you want to have the coolest Kickstarter of all time, or do you simply want to make a reasonable amount of money and have a funded project?
For me, it's an easy answer. I have never been cool, and I never will be. Trying to be cool just doesn't work for a middle aged guy who likes yoyos, gardening equipment and bicycle riding.
Since I can't be cool, I choose to make a small scale profit instead.
Here's what I mean.
You know those awesome Kickstarter projects you see where some guy raises $13 million to make a beer cooler with built-in Bluetooth?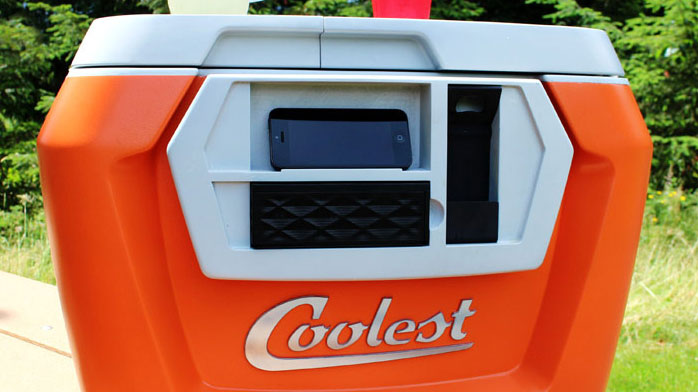 I believe there is definitely a space for that type of really ambitious Kickstarter project that raises enormous amounts of money and features world class photography and video. These are the kind of Kickstarter projects that you see on the news, or that you see featured on blogs like Buzzfeed. The kind of projects that make you go, "Wow!"
I see those Kickstarters, and I am always impressed and even a little bit jealous by how awesome they are.
Those guys are world class.
I, on the other hand, am decidedly NOT world class.
If I'm being honest with myself, I have to admit that I probably don't have what it takes to come up with a Kickstarter idea like that. And even if I did have an idea on that level, I don't have the marketing skills or promotional stamina to sell it at a world class level.
Doing one completely awesome thing is not the kind of thing I am good at. It requires focusing all of your energy on a single project.
I can't do just one thing and focus on it, even knowing how powerful that method really is in life. I prefer to chase shiny objects and jump from thing to thing to thing. (Here's a link to Lars' interview on my podcast)
I am not a hedgehog. I am a fox.
That, my friends, is why I aim for a simpler, less impressive Kickstarter project, with a very low goal. I have learned to accept my own half assedness and live in the real world and simply work within my own limitations.
But you know what?
Half assed and actually completed is better than all the world class ideas in the world that never get started at all.
So I still feel pretty good about my way of doing Kickstarter, and I want to tell you how you can be half assed too, just like me.
My First Successful Kickstarter Project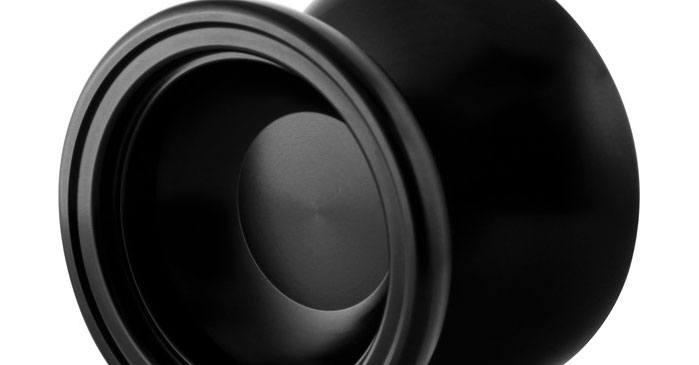 My first Kickstarter project was a pro level metal yoyo, called the Proto9.
With the yoyo Kickstarter, I noticed that at least two other yoyos that aren't particularly well known in the yoyo market raised around $15K and $20K each. That's serious money for a single yoyo model.
I have been selling yoyos online for 15 years at my online store, Yoyoplay.com. And I had already launched my own yoyo brand a year before, Yoyo King, with solid success. So yoyos were something I am extremely familiar with.
Introducing my own brand has helped keep my online store Yoyoplay profitable during a period of declining overall yoyo sales. After selling yoyos since the late 1990s, I've discovered that sales are fairly cyclical, with a 5 to 7 year cycle. Right now, they are getting near the bottom of the cycle.
You might say the yoyo business has its UPS and DOWNS. Get it? That's a yoyo business joke, folks. See what I meant about being uncool? I was not kidding.
But back to the story.
It was time to introduce a new yoyo model for my Yoyo King brand.
I thought that maybe I could use Kickstarter to presell the new yoyo model and get the money to pay for the manufacturing run in advance, before I even started the run. How awesome would that be? Get the money first and only then make the yoyo? Very, very awesome.
I already had an email list of tens of thousands of Yoyoplay customers and newsletter subscribers, which I thought might be helpful in promoting the Kickstarter campaign.
I was hesitant to promote it anywhere else. Most of the major yoyo message boards, blogs and groups are associated either with a manufacturer (my suppliers, who I didn't want to anger because they are super important to me and I want to keep doing business with them!), or with an online store competitor (who would never promote my product anyway).
The Overwhelming Fear Of Failure And The Unknown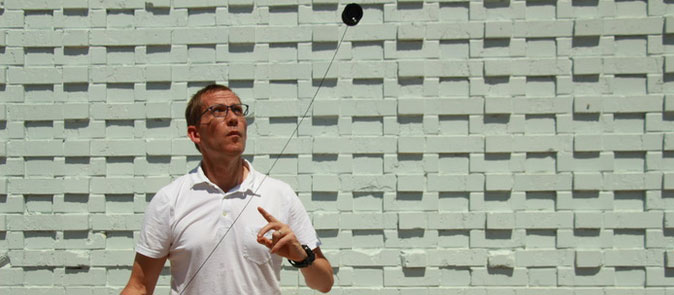 I originally planned to make a very high quality, professionally edited video and put a lot of time and effort into it.
But to be honest, I was afraid to launch the Kickstarter, because I was very worried about a lack of interest. And I was scared that I would end up with a big, permanent, failed project that wouldn't get funded. They never take those things down, you know!
I was also afraid of the unknown, because I had never tried to do a Kickstarter project before and it was all new to me. So I kept putting off the video, which meant that I was also putting off the project itself.
Suddenly, it got to the point that I wasn't going to have the new yoyo in time for the 2014 holiday yoyo sales season, so I had already waited too long for that. It was clear that I was shooting myself in the foot by continuing to stall, just because I was afraid.
So I decided to just launch the thing and see what happens and stop worrying about failure or project quality anymore. (I'm talking about the quality of the Kickstarter page and video itself — the yoyo itself is totally awesome.)
I filmed the initial Kickstarter video in two takes, in 15 minutes. One long shot of me holding the yoyo and talking about it. It sucked.
I probably spent around 6 hours writing the Kickstarter project page. Maybe 8, if you count the continued tweaking and editing after I wrote it.
We shot all our own photos, and then used a service to clean them up for under $100. He is awesome, by the way. I use him for all my important product photos now. http://www.retailstudioeffect.com I receive no compensation for recommending him. I just love his work!
After all of that extreme worrying in advance, when I actually launched the project, I instantly felt a lot better. Sometimes the fear and anticipation about a thing is much worse than the thing itself, as my fellow procrastinators out there probably know.
Even better, the Kickstarter project was successfully funded, and ended up exceeding my funding goal by 241 percent! I raised just under $10,000 and made a nice profit on the project.
What Worked With My Low End Kickstarter Project
It turns out that Kickstarter itself is a great source of money and backers! The back end dashboard of your Kickstarter shows you how many of your pledges are coming from Kickstarter itself versus other sources of traffic that you are driving to Kickstarter.
Out of just under $10K in total pledges, Kickstarter provided $4K of the amount pledged. That's 40 percent!
I think it helped that they picked my project as one of the very many "staff picks," so it showed up on a popular page for about a day or so before it got bumped down by other projects.
Here are other things that helped.
My email list of tens of thousands of Yoyoplay customers and newsletter fans
I was expecting my email list to be super crazy effective, but it turned out that it was only moderately effective.
I ended up sending about 5 or 6 total emails about the Kickstarter project.
Each time I would send one, I would see a burst of pledges. But it was typically in the hundreds of dollars, and never really in the thousands of dollars.
But if you look at open rates and conversion rates based on that and sending my traffic to a third party crowdfunding site that not everyone is familiar with, I probably did pretty well.
Facebook ads
I did a pretty bad job of this, because Facebook advertising is really hard and complicated for someone like me, who is just semi-technical.
But I think I actually made a profit or at least broke even, spending around $400 on ads.
I built a custom audience of my Yoyo email list and advertised to that list. I could see pledges coming in when it was running, but I couldn't figure out how to measure conversions.
Then I built a custom audience based on people who indicated that they were interested in yoyoing. It was a pretty large audience, so I am a little bit skeptical that this Facebook generated list was very good.
One of the biggest issues with Facebook advertising for a yoyo is that kids love yoyos, but parents actually buy them. So you can waste money quickly advertising to people who love your product, but have no way of actually buying it.
Overall, I'd say that Facebook ads could have been a lot more successful if I could have figured out how to more effectively advertise there. But at least I probably didn't lose money, right?
I built a product presell page about the yoyo and Kickstarter project and featured it on the home page of my established yoyo retail site, Yoyoplay.com.
It had a widget on the product page for Kickstarter, and a lot of presell text explaining what crowdfunding is and why it is cool to click through and pledge.
Referrers from Yoyoplay generated just under $1K, so maybe it was effective.
Some of that traffic was Facebook ads that went to the presell page though, and not just people finding in on my site. So it's hard to measure exactly.
What's Next!
After the modest, but still better than expected success of my first Kickstarter project, I decided to try it again with an entirely new and unique bicycling related product that I designed and found a manufacturing partner for.
I'm a fairly serious cyclist. I've ridden as many as 10,000 miles in a year, and have completed both the Leadville 100 mountain bike race, and the Dirty Kanza 200 gravel road race.
I've developed and manufactured other products before besides yoyos, like a spin bin compost tumbler.
But I have never done a cycling related product until now. I am pretty proud of how it turned out.
It's a wearable bike lock called the Mighty Click.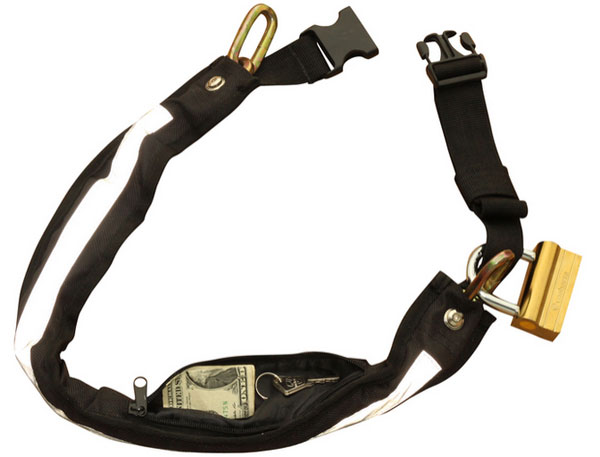 Click here to check out my latest KickStarter
One of my biggest frustrations with taking my nice mountain bike or road bike to the local coffee shop is dealing with a bike lock. I refuse to install one of those lock mounts on my bikes, because they are heavy and awkward and don't belong on a nice bike.
So that means I have to either carry a heavy U lock or a tangled cable lock in my hand when I ride somewhere with my wife and my 9 year old.
The Mighty Click lets me wear the bike lock around my waist while I ride, keeping my hands free.
I started the Mighty Click Kickstarter project just before Christmas, in my typical half assed fashion. I even waited until the last second and shot my video in two takes again. With bad audio and all.
Even though I know better, I didn't set up a marketing and promotion plan in advance. Until this blog post and one that I published on my own cycling blog, I haven't promoted the Kickstarter project yet at all, and it's more than halfway finished!
But here's the cool part. Kickstarter liked it and picked it as a Staff Pick, and I've already hit my very low funding goal without even promoting yet! I'm up to around $7,500.
I need to hit at least $15,000 to pay for my most of my first small manufacturing run in advance. That is my real goal. But even if I don't hit $15K, I'm still happy that at least part of my run will be paid for in advance, significantly lowering how much cash I have to come up with out of my own pocket to launch the product.
I could have set my Kickstarter goal at $15,000. But what if I didn't hit the full amount? I would get nothing.
By setting it low, I am able to get at least some money in advance. And possibly all of it. It is a product that I believe in enough to make with my own money though, so I would make it even if I didn't get funded.
I will admit that I have a few advantages using Kickstarter that others might not have yet. Since I already have experience designing and manufacturing a product, I understand how to contact manufacturing partners and get prototypes developed and figure out how to get something made.
But I figured that all out before Kickstarter ever existed. What if I had been able to use Kickstarter to help pay for the development of my compost tumbler? That product cost almost $100,000 to develop, which I had to finance myself!
It took me almost two years to recoup that money. I would have been so far ahead of the game if I had been able to raise some or all of that money in advance.
If you have an idea and can figure out how to make a prototype and find a manufacturer (which you can often find on Alibaba if you know what you're doing and avoid the middlemen and scammers), then you should try Kickstarter and bring your idea to market. What do you have to lose?
You don't have to design something that requires $10 million. Think smaller, like $10,000.
As you can see from my experience, it's totally possible to use Kickstarter on a small scale.
Heck, I even recently traded emails with a guy in Dallas who has done a whole series of small scale Kickstarter projects with his wife and earned more than $100,000 doing it.
Maybe you've got some kind of an idea, but you're a little bit afraid of doing it. Maybe you're worried that your project won't be world class and might come across as too amateurish.
Well, I was afraid too, but I did it anyway. And you know what? I'm glad I did.
You don't have to be perfect. Sometimes good enough is good enough, and you just improve over time.
My *next* Kickstarter is going to be really, really professional…. And I mean it this time!
Well, it's going to be better than my first two, at least.
Hopefully?
Click here to check out my Mighty Click Bike Lock Kickstarter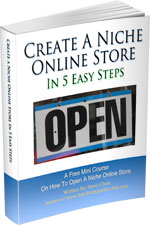 Ready To Get Serious About Starting An Online Business?
If you are really considering starting your own online business, then you have to check out my free mini course on How To Create A Niche Online Store In 5 Easy Steps.
In this 6 day mini course, I reveal the steps that my wife and I took to earn 100 thousand dollars in the span of just a year. Best of all, it's absolutely free!
Note: This post above may contain affiliate links, which means that I may receive a commission if you make a purchase when clicking a link. Please consult our privacy policy for more information.
Similar Posts
Have you read these?