Whenever I mention to anyone that I work a full time job, help my wife run our online store and maintain MyWifeQuitHerJob.com all while having two kids in the house, one of the first questions I always get is how I find the time to do all of these things.
Believe it or not, even with all of these items on my plate, I still feel I have time to take on even more. The secret is being more efficient with your time and managing your day a little bit better.
I know. It's easier said than done. But I'm going to describe in this article how my wife and I organize our time to run our online business and and how we manage to cram a ton of activities into a single day.
The reality is that there's plenty of free time lying around. You just have to learn how to extract every last minute.
The Time Granularity Problem
One of the biggest hurdles to the launch of our online business was that there were too many gargantuan tasks to accomplish. We had to launch our website.
We had to write product descriptions. We had to market our store. We had to establish relationships with vendors. We had to establish internal processes.
What ended up happening early on was that we became overwhelmed by these large tasks because each one of them took too many man hours to complete in a single sitting.
As a result, even if we had a 1 hour block free, we put off working on our online store because we didn't think that we could get any meaningful work done in such a small amount of time.
We kept telling ourselves that we would start when a large enough time slot was available but it never ever materialized.
The reality is that most of us don't have huge blocks of time to devote to any given project. Especially if you have a full time job or children running around the house, you often only have small .5-1 hour chunks of free time available.
And more often than not, these valuable time slots are wasted away with the belief that nothing can get accomplished in such a brief moment of time.
Breaking The Problem Down
Looking back, much of our success was the result of making efficient use of these small time slots. In order to manage our time more effectively, my wife and I broke our large tasks down into small pieces that could be completed in a single sitting.
We ended up dividing our business tasks into half hour time slots. So if we had a spare 30 minutes, we could easily switch gears and cross one of these tasks off the list.
While some tasks took longer than a half hour, no single task exceeded more than a couple hours long. For example, for our website, one of our tasks was to enter in 10 product descriptions into the shopping cart database.
Another task was to take 10 product photos. On the product sourcing side, an example task was to contact a short list of vendors or locate a small subset of products that we wanted to sell.
Each and every line item was something that we could do quickly and efficiently even in the shortest of time slots.
By crossing these things off the list, we felt like we were always making progress which fueled us to work even faster because we saw light at the end of the tunnel.
What also ended up happening was that we worked more often on the business because the tiny size of each task lured us into working longer and harder.
Each task seemed so small and easy that we always felt as though we could hammer out another one in no time flat.
Find A Pace You Are Comfortable And Maintain It
Early on, my wife and I also made time for the business by making sacrifices. Not only did we stop watching television but we also drastically cut down on our sleeping time as well. On some days, I would arrive at my day job a walking zombie.
Making healthy sacrifices is fine, but I gradually learned to never make sacrifices at the expense of my health. My main problem is that I like to tackle everything in a single sitting.
When I'm excited about something, I'm all too eager to try and get things done in a timely manner even if it means pulling all nighters.
But with a business, I discovered that the list of tasks is endless and it's impossible to just cram through it. You might be able to get through a week of little sleep, but things will eventually catch up to you and you may well burn yourself out.
The strategy I ended up finding far more effective was picking a comfortable, maintainable pace and sticking with it even if the slow pace felt like torture.
To find out what pace is right for you, simply ask yourself the following questions. How many hours can you comfortably devote to the business per day for months or even years on end?
Can you maintain this frequency easily without impacting your mental well being? It might take a short adjustment period but eventually you'll discover your sweet spot.
Set A Schedule
Once you've made some progress on your business, it's important to maintain your momentum. And the best way to do so is to establish a routine. Set aside a specific time or day that you can devote solely to the business.
For example, my wife reserve and still set aside Sunday afternoons for business related activities. Not only does this prevent our business from stagnating but it also makes working on our online store involuntary. It's almost like we're on autopilot!
Don't Lie To Yourself
The moral of the story is that time is always available so stop making excuses! No matter what, you can always squeeze out a small block of time even if your schedule seems packed from day to day.
By creating tasks that can be accomplished in small chunks, you can make better use of random time slots and consistently make progress. Good luck!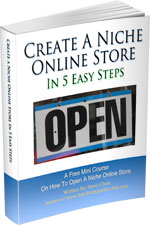 Ready To Get Serious About Starting An Online Business?
If you are really considering starting your own online business, then you have to check out my free mini course on How To Create A Niche Online Store In 5 Easy Steps.
In this 6 day mini course, I reveal the steps that my wife and I took to earn 100 thousand dollars in the span of just a year. Best of all, it's absolutely free!
Similar Posts
Have you read these?