To be honest, I'm a little bit late to the Facebook and Twitter game when it comes to using social media with my online store. And the reason I've waited such a long time before applying these services to my business is because I was never fully convinced that it was a good use of my time.
After all, I have many tasks on my plate and very limited resources so I have to prioritize my time accordingly. But lately, I've been hearing way too many success stories with Twitter and Facebook to ignore them any longer.
For example according to Search Engine Land, many ecommerce companies have seen huge increases in sales and traffic after implementing Facebook Likes for their websites. Here are a few examples.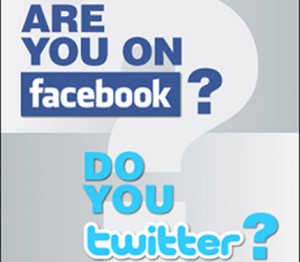 Levi's jeans found that referral traffic increased 40X after implementing the Like button
Giantnerd.com's revenues increased over 100% after implementing the Like button
American Eagle implemented Like and found that Facebook visitors spent 57% more money than non-Facebook referred visitors.
Tea Collection has seen 10X daily revenues since implementing Like.
ShoeDazzle has found that Facebook users are 50% more likely to make repeat purchases every month than average shoppers.
As you can see, these numbers are astounding! So, I spent my Father's Day weekend working on my Facebook strategy and I want to share with you what I came up with. While I'm still not on the Twitter bandwagon, having a Facebook presence for your online store makes good sense.
For example, whenever a user becomes a fan, everything you post on your fan page instantly becomes a part of their Facebook news feed. This is huge! Imagine running promotions or writing interesting content and having it instantly broadcast to thousands of people interested in your products!
The Problem
The only wrinkle in this plan is that you have to convince users to want to "Like" your online store fan page. Unlike a blog or informational site, it's more difficult to get people to "Like" an online store fan page because most stores don't post interesting content.
So the best way to get more Facebook fans for your store is to entice them to "Like" your page with some sort of offer. Give customers a reward or prize in return for a "like" for your Facebook Fan page.
A Quick Example
For a quick example, head on over to the Bumblebee Linens Fan Page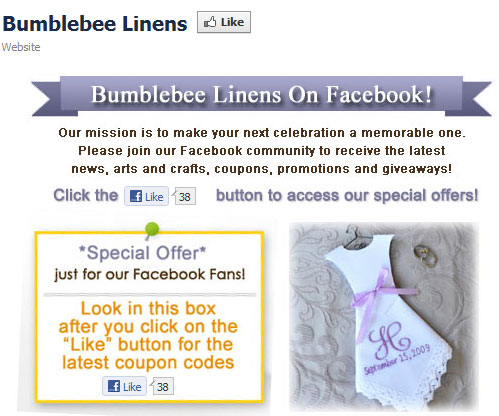 The Bumblebee Linens Facebook Fan Page.
As you can see, I've written the verbiage such that a customer is enticed to click on the "Like" button in return for a coupon code. Now go ahead and click on the "Like" button. As soon as you click "Like", the screen refreshes and a coupon code magically appears.
Showing different content on your page for fans versus non-fans is called a Facebook Reveal Tab (or Facebook Fan Gate) and I'm going to teach you how to do this today with your own fan page and supply you with all of the necessary source code to do so.
Please note that there are other instructions out on the web on how to do this but they use FBML which Facebook has deprecated and is no longer supporting. This solution uses PHP code hosted on your own server.
What You Need
To implement a Facebook reveal tab on your Facebook fanpage, you need to do the following before you can begin
Go and create a Facebook fanpage. If you don't know how to do this, Pat Flynn has an awesome tutorial that can be found here
Go to the MyWifeQuitHerJob Facebook Fan Page and grab the source code files for the Facebook Reveal Tab
Click on the "Like" button on my Facebook page and my daughter will give you a link to the files. If you are already a fan of my Facebook page, you can click on a link called "Facebook Tutorial" on the left hand column to grab the files.
Watch the video below which will walk you step by step through the entire process
Watch The Video
Incidentally, the video above is a small taste of the content I teach in my course on how to create a profitable online store. Please check it out when you get a chance.
Conclusion
By enticing your visitors with a coupon or offer, you'll amass new Facebook fans in no time! I just implemented the Facebook Reveal Tab a few days ago and I'm already starting to see the Likes trickle in and I haven't even added a link to my Facebook page on my online store yet! Once I've amassed a critical mass of Facebook fans, I'll keep you posted on the effect it has on my online business.
A quick question for all of you small business owners out there. Have you jumped on the Twitter and Facebook bandwagon yet? Have you seen good results from your efforts?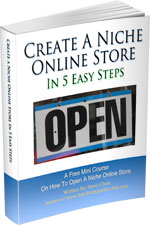 Ready To Get Serious About Starting An Online Business?
If you are really considering starting your own online business, then you have to check out my free mini course on How To Create A Niche Online Store In 5 Easy Steps.
In this 6 day mini course, I reveal the steps that my wife and I took to earn 100 thousand dollars in the span of just a year. Best of all, it's absolutely free!
Note: This post above may contain affiliate links, which means that I may receive a commission if you make a purchase when clicking a link. Please consult our privacy policy for more information.
Similar Posts
Have you read these?