This is a guest post by Alban who is a personal finance writer. He offers information on how to effectively use a credit card and helps people to compare credit cards online.


Owning a small business is a big responsibility as you have to take care of your clients, provide them with the best service and manage your business success for the sake of your employees as well. However, having a small business credit card is an even bigger responsibility because business credit card spending can quickly get out of control, and instead of making your bookkeeping easier to manage, your business credit card could turn your business dream into a nightmare.

Instead, maximize the use of your small business credit card by understanding when and when not to use it, and follow these top three tips for small business owners using credit cards in their business.
How to use your small business credit card
While there are similarities in the behaviours you will need to exercise when using your small business credit card compared to your personal card, there are also important things you will need to keep in mind:

Editor's Note: Many business credit cards offer an interest free period even if you delay your payment as long as you pay off your balance in full. However, the majority of business charge cards require that you pay the balance in full each month, but provide a number of benefits that can help your business.

Use your interest free days for cash flow. In a small business you can often be waiting on your customers to pay you, before you can pay your own bills. Unfortunately this waiting can often lead to your business running costs such as the phone and the power going unpaid, and can see you having to put off paying for new equipment, advertising or repairs until you can afford it. Well, if you have already invoiced your customers and they're simply taking their time in paying, you can utilise the interest free days on your small business credit card to keep your business running. The interest free period on most credit cards will run to as many as 55 days which is often plenty of time to wait for your invoices to be paid. In the meantime you can be spending on your credit card to keep your cash flow flowing and your business running smoothly.
Pay off your balance in full before the end of the interest free period. It is important to avoid accruing interest on your small business credit card because interest charges can easily get out of control, especially on large balances. Therefore, when your customers do finally pay, make sure you pay off your credit card balance in full.
Keep personal transactions off your business credit card. Just because you are the owner of the small business to which the credit card has been issued, it doesn't make the card your personal spending tool. Your small business credit card is issued in your business name and should never be used for personal use as it is unprofessional, and makes your purchases harder to separate and track.
Make all business payments on your credit card. In order to make your business transaction truly easy to manage, make them all in one place – on your business credit card. This will mean one statement for your expenses and a list of all your purchases for the business in a month all in one place so you can review your business spending and provide a comprehensive overview of your expenses to your accountant at tax time.
How to maximise the benefit of having a small business credit card
Your small business can benefit from credit card use by freeing up cash flow and making more purchasing opportunities available, not to mention streamlining your expenses tracking. So how can your small business get the most benefit from a credit card? Your small business can maximize its credit card use by:
Keeping transactions all in one place. The last thing any small business owner wants to face is more paperwork and if you make all your business purchases on your business credit card, you can actually reduce the amount of paperwork you have to do. You can track your spending online at anytime using internet banking, and if you want to reference a purchase you need only look in one place – the credit card statements. When it comes time to visit the accountant many business credit card providers will even send you a report for the last financial year of your spending and interest and fees.
Allocating a business credit card to your employees. Instead of spending time reconciling petty cash or verifying staff reimbursements, allow your staff to make business purchases on the business credit card. You can often have additional card holders added for free and you can choose a different credit limit for the different levels of employee. Plus, all purchases on additional cards will appear on the one statement.
Collect rewards points. You should never spend on your business credit card just for the rewards, but business cards often have very comprehensive programs and you can accumulate rewards if you are smart with the use of your card. Check you points balance regularly and check to see if any points are going to expire and need to be used. Then choose rewards which will truly save your business money such as a discount office supply voucher or free flights, rather than an upgraded flight which is rewarding, but is it worth the annual fee and possible interest charges on your card?
Boost your business credit rating. Using a business credit card responsibly can help build a strong credit history for your business. If you are a small business and just starting out then you may not have had much opportunity to build a credit score, but by maintaining responsible credit card use, you can place your business in a positive light for future business financing options.
3 Things to avoid with small business credit cards
You can only truly maximise the benefits of a small business credit card if you avoid the pitfalls. So when using your small business credit card always try to avoid:
Accruing a balance which is charged interest. If you fail to repay your credit card balance within the interest free days you will start being charged interest on your purchases. However, in keeping a balance on your business credit card and not paying it down to zero each month also means that you won't benefit from any further interest free days – interest free days are only applied once your balance has been paid to zero and if you maintain a balance then all purchases you make in the future will accrue interest too.
Using your business card for personal use means more paperwork. As soon as you make a personal purchase on your business credit card there is an exception to your streamlined bookkeeping. You now have to remember when and where you made that personal purchase and point it out to your accountant so it doesn't get included in the business expenses. Plus, if you don't pay your balance down to zero and start accruing interest on that personal purchase, you are creating a whole world of complicated personal interest payments.
Spending for the sake of spending. Just because you have a business credit limit available to you, it doesn't mean that you should buy everything you have ever wanted for your office, your staff and your business. Always remember to keep a business budget and limit your business expenses in line with your business growth because at the end of the month, you have to be able to afford your business card balance.

Maximising your small business credit card use is all about remaining in control, staying organised and keeping your expenses in perspective – all the skills you have been exercising to grow your small business to this point can help you grow your business even further through responsible credit card use.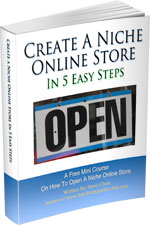 Ready To Get Serious About Starting An Online Business?
If you are really considering starting your own online business, then you have to check out my free mini course on How To Create A Niche Online Store In 5 Easy Steps.
In this 6 day mini course, I reveal the steps that my wife and I took to earn 100 thousand dollars in the span of just a year. Best of all, it's absolutely free!
Similar Posts
Have you read these?