My wife and I just closed the books for our online store and this past year was our highest grossing year ever! Having only been around for 2 years, my wife and I are still flabbergasted that our little online wedding linens store has grown so fast in such a short period of time.
Despite the economic downturn, we managed to increase our profit 147% this past year and my wife was finally able to quit her job to take care of our little daughter full time. While luck certainly did play a part in our success, I attribute the majority of our growth to specific changes we made to our business and we'd like to share them with you. But first, let's start with some highlights of the past year.
Highlights
Year over year profits increased 147%
Year over year revenue growth was 94%
Our Selling, General and Administrative expenses(SG&A) went down by 20%
We increased the number of products offered in our store by 268%
Our margins increased by roughly 6%
Traffic to our store increased by 219%
Our Adwords conversion rate increased from 3.1% to 5.21%
The number of customer referrals (measured by email clicks to our site) increased by 317%
My wife and I are ecstatic with our numbers for the past year and we'd like to share with you how we achieved them.
We Maxed Out Our Adwords Budget
Maxing out your Adwords budget seems like an obvious thing to do when the cost per conversion yields a profit. However psychologically, it can be difficult to get over the fact that you are spending a ton of money just for a few clicks.
Sometimes you just have to put some faith in your metrics and statistics and we did by increasing our Adwords budget by 250% in 2008. The increase in targeted traffic coupled with the fact that our Adwords conversion rate nearly doubled allowed us to significantly increase our revenues.
We attribute the increase in our Adwords conversion rate to our continued optimization of our advertisement campaigns. By periodically looking through our keyword reports, we were able to weed out non-converting keyword phrases from our campaigns altogether.
Looking back, this was a no brainer and we should have done this from the start. Any profit is better than no profit even if it means you have to pay for it.
We Bought In Extreme Bulk
A year ago, we were just getting to know our vendors so the size of the orders we placed were very small. As a result, we initially paid a much higher price for most of our inventory. We were especially careful in the beginning about not over purchasing because we were apprehensive about dealing with companies many thousands of miles away.
Over time though, we began to develop a certain trust with our vendors. After repeated orders, we felt more and more comfortable ordering larger quantities of products because we knew we could count on them to deliver the goods in a timely manner.
The size of our orders drastically increased in 2008. Instead of just ordering 20 dozen wedding handkerchiefs, we'd order 120 dozen. Instead of ordering 50 dozen linen napkins, we'd order 300. Our order size ballooned 6x over the prior year across all of our best selling product lines. As a result, we received better pricing which allowed us to significantly increase our profit margins.
We Anticipated Demand
Having a year of experience under our belts gave us much greater visibility into the temporal nature of our sales forecasts. As a result, we were better able to plan ahead and order the appropriate products to meet demand.
Whereas we ran out of napkins during the holiday season last year, we ordered more than enough to cover all of our customers this year. We discovered which items were our bestsellers and purposely stocked more of those items as well.
The end result was a more efficient allocation of our inventory. We had product when we needed it the most and didn't waste money carrying items that weren't going to move.
We Chose Cheaper Shipping Methods
Our ability to anticipate demand allowed us to choose much more cost effective shipping methods. Since we were able to make predictions well over 4 months in advance, we chose shipping by sea instead of by air which cut shipping costs by over 600%.
It doesn't make a big difference when buying products in the US, but when buying items from Asia, cheaper shipping makes all of the difference. Just to give you an idea, shipping by air for a typical shipment of ours might cost 2200 dollars whereas shipping by sea would be a mere 400 dollars.
The trade off is that air shipping only takes 3 to 5 days whereas sea shipping can take over a month not including an unknown period of time to get your items through customs. We still use air shipping in emergencies and for small orders, but these occurrences were greatly reduced this past year.
We Packaged Our Items Better
Presentation is key. This past year, we invested more money towards better packaging material in order to present our products more effectively to the customer. Even though our products were identical, we were able to charge more money because of the increase in perceived value.
Thanks to my wife, we added some nice touches to our packing materials. For example, we added company stickers with our logo and used higher quality cellophane to wrap our products. We also pressed and folded our linens in a more presentable fashion.
We Added A Ton Of Content To The Website
This past year we added over 25 arts and crafts pages to our website. These pages provide step by step instructions with photos on crafts and projects that can be made with the products that we sell.
By providing the customer with project ideas, we opened our customers' eyes to new ways of using our products. As a result, our average order size drastically increased. Not to mention the fact that these craft pages drove a ton of traffic to our store as well. Customers would find our craft pages and then purchase the necessary materials all from the same place, our store.
Because we also sell a ton of cloth napkins, we also added step by step instructions on how to fold napkins in different ways. Similar to our craft pages, these napkin folding instructions drove customers to our store in large numbers. While people were reading about how to fold napkins, a good percentage of them then proceeded to purchase napkins afterwards.
Adding Value
Our profits increased drastically this past year because we added more value for our customers and optimized our business. By reducing costs and increasing our advertising budget, we maximized our existing profits.
By adding quality content to our website, we increased traffic to our website significantly. By providing excellent customer support, we saw a significant increase in customer referrals which brought many new customers on board.
You put all of these things together and it added up to a record year for our online store!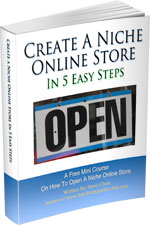 Ready To Get Serious About Starting An Online Business?
If you are really considering starting your own online business, then you have to check out my free mini course on How To Create A Niche Online Store In 5 Easy Steps.
In this 6 day mini course, I reveal the steps that my wife and I took to earn 100 thousand dollars in the span of just a year. Best of all, it's absolutely free!
Note: This post above may contain affiliate links, which means that I may receive a commission if you make a purchase when clicking a link. Please consult our privacy policy for more information.
Similar Posts
Have you read these?