My wife just closed the books on my blog for the first half of 2016 and I'm happy to say that I'm on track to blow my numbers out of the water compared to last year.
If you recall, I ended 2015 at about $712,000 in revenue (Click here to read the full income report for 2015).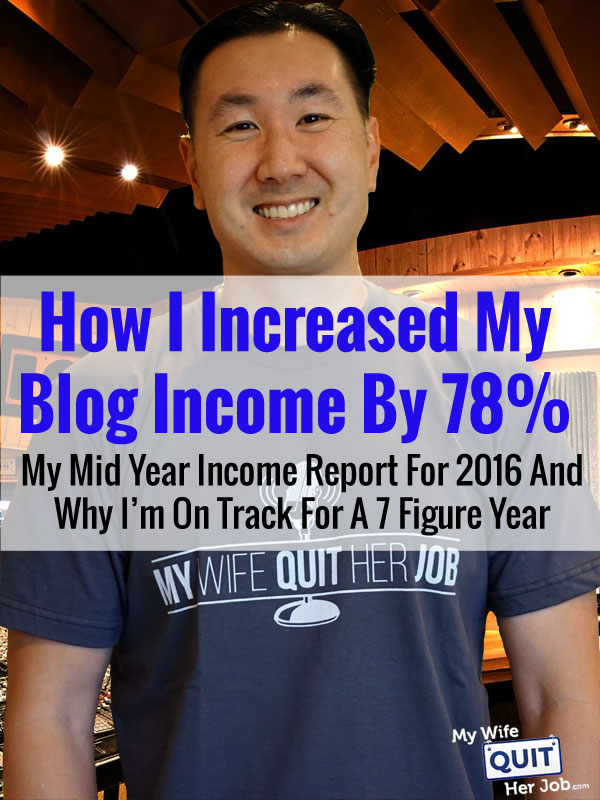 But 2016 is shaping up to be even better.
One major event that happened this year is that I finally quit my job in June. And let me tell you…
After running a blog, a podcast, an ecommerce store, an online course and a conference while working full time, I feel like I have all the time in the world now to work on my businesses.
Last year in 2015, I focused most of my limited free time on growing my blog and as a result, I doubled my revenues. This year I plan on focusing more time on my online store so expect great things to happen during the latter half of the year.
What's funny is that a lot of people have warned me that the more time you have, the more time you waste. But this hasn't been the case for me so far.
If anything, I've been putting a lot more hours into my businesses and it feels great! In fact a few weeks ago, there was one day where I cranked from 5:00am till 5:00pm straight until I had to pick up the kids from summer camp.
Once my schedule settles down a bit, I plan on only working in the mornings and spending the afternoons with the kiddos.
Ok, enough small talk. Let's talk numbers shall we?
Here Are The Numbers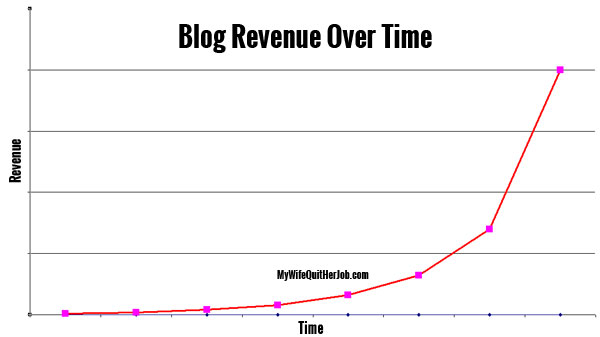 First off, here are the stats for the first half of 2016
To sum things up, MyWifeQuitHerJob.com is on track to do 7 figures this year and I'm really excited!
The thing I love about blogging is that it's an incredibly low overhead business model. To achieve these numbers, I'm pretty much a one man show and I only have a single assistant on staff to edit my podcasts.
In fact, I only spend roughly 10-15 hours per week to maintain my blog.
Editors Note: If you want to learn how to start your own blog and how it stacks up to ecommerce, then check out this post
One thing you'll notice about the stats above is that my blog traffic only increased by 11.3% but my revenues increased by 78%. Why the large discrepancy?
The main reason that traffic hasn't increased significantly is because I haven't really worked on MyWifeQuitHerJob.com much during the first half of the year. Normally, I do a lot of outreach and link building to boost traffic but I've had other priorities this year.
But despite the lack of traffic, my blog income still grew by 78% because of webinars. Here's a post I wrote that says it all.
How My First Live Webinar and 1.5 Hours Of Work Resulted In A $60015 Payout
Webinars have been a total game changer for me and I'm going to be giving a speech on the topic this year at Digital Colab and Fincon. If you're attending any of these conferences, come by and say hi!
Sellers Summit

As I mentioned above, I had other priorities this year which prevented me from focusing as much on the blog. But what were they?
It all started in October of 2015 when my friend Toni Anderson planted a seed in my mind about running a conference. And then in November after a lot of discussion, I said screw it, let's throw a live event!
So on May 19th, 2016, I held my very first conference, the Sellers Summit, which ended up being a huge success.
In fact, it was so well received that I ended up pre-selling tickets for 2017 without a venue or a date. Tickets for next year's summit are not for sale yet to the general public but you can get on the waiting list by visiting the Sellers Summit webpage.
Click Here To Join The Wait List
I can pretty much guarantee you that tickets will sell out this year as we sold out many months in advance in 2016.
Anyway, if you are interested in learning more about my experiences throwing the conference, please check out the following posts.
Updates On Pinterest

In last year's income report, I mentioned that I was going to invest heavily in Pinterest going forward. And 6 months later, I'm finally seeing some traction from my efforts.
Compared to the same period last year, Pinterest traffic has increased 2300%.
Pinterest traffic is the real deal and the best part is that the traffic actually converts into leads and sales. Currently my Pinterest traffic is converting at about 2.3% for newsletter signups which puts it squarely on my radar screen.
Remember, my entire blogging business is based on email and Pinterest is one of the factors that has allowed me to gather hundreds of email signups per day.
If you're interested in how I build my email list, check out the following post.
How To Get 300 Email Subscribers Per Day And My Best Converting Signup Forms
Major Updates To My Course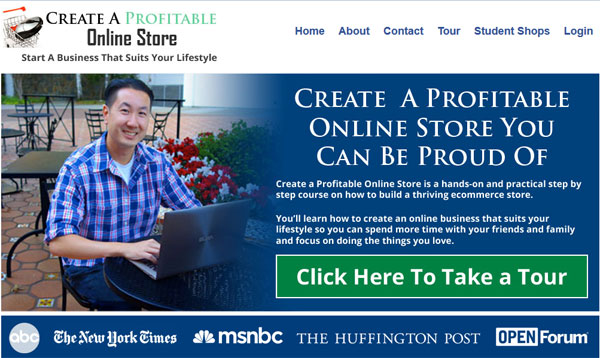 As I mentioned earlier, I'm focusing most of my efforts on my ecommerce store this year which also means that my ecommerce course is going to gain a ton of new content.
Already in July, I've written 4 new email autoresponder sequences for Bumblebee Linens which I'm going to be adding to the course for all the students to see.
In May, I gave a detailed lecture on website design and all of the little things I took into account to boost the conversion rate of my online store by 42%.
And because my network of ecommerce entrepreneurs has grown dramatically during the past year, I'm also going to be inviting a lot more guest speakers to come talk to the class and answer questions.
For example, Jeff Cohen of Seller Labs is coming to office hours this Wednesday to discuss how to rank in Amazon search. And the following week, Jared Stark of Law Trades is coming to talk about how to destroy Amazon hijackers and piggybackers:)
Bottom line. Because I quit my job, I have a lot more time now to focus on my class and I plan on doing so.
Conclusion
Overall, I'm still getting used to having 32 more hours in my week for extra activities. And right now, I'm powering through my to do list at a ridiculous rate.
I'm in the zone all day every day
Each morning, I have a goal of knocking at least 1 thing off my to do list which pretty ensures that I make forward progress with all of my businesses.
The only downside I'm experiencing right now is that I don't leave my house as much and I don't get a chance to socialize as much either. Basically, I need more friends to hangout with that don't work:)
But once school starts again, I'm going to cut back a little bit take part in my kids' school activities. Heck, I might even coach their sports teams:) Stay tuned.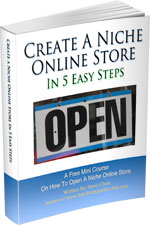 Ready To Get Serious About Starting An Online Business?
If you are really considering starting your own online business, then you have to check out my free mini course on How To Create A Niche Online Store In 5 Easy Steps.
In this 6 day mini course, I reveal the steps that my wife and I took to earn 100 thousand dollars in the span of just a year. Best of all, it's free and you'll receive weekly ecommerce tips and strategies!
Note: This post above may contain affiliate links, which means that I may receive a commission if you make a purchase when clicking a link. Please consult our privacy policy for more information.
Similar Posts
Have you read these?