In my mid year income report that I published in July, I mentioned that the first half of 2013 was extremely challenging for our online store.
Google traffic was down. We had a bad month of February due to inclement weather. Our year over year revenues ending in July were only only up by 12%. But you know what? Facing some adversity turned out to be a good thing for my wife and I because it woke us up from our complacent slumber.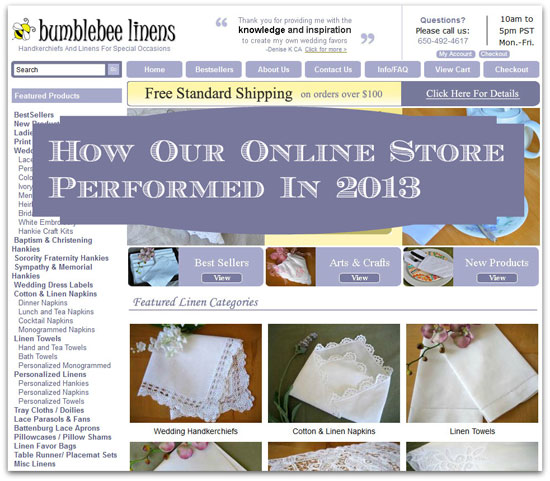 We stopped coasting along and became determined to find new ways to extract profits from our online store. Therefore the theme for 2013 became the year of revenue diversification.
Not only that, but we also put more infrastructure in place to further remove ourselves from the day to day operations and to focus more on customer acquisition.
New Traffic Sources
As I mentioned in our mid year report, we expanded our reach internationally by shipping to Canada, United Kingdom and Australia in the beginning of 2013.
We also maxed out on all of the major Comparison Shopping Engines which further expanded our marketing reach.
In June, I also completely redesigned our online store website which improved our conversion rate and site speed.

During the latter half of 2013, we added a few new traffic sources to the mix as well. For one thing we started using remarketing more heavily. For all of you who are unfamiliar with remarketing, remarketing is the act of reaching out and targeting specific customers who have already visited your online store.
In fact, if you've ever noticed advertisements mysteriously following you across the web, you've probably already seen remarketing in action. Anyways, remarketing is based on the premise that customers who have already been to your website are far more likely to buy from you.
As a result, if you can tag your existing customers with cookies, then you can show these customers special advertisements that tend to convert at a very high percentage.
So in the second half of 2013, we increased our investment in our search, display and dynamic remarketing campaigns that ended up converting very well for us.
We Revived Our Email Marketing List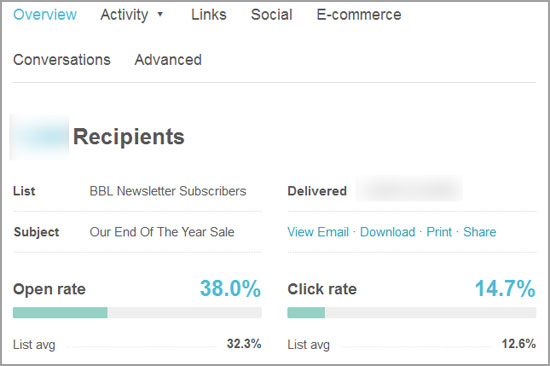 While we've been continuously gathering emails for our online store, we've also been neglecting our email list by not sending out emails regularly. As you probably know, an email list is completely useless unless you actually keep in contact with your customers and we hadn't sent out an email in a very long time.
As a result, our list started getting a bit stale. Now I could give you 100 reasons why we stopped emailing people, but there was really no excuse other than laziness. (Un)Fortunately, a less than stellar first half of the year made us realize that we needed to be firing on all cylinders in order to maintain growth.
So towards the end of 2013, I re-established contact with our customers and promptly launched several very successful email campaigns. Our open rate ended up being on the order of 32% with a 12.6% click through rate which is pretty darn good for a semi-stale list.
In 2014, email marketing will be a more integral part of our revenue stream.
Infrastructure, Infrastructure, Infrastructure
2013 was also about putting together more infrastructure to outsource more of the day to day work. Even though we have 2 employees, for the longest time my wife was hesitant to hand off any task that involved sales or financial data.
For example, she didn't want our employees to see the actual invoices for orders coming in. And for a while, she was even a bit hesitant to hand over the task of printing shipping labels. And the main reason for this was because we didn't have 2 separate logins for our online store.
At the time, there was only a single "admin" login which provided 100% access to every aspect of our website. So one of the tasks I performed in 2013 was to design a special "staff" interface for our employees that matched my wife's specifications.
This new interface restricted access to just the bare minimum amount of information necessary to pack and ship orders and perform basic customer support.
Now that this new staff interface is in place, all of the day to day tasks can now be handed off without fear of exposing our financials or any sensitive website data.
In addition, my wife also asked me to code up some new special reports in the backend to help speed up order processing and accounting. Basically, I was her own personal code monkey and wrote up whatever feature she wanted to see. The results? Operations became much more streamlined in the latter half of the year.
The Numbers
Ok, now let's cut to the chase. How did we do in 2013? Below are some highlights.

Year over year revenue grew 18%
Year over year profit grew 16%
SG&A went up as a percentage of revenue
Our average order size increased by $2 and the average number of orders per day went up as well
Our overall conversion rate increased by 29%
Our average value per visitor increased by 36%
Highlights For The Year
The biggest highlight and thrill ride of the year was making the Today Show! In fact, I wrote an article entitled, How 12 Seconds On The NBC Today Show Blew Up Sales And How We Prepared For The Traffic, which you should checkout if you have a free moment.
In a nutshell, 12 seconds of exposure on national television led us to our highest grossing day of sales ever! About a week later, we were also featured on a radio show (Star 94 FM) which further boosted our reach.
In addition to television and radio, we continued to be featured in popular magazines and blogs. We got a full page in Country Living and had numerous wedding and craft blogs cover our products as well.
Overall, it was a great year in terms of media exposure.
Lowlights For The Year
The one lowlight for the year was that overall Google traffic dropped year over year as a result of the various algorithm changes. Things have stabilized now but for a while, I was worried that the big box stores were going to take over.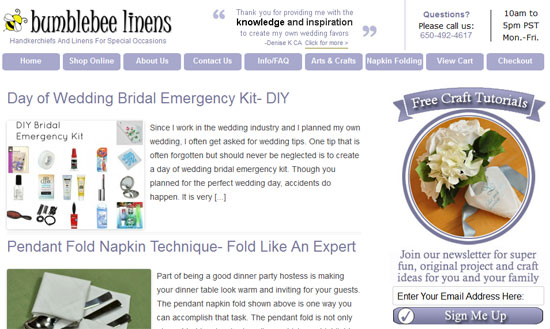 That being said, the new Google changes have lit a fire under my butt and we plan on going full force with our company blog next year. By putting out great craft content on a regular basis and doing the same blogger outreach that made MyWifeQuitHerJob.com popular, we plan on increasing our domain strength in 2014.
Another thing that adversely affected revenue was the fact that we closed the shop during the latter half of September so that my wife and I could travel to Italy for a buying trip.
While we probably didn't need to shut down the shop, we didn't want to deal with potential high order volumes while we were away. Traveling to Italy was not a lowlight per se but it did reduce sales that month.
Overall, the only other lowlight I can think of is that running our business is starting to incur more and more overhead as we continue to grow but that is to be expected. Gone are the days when we could run our business for only 80 bucks a month.
What's In Store For Next Year?
The theme for 2014 is going to be conversion optimization. I know for a fact that we aren't eeking out every last ounce of sales from our existing products so running more split tests is going to be a major goal for the year.
The hardest part about testing is coming up with different variations of copy to try, setting up the test correctly and figuring out what aspects of the site to change. The good thing is that I've run many split tests in the past and it's something that I enjoy doing.
In terms of product, we plan on introducing a few new high end product lines which should help boost our margins. We also have a content strategy in place to attract a loyal following which should hopefully bolster our search rankings. Should be an exciting 2014!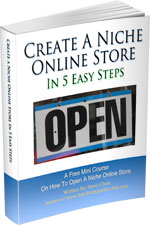 Ready To Get Serious About Starting An Online Business?
If you are really considering starting your own online business, then you have to check out my free mini course on How To Create A Niche Online Store In 5 Easy Steps.
In this 6 day mini course, I reveal the steps that my wife and I took to earn 100 thousand dollars in the span of just a year. Best of all, it's free and you'll receive weekly ecommerce tips and strategies!
Note: This post above may contain affiliate links, which means that I may receive a commission if you make a purchase when clicking a link. Please consult our privacy policy for more information.
Similar Posts
Have you read these?