Today I'm happy to introduce Sam Dogen who writes for the popular blog www.FinancialSamurai.com.
I've known Sam for quite a while now and I was happy to finally meet him in person at the Financial Blogging Conference earlier this year.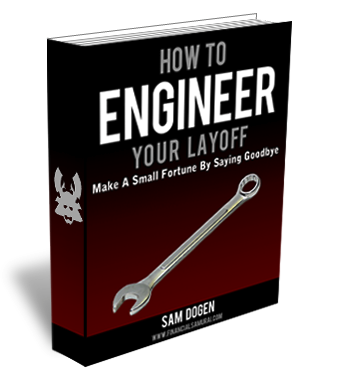 When he told me that he finished his latest book on How To Engineer Your Layoff, I knew that I wanted a review copy. Why? It's because Sam is a very unique guy with a lot of interesting experiences to share.
And after reading his book, I can honestly say that there is nothing like it on the market today. While most books are busy teaching you how to get a job, Sam is teaching you how to negotiate a killer severance package if you ever get laid off or want to leave your job.
In any slow economy, companies are often downsizing so it's up to you to fend for yourself in the event of a layoff. The truth is that very few people out there know the ins and outs of employment regulations and you could be missing out on a good deal of money by not understanding all of the rules.
Today, I've invited Sam to talk about his latest creation and his motivations for writing his brand new book.
Give us a brief overview of what your book is about.
How To Engineer Your Layoff: Make A Small Fortune Saying Goodbye is about empowering employees with knowledge, skills, and confidence to one day quit their jobs with money in their pockets.
After the fifth person I knew quit their job forsaking healthcare benefits, a severance, and unemployment insurance, only to tell me six months later their job search was lasting longer than expected, or their savings has been severely impacted, I knew I had to write the book.
Although the book is US centric, I wrote it in a way that transcends states and countries given that everybody has a boss and a human resources manager equivalent. So much of getting what we want is understanding how other people with authority think.
I create a framework and introduce multiple strategies for men and women to allow your bosses to willingly let you go with tremendous benefits you otherwise would never have received if you quit.
How did you come up with the idea for this book? There is nothing like it as far as I've seen.
There are tons of products teaching people how to get a job, but there is nothing on the market that teaches people how to leave a job! Can you imagine being an investment advisor who only told you when to buy, but never to sell?
You'd be fired! Unless you plan on working at your same organization until you die, you will one day make a change. The book's goal is to make your inevitable change as profitable as possible.
I've spoken to so many friends who are miserable at their jobs. The longer they work, the harder they feel it is to break free. Each and every one of them told me that if only they could get laid off and receive a nice severance, they'd raise their hands in a heartbeat to go travel, work in a new industry, or start their own business.
Friends were putting their lives on hold for a paycheck. I knew there would be tremendous demand, especially since I successfully engineered my own.
What did you do for a living before you quit?
I worked in the rough and tumble world of finance. I spent two years in New York City with one firm and another eleven years in San Francisco with a competing firm who gave me a bid away.
Everyday I spent my time studying companies, economies, and political regimes to make investment decisions. Finance is very volatile, but very stimulating as well. You're always forced to think in derivatives because the world is intertwined and always changing.
What were some of your motivations for quitting your job?
I didn't think I would last for more than five years when I first started. The 5:30am to 7:30pm+ work hours were brutal! I gained a lot of weight, developed chronic back pain, had constant allergy attacks, and was stressed all the time.
I made a promise to save 50% of my after tax income every year from day one because I knew my time was limited. Surprisingly, I lasted for 13 consecutive years thanks to moving out to a more carefree San Francisco. By then, my finances were in good enough shape where I could see the light at the end of the tunnel. 13 years of saving 50% meant that I had 13 years of living expenses.
As my income naturally grew, I actually raised the savings level to over 70% by keeping my expenses constant. Sure, it was tough to forsake the nice car, the weekend jaunt to Vegas, the fancy clothes, the calorie busting meals out on occasion, but I was happy to live without. Achieving financial independence sooner was more important.
After the 10th year of work in 2009, I started Financial Samurai as a way to connect with others who had lost money in the downturn as well. I immediately became hooked and haven't quit writing 3-4 post a week since.
Being able to write about personal finance, with professional experience in finance, and getting an MBA in finance was a dream come true. I love writing about topics ranging from how to save for retirement to pointing out all the inequities by our government.
Every morning felt like Christmas and after a couple years of building my brand, I felt there could actually be a viable business through my blog.
As Financial Samurai and the Yakezie Network grew while my interest in my job declined, I knew it was now or never. If only I could figure out a way to engineer my layoff after 11 years at one place, I'd give entrepreneurship a go full time. What I was able to negotiate even surprised myself!
What were you able to negotiate as your severance?
I remember sitting in a hot tub up at a resort in Lake Tahoe one day, chatting with a group snowboarders after an epic day of powder. We asked ourselves how many years of savings would it take for us to quit our jobs and do something we've always wanted to do.
The answers ranged from one year to ten years. At ten years, everybody said you'd be crazy not to take the leap of faith. I didn't tell them I had about 17 years saved up and just nodded in agreement. I started thinking there was something seriously wrong with me for saving so much for so long.
After about a month of negotiating my severance, I was ecstatic to receive a package anywhere between five to seven years of living expenses. I'm not allowed to divulge the dollar amount, but the dollar amount is somewhat irrelevant given we all have different savings rates and living standards.
What's more important is to focus on the number of weeks, months, or years your severance equals to. Imagine living off $100,000 a year and receiving a $60,000 severance. Because you've always wanted to live in Buenos Aires, Argentina, your $60K could probably last you for two years. Conversely, your $60K might only last you six months if you want to live it up in New York City!
Announcing my leap of faith was exhilarating and frightening at the same time. It's natural to wonder whether I made the right move after doing something for so long. Months later, I've come to the conclusion that leaving was the right decision as I've been able to work on new business ideas that never would have occurred to me had I still been working.
Were you just lucky?
Every day I think about how lucky I am. It's taken a lot of discipline and sacrifice to consistently save, and a lot of risk-taking to invest in particular stocks and real estate over the years to generate passive income.
I'm lucky to have this inherent desire to write and share my thoughts freely on Financial Samurai, or through a book such as How To Engineer Your Layoff. I'm lucky to be living in America where we protect intellectual capital and freedom of speech. The infrastructure here is incredible compared to the other countries I experienced growing up.
I'm lucky to have a thriving community who will challenge my thoughts and support me when I'm down.
I don't mind failing, because each failure has a lesson. What I do mind is having regrets and failing because I didn't try hard enough while I still had the energy and my marbles. I know my mind will fade away one day, as will the dexterity of my fingers. But, hopefully by the time they do, I'll have written enough good information to last after I'm gone.
Want To Learn More?
If you want to learn more about Sam and how he managed to negotiate a killer severance package with his company, please check out his book on How To Engineer Your Layoff.
Note: I'm not affiliated with Sam Dogen or Financial Samurai in any way and do not stand to benefit at all from the sale of his ebook.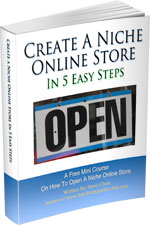 Ready To Get Serious About Starting An Online Business?
If you are really considering starting your own online business, then you have to check out my free mini course on How To Create A Niche Online Store In 5 Easy Steps.
In this 6 day mini course, I reveal the steps that my wife and I took to earn 100 thousand dollars in the span of just a year. Best of all, it's absolutely free!
Similar Posts
Have you read these?