A reader emailed the other day asking whether our business could continue to function if my wife and I took an extended vacation away from it all. He then followed up that question with a proclaimation stating that our business was really just a J-O-B disguised as a true business.

"A business is only real when it continues to thrive even with the owners not present. Otherwise, it's just another job." he exclaimed!

While there is some element of truth to his statement, it is the completely wrong attitude to have towards your own personal venture. If you consider your business as just a job, then you will never succeed.

Every business has to start somewhere. Every business owner doesn't have the luxury of taking time off especially in the early stages. Here are my thoughts on the distinction between a job and a business. It's all about perception.
What Is A Job?
Looking at the dictionary, the word job has the following definitions
a piece of work, esp. a specific task done as part of the routine of one's occupation or for an agreed price.
a post of employment; full-time or part-time position.
anything a person is expected or obliged to do; duty; responsibility.
I don't know about you, but all of the definitions above seem to hint or imply obligation. Let's look closer at some of the key words in the definition shall we?

"A job is a task done as part of the routine of one's occupation"

"A job is anything a person is expected or obliged to do"

In a nutshell, a J-O-B is when you have to answer to someone else. A J-O-B is when you feel you have to do something in order to earn a salary. A J-O-B is when you aren't calling the shots. I find it interesting that the official definition of the word "Job" contains the words "routine" and "obliged".
What Is A Business?
Looking up the word business in the dictionary yields the following definitions.
A business is an occupation, profession, or trade: His business is poultry farming.
A business is the purchase and sale of goods in an attempt to make a profit.
A business is a person, partnership, or corporation engaged in commerce, manufacturing, or a service; profit-seeking enterprise or concern.
The funny thing is that I don't see anything in the definition about being able to take a vacation and have the business still run on it's own. I don't see anything about a business being a living organism. The reason? It's because a business is what it is, an entity that is there to make a profit.

The reader does have a point however. Any hugely successful business will eventually become too large to handle for just the owners themselves. But should that define what it means to be a true business?
How Do You Draw The Distinction?
Was Microsoft considered a business when it was just Bill Gates? Where do you draw the line? When is a business just a job and when is a business truly considered a business?

In my book, if you are willing to go out on your own and start your own venture, then it is a business. It doesn't matter whether you are just a one man team or a well funded startup with many employees. You answer to yourself and you call the shots. You are the entrepreneur.

The only time that a business becomes a job is when you feel "obligated" to maintain it. You feel like it's a "routine" to run. At this point, it's better to just call it a day and close up shop. Perception is the key.
Don't Get Discouraged
The important thing is to not let people bring you down. I'm not sure what the purpose or intent the reader had in calling our business just a job, but it definitely wasn't meant to be encouraging.

As entrepreneurs, we will encounter people like this all of the time. Don't let them bring you down. If you are excited about your venture, then it is a business. If you have plans to grow it and expand, then it is a business. No one can define what a business truly is except yourself.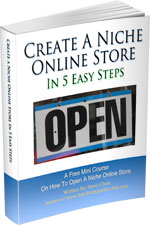 Ready To Get Serious About Starting An Online Business?
If you are really considering starting your own online business, then you have to check out my free mini course on How To Create A Niche Online Store In 5 Easy Steps.
In this 6 day mini course, I reveal the steps that my wife and I took to earn 100 thousand dollars in the span of just a year. Best of all, it's absolutely free!
Note: This post above may contain affiliate links, which means that I may receive a commission if you make a purchase when clicking a link. Please consult our privacy policy for more information.
Similar Posts
Have you read these?